I love cooking some homemade chicken schnitzels in the air fryer as they cook absolutely beautifully.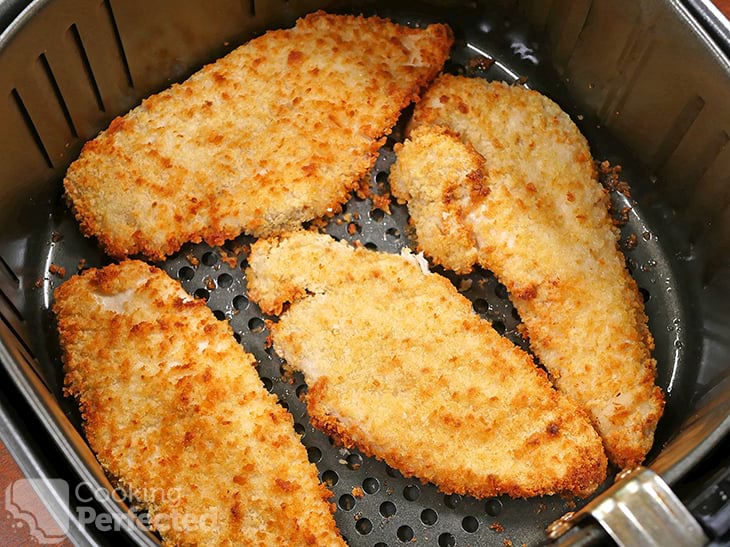 When these schnitzels are ready, the crumb will be golden brown, and the chicken cooked perfectly. They are great on their own, but even better when served with some side dishes.
You should be able to feed roughly four to six people from a single batch of this recipe. I made six chicken schnitzels which were enough to feed four people. However, you may need to make more if you are feeding big eaters.
If you end up with leftovers, they can be kept in the refrigerator for roughly three days. Alternatively, you can freeze the leftovers for roughly three months.
Chicken Schnitzel Serving Ideas
It is super easy to turn these schnitzels into some chicken parmesans. Of course, you will need to make a parmigiana sauce, but it is well worth the effort. I usually top the sauce with a mixture of parmesan and mozzarella.
Some potato fries are the perfect match for these delicious schnitzels. Best of all, you can cook them in the air fryer as well. However, I recommend cooking them in a separate air fryer for the best result. Sweet potato fries are also a great option.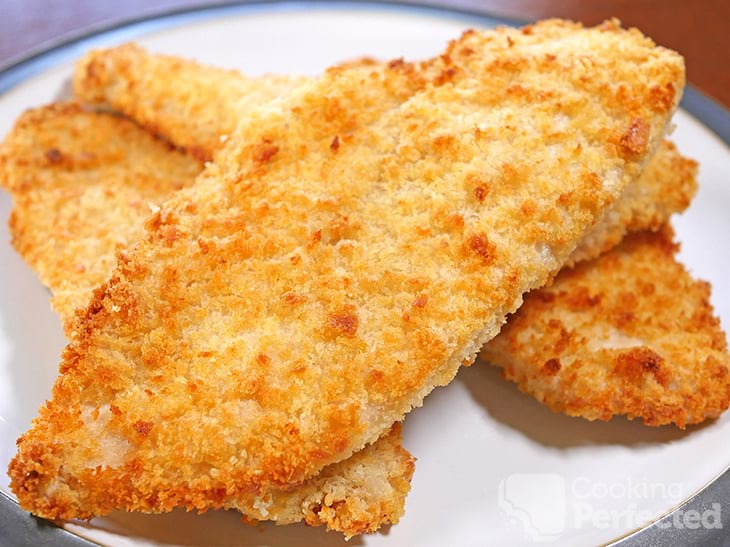 Thousands of different salads will go perfectly with chicken schnitzel. Personally, I love a homemade potato salad, but it will require a fair bit of preparation. On the other hand, a simple green salad is great if you want something quick and easy.
My last recommendation is to serve the chicken with a homemade mac n cheese. It is a super easy side dish and matches great with a delicious schnitzel. Alternatively, cauliflower cheese is an excellent cheesy side dish that is very easy to get right.
Tweaking the Chicken Schnitzels
Swapping the panko breadcrumbs for something else is a great way to radically change these schnitzels. Cornflakes, almond flour, shredded coconut, gluten-free breadcrumbs are all great alternatives to crumb the chicken with. My favorite is cornflake chicken.
Spraying the food with oil is the best way to get a good crispy crumb. Without the oil, the food may not go golden brown and may not be as succulent. I recommend using a tablespoon or two of your favorite cooking oil for the best result.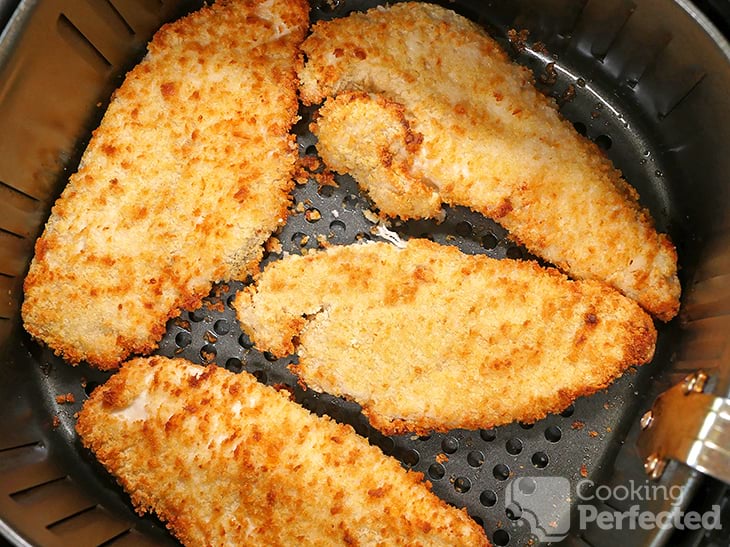 There are plenty of ways you can add more flavor into the crumb mixture. For example, some additional seasonings like paprika or cumin are a great way of adding more flavor. I sometimes love to add some shaved parmesan or other flavorsome cheeses into the crumb mixture. Be careful as cheese can easily burn.
The recipe below will take you through all the steps to cooking some homemade chicken schnitzels in the air fryer. Be sure to leave us some feedback if you give the recipe a try.
Air Fryer Chicken Schnitzels Recipe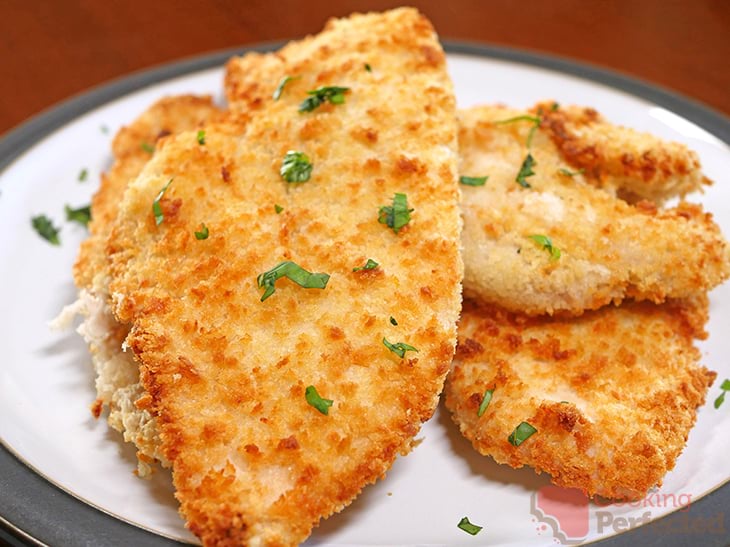 Ingredients
750 g (1.7 lb) chicken breasts, butterflied
100 g (3.5 oz) plain flour
1 tsp onion powder
2 tsp garlic powder
1 tsp salt
1/2 tsp black pepper
1 egg
180 g (6.3 oz) panko breadcrumbs
1 Tbsp cooking oil
Instructions
Pound out each piece of chicken breast, so they are an even thickness.
In a bowl, combine the flour, onion powder, garlic powder, salt, and pepper.
Crack the egg into a separate bowl and beat slightly.
Lastly, add the breadcrumbs into yet another bowl.
One by one, coat the chicken in the following order. First, in the seasoning mixture. Next, coat in the egg. Lastly, coat in the breadcrumbs. Repeat until you have coated all the chicken.
Preheat the air fryer to 200°C (390°F). It should take roughly 5 minutes.
Cook the chicken in batches so there is only a single layer. Cook for 10 minutes, flipping halfway through.
Check the chicken is cooked by using a meat thermometer. The internal temperature should be at least 75°C (170°F).
Serve & Enjoy.
Recipe Tips
Some butchers will butterfly the chicken breasts for you. I recommend getting this done as it will drastically reduce the amount of prep work .
I use panko breadcrumbs, but these can be replaced with something else. For example, almond flour, shredded coconut, or gluten-free breadcrumbs works surprisingly well.
Using large bowls for the crumb ingredients will help reduce the amount of mess you may make.
Stacking the schnitzels in the air fryer will cause them to not crisp as nicely. I recommend keeping them as a single layer.
The chicken breasts can be easily swapped for chicken thighs. You won't need to butterfly the chicken thigh.
I highly recommend that you use a meat thermometer to ensure that the chicken is cooked correctly. The internal temperature should be at least 75°C (170°F).
Nutrition Information
Serving Size: 276g (9.7 oz)
Servings Per Recipe: 4
Calories Per Serving: 645
Saturated Fat: 6.5g
Trans Fat: 0.2g
Dietary Fiber: 3g
Sugars: 3g
Cholesterol: 161mg
Sodium: 1046mg
Protein: 49g
The information above is an estimate generated by an online nutrition calculator.
More Incredible Air Fryer Recipes
There are plenty more different recipes that you can make in the air fryer. Below is a couple that I reckon you will enjoy as they are similar to this recipe.
Our air-fried homemade chicken tenders are a recipe that you need to try. It is similar to this recipe but uses regular breadcrumbs and chicken tenderloins. They are the perfect finger food and are great to dip into a variety of sauces.
Another recipe that I have got to recommend is our seasoned chicken breasts. The chicken cooks to be succulent and loaded with flavor thanks to our homemade seasoning mixture. It is a truly delicious meal that I highly recommend giving a try.
I hope that you love these air-fried chicken schnitzels as much as I do. If you have some feedback, please do not hesitate to leave a comment below.