This gluten-free mac and cheese is super easy and tastes absolutely delicious. It is perfect as a side dish or as a meal.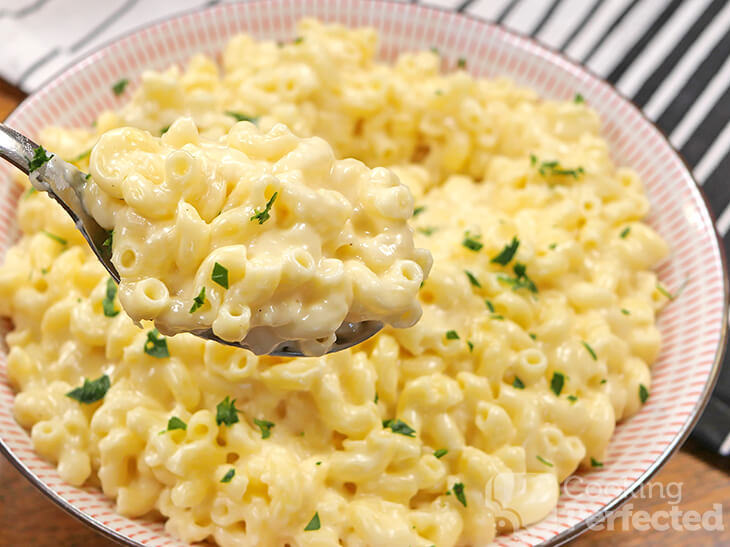 Comfort food is the perfect way to describe this incredibly delicious dish. When you take a bite, you are greeted with smooth cheesy sauce and tender pieces of pasta. It is an explosion of flavor in your mouth that will have you going back for more.
You should be able to get four serves out of this recipe without needing to alter it. If you plan on cooking for more or big eaters, I highly recommend that you double the recipe. Especially if you plan on serving it as a main meal.
Mac n cheese can also be made in a slow cooker if you rather have it slowly cook. The slow cooker is perfect if you want to have this dish cooking while you do other things. Alternatively, if you really want to experiment, you can try making mac and cheese in a mug.
I love having the leftover mac and cheese for lunch the next day. Be careful when you reheat it, as the cheese sauce might split if you overheat it. The leftovers should last in the fridge for roughly three days.
Serving Ideas for Mac n Cheese
Mac and cheese is commonly served as a side dish but is sometimes eaten as a main. If you have it as a side dish, there are plenty of meals that will match perfectly. For example, meals such as roasts, salads, BBQ ribs, meatballs, pigs in a blanket, chili, and so much more.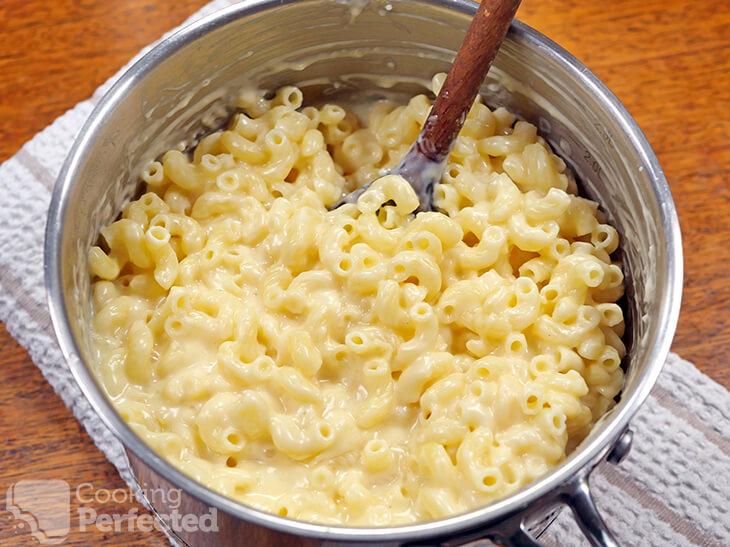 If you decide to have it as a main meal you can make it even more fulfilling by adding a delicious topping and then baking it in an oven. A simple combination of panko breadcrumbs and some butter will work great as a topping. Simply bake until it is golden brown.
Personalizing this Recipe
There are loads of ways to tweak mac and cheese so it suits your taste buds even better. Below are a few ideas that I recommend giving a go.
Adding crispy bits of bacon is a great way to take this recipe to a whole new level. I love to panfry some bacon, but you can buy some pre-cooked bits of bacon, which taste surprisingly good.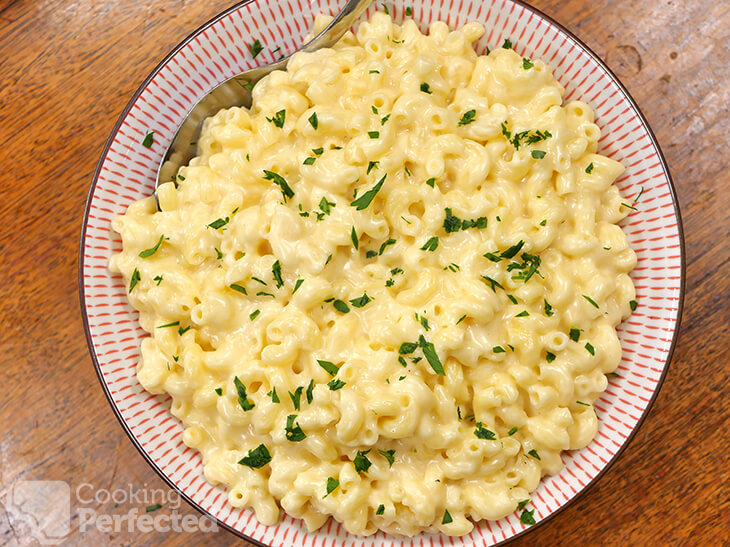 Changing the cheese that you use in this recipe is a great way to quickly change the flavors. A good mixture of cheese would be some cheddar and mozzarella. However, other cheeses such as gouda, gruyere, cream cheese, or even brie will work great.
Additional seasonings can be used to add more flavor to the cheese sauce. Some basic spices or herbs such as pepper flakes, cayenne pepper, parsley, oregano, chives, paprika, or even mustard will be great for adding more flavor.
Below is the full written recipe that will take you through the steps of making this gluten-free mac and cheese. If you love the recipe, then be sure to let us know.
Gluten-Free Mac and Cheese Recipe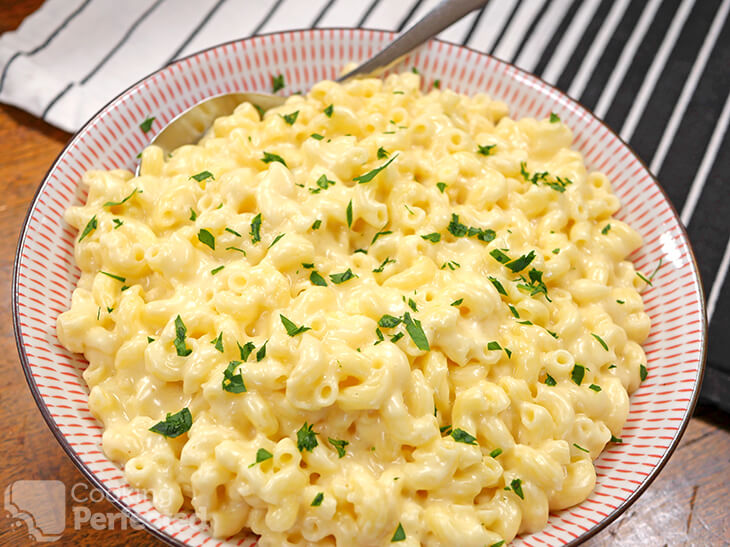 Ingredients
225 g (7.9 oz) elbow gluten-free macaroni
40 g (1.4 oz) butter
40 g (1.4 oz) gluten-free cornstarch
1 tsp salt
¼ tsp white pepper
500 ml (16.9 fl oz) milk
2 cups cheddar cheese, shredded
Instructions
Bring a large pot of water to the boil and add a pinch of salt. Cook the pasta in the water until it is al dente, roughly 8 minutes. Check the pasta package for better directions.
Once the pasta is cooked, drain it, and leave in a colander.
Melt the butter in a clean 2l (2 qt) deep pot over medium heat. Stir in the cornstarch, salt, and pepper.
Slowly add the milk while continuously stirring. Once the milk is added, the mixture should be smooth and slightly thick.
Add the shredded cheese and stir until the cheese is melted.
Next, add the pasta into the cheese sauce and stir until the pasta is coated.
Serve & Enjoy.
Recipe Tips
I recommend buying a good quality block cheese and grating it by hand for the best results. Pre-shredded cheese often has additives to prevent it from clumping together.
Buying a good quality pasta can make all the difference when it comes to mac and cheese. So, I recommend buying a good brand of gluten-free elbow pasta.
For a richer cheese sauce, you can use a mixture of milk and heavy cream. Be aware that using cream will add a few more calories.
Elbow (macaroni) pasta obviously works the best, but other types of pasta will work great too. For example, some people like to use curls, bowties, shells, corkscrews, penne, and much more.
Nutrition Information
Serving Size: 263g (9.3 oz)
Servings Per Recipe: 4
Calories Per Serving: 627
Amount Per Serving
Saturated Fat: 18.6g
Trans Fat: 1g
Dietary Fiber: 2g
Sugars: 8g
Cholesterol: 92mg
Sodium: 1006mg
Protein: 25g
The information above is an estimate generated by an online nutrition calculator.
More Gluten-Free Recipes
We have plenty more gluten-free recipes that I would love to share with you. Below are a couple of highlights that are certainly worth checking out.
The gluten-free blueberry cobbler features an incredibly delicious blueberry filling and a tasty cake topping. It is an incredible dessert that is loaded with flavor. I highly recommend giving it a try.
Our homemade crunchy chicken nuggets are super easy to make and taste delicious. They will go great with some mac and cheese.
I hope that you love this gluten-free mac and cheese recipe as much as I do. If you have some feedback, then please do not hesitate to leave a comment below.