These delicious pigs in a blanket are great as a snack and are excellent platter food for a party.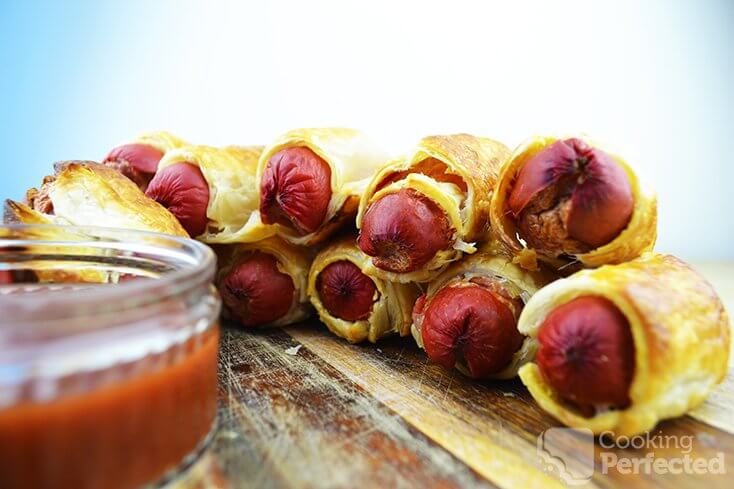 When you pull these out of the oven, the puff pastry will be a lovely golden color, and the hot dogs will be cooked and juicy. They go great with some condiments such as sauces or relishes.
These hot dogs in puff pastry are fantastic for kids' parties as they will absolutely love them. They are also fantastic for dinner parties, game day, and basically, any event where you need to cater for a crowd.
A single batch of this recipe will make about twelve pigs in a blanket. You will find that this amount will feed roughly four people, so you may need to double or triple the recipe if you're cooking for a crowd.
What to Serve with Pigs in a Blanket
While these hot dogs are fine on their own, they go even better with some extra side dishes and condiments. Below are a couple of recipes that I highly recommend trying.
The hot dogs go great dipped into ketchup, relish, or even a homemade dip. I found a tasty French onion dip is a match made in heaven for these pigs in a blanket. However, there are plenty of other condiments or dips that are worth trying.
Other party foods, work very nicely as accompaniments to this dish. I love to make some sweet potato fries, and some delicious pizza scrolls to go alongside these puff pastry hot dogs.
I could ramble all day with how much condiments and side dishes work nicely with this dish, but I won't. If you have any other suggestions, then please don't hesitate to leave a comment below.
Perfecting Pigs in a Blanket
I recommend using a high-quality brand of puff pastry for the best results. Some cheaper brands may not get the delicious puff that you need for these pigs in a blanket.
Don't be afraid to add some additional ingredients to this recipe. For example, I love to add some cheese slices around the hot dogs. Other condiments such as mustard will work nicely spread onto the puff pastry.
I highly recommend using your favorite brand of hot dog for the best result. I typically get the regular type, but something like cheesy hot dogs will work very nicely.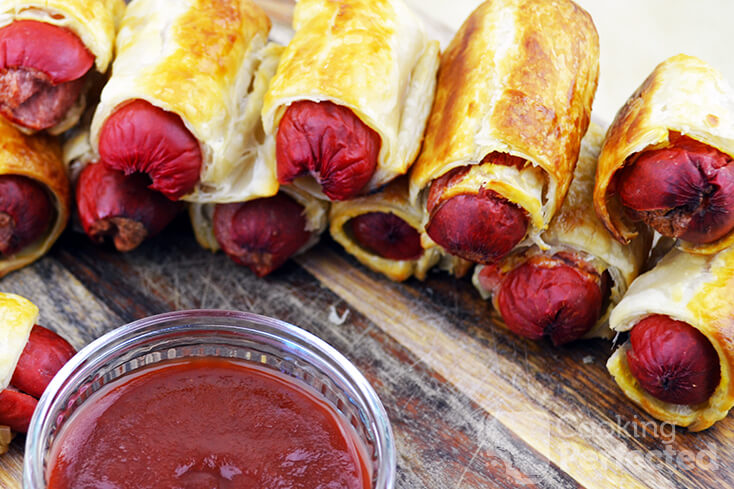 If you want these to be bite-sized, then simply cut the mini hot dogs in half. If you're using large hot dogs, then you will need to cut them multiple times.
These don't reheat great due to the puff pastry, so it's best to make sure they're all eaten when they're fresh.
If you're more of a visual person, then check out my video on how to make pigs in a blanket. It's a quick and easy way to learn how to prepare this delicious snack.
Pigs In A Blanket Recipe
Ingredients
1 kg (2.2 lb) of mini hot dogs
1-3 sheets puff pastry
1 egg, lightly beaten
Instructions
Preheat an oven to 200°C (420°F).
Lightly grease a baking tray. You may need to grease multiple trays.
Cut the puff pastry into strips, you should get about 5-10 per sheet.
Brush a small amount of the beaten egg onto each strip of puff pastry.
Place a hot dog on the edge of a strip of puff pastry. Start rolling from the hot dog end to the other end.
Place onto the prepared baking tray.
Repeat until the baking tray is full. Make sure you have allowed room for the puff pastry to expand.
Glaze each of the hot dogs with some of the egg.
Bake in the preheated oven for about 15 minutes or until the pastry has puffed up and is golden brown.
Serve & Enjoy.
Recipe Tips
Add a little bit of cheese in with the hot dog. This addition of cheese will result in some amazing cheesy pigs in a blanket.
Puff pastry doesn't reheat very well. So, if you do want to reheat these do it in an oven for the best results. However, reheating in the oven may cause them to dry out, so it's best to try not to have any leftovers.
You can use the hot dogs to measure how wide to make the puff pastry strips. I aim to have the strips about 3/4 of the length of the hot dog.
Fresh or frozen puff pastry will work perfectly in this recipe. Fresh puff pastry will likely work out better, but it is very hard to make.
Nutrition Information
Serving Size: 62g (2.2 oz)
Servings Per Recipe: 12
Calories Per Serving: 167
Amount Per Serving
Saturated Fat: 4.5g
Trans Fat: 0g
Dietary Fiber: 0.1g
Sugars: 1.1g
Cholesterol: 39mg
Sodium: 515mg
Protein: 6.8g
The information above is an estimate generated by an online nutrition calculator.
More Delicious Recipes
There are so many recipes that you can do with hot dogs. For example, one of my favorite foods that I love to have if I am at a festival is a tasty corn dog.
Puff pastry is also an excellent ingredient that works nicely in so many different dishes. For example, I love to make some puff pastry pizzas when I am running low on time and don't have time to make a traditional dough.
If you want to leave any tips, variations, feedback, or anything else regarding these pigs in a blanket recipe, then please feel free to drop a comment below.