This recipe takes you through the steps on how to make an easy French onion dip that goes great with cheese and crackers.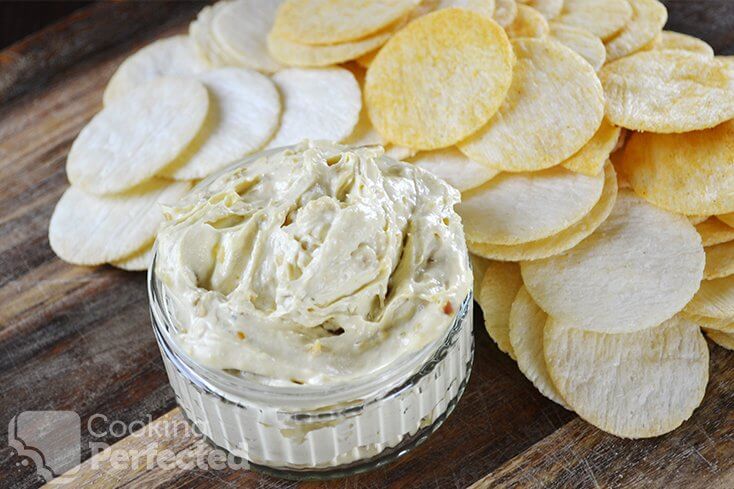 By the time this dip is ready, it will be loaded with flavor and incredibly creamy. This dip only needs three straightforward ingredients, and you may already have them in your pantry and fridge.
Whenever I have made this dip for a party, it has always been one of the first things to go. It tastes so much better than what you will find in the supermarket, and it's surprisingly easy to whip up.
The traditional recipe for making this dip typically involves caramelizing onions with a range of different ingredients. Luckily by using some soup mix and some cream cheese, we can skip the time-consuming part.
What to Serve with This Dip
All your standard foods that are typically great for dipping will work very well with this French onion dip. For example, crackers, carrot sticks, corn chips, or celery sticks will all work very nicely dipped into this condiment.
You can use this dip as a spread on a sandwich or in a bread roll. It compliments shredded meats, salad, and other sandwich ingredients very nicely. I highly recommend giving it a try.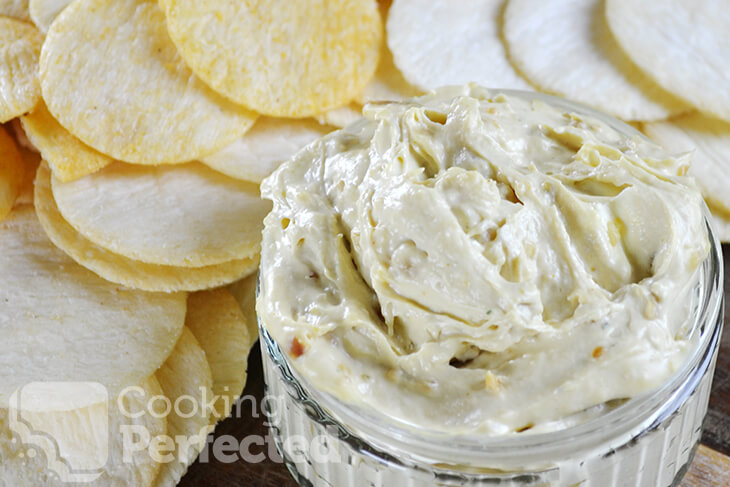 I love dipping cooked foods such as cornflake chicken or cheesy bread sticks into the French onion dip. It's a delicious combination that will have you going back for seconds or even thirds.
Be sure to let us know of any fantastic combinations that go great with this dip as we will love to hear them.
Achieving the Best Tasting French Onion Dip
The dip may be slightly runny once you have blended the cream cheese with the French onion soup mix. To thicken it, I recommend placing it in the fridge for at least two hours. If it cools down too much, then the dip might go hard and will need to be warmed slightly to get to the right consistency.
Pick a French onion soup mix that you know and love as this is where all the flavor is going to come from. Picking a poor quality soup mixture might result in a dip that doesn't taste the best.
For a little bit of extra flavor, you can try mixing in some crispy bits of bacon after you have finished blending the dip. It's an amazing flavor combination that I highly recommend trying.
If you want to see how to make this dip, then be sure to check out the video below. It will take you through all the easy steps for making this amazingly delicious French onion dip.
The video is short, snappy, and straight to the point. If you like what you see and would love to see more, then please be sure to subscribe to the channel so you can stay up to date.
Easy French Onion Dip Recipe
Ingredients
250 g (8.8 oz) cream cheese
40 g (1.4 oz) packet of French onion soup mix
4 Tbsp water
Instructions
In a pot over medium heat, combine the soup mix with the water.
Bring to a boil and cook until the powder is completely dissolved.
Add the soup mix into a food processor with the cream cheese. Blend until completely smooth.
Place in the fridge and cool for about 2 hours.
Serve & Enjoy.
Recipe Tips
If you find the French onion dip too thin or too thick, you can adjust the amount of water that you mix in with the soup. Adding water will help it become runnier, while less water will help it become thicker.
You can add some sour cream into the recipe to make the dip a little runnier. I only recommend doing this if you think the dip is too thick.
Obviously, no dip is complete without something to dip into the creamy deliciousness. You can use supermarket crackers, carrot sticks, celery sticks, or even some homemade tortilla chips.
This dip will last for about a week, maybe even longer. I would consider discarding the dip after a week has passed.
To make this recipe gluten-free, simply replace the French onion soup mix with a gluten-free variety.
Nutrition Information
Serving Size: 75g (2.6 oz)
Servings Per Recipe: 4
Calories Per Serving: 248
Amount Per Serving
Saturated Fat: 13.7g
Trans Fat: 0g
Dietary Fiber: 0.8g
Sugars: 0.9g
Cholesterol: 69mg
Sodium: 620mg
Protein: 5.5g
The information above is an estimate generated by an online nutrition calculator.
More Dips Worth Making
If you're after another great condiment, then you should check out the tasty corn relish dip. Like this dip, the corn relish dip is straightforward to whip up. In fact, it is probably even easier than this one.
The caramelized onion dip is loaded with flavors and is well worth the time and effort it takes to make. It's the perfect dip if you love the taste of caramelized onion.
You can also make warm dips in the slow cooker, which are perfect for a party. I love to make the chili con queso, as it's always a huge hit.
I hope that you liked this deliciously easy french onion dip and that you didn't run into any problems while making it. If you want to leave feedback, then please don't hesitate to drop a comment below.