These delicious sausage rolls are always a massive hit and are surprisingly easy to make.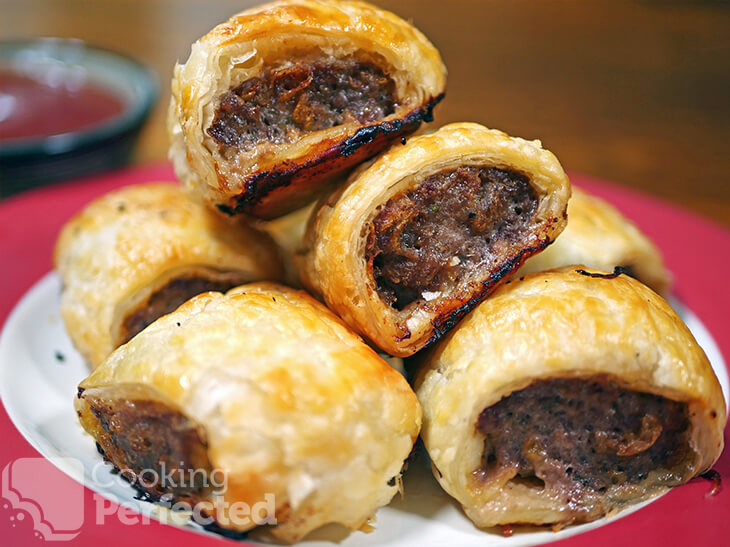 These sausage rolls bake to have a delicious golden flaky pastry on the outside. On the inside is a flavor-packed meat filling that is loaded with delicious vegetables and herbs. It is a simple combination and is utterly delicious. I highly recommend giving these a try.
The humble sausage roll is an Australian classic and is considered a staple for some families. This delicious food can be found in some other countries such as the UK but is almost non-existent in others.
This recipe should make enough sausage rolls to feed roughly four to six people. Of course, this number will vary heavily on how much extra food you are cooking as well. You can easily double or triple the recipe if required.
The leftover sausage rolls are great as a delicious meal the next day. I recommend reheating them in the oven so they do not go soggy. Alternatively, the microwave will work but expect the pastry to go a bit soggy.
Sausage Rolls Serving Ideas
There are loads of different ways that you can serve these delicious homemade sausage rolls. Below are a couple of my favorite ideas.
The perfect companion for sausage rolls is some delicious meat pies. I love making a beef mince pie mixture in the slow cooker and using that in some puff pastry pie shells. Alternatively, some of the pies you can buy at the supermarket are delicious.
Sausage rolls are never complete without a couple of delicious condiments to dip them into. My personal favorite is a tomato sauce or tomato chutney. However, people love serving them with all sorts of sauces, including mayonnaise.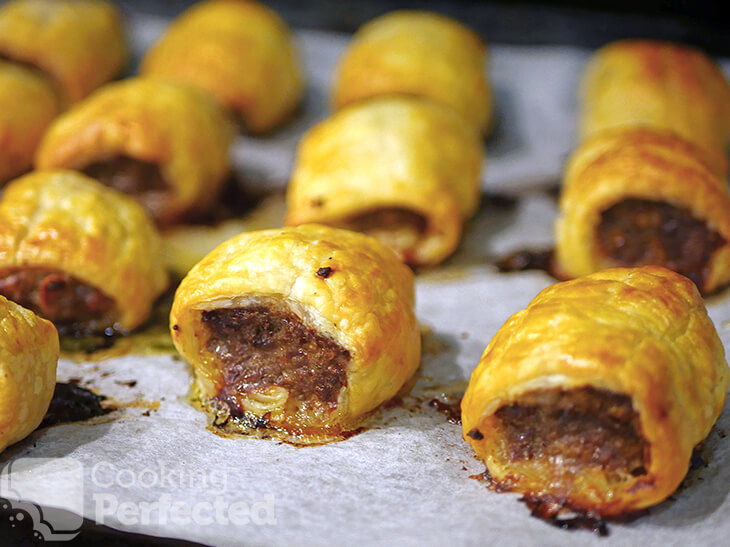 Like most puff pastry recipes, these sausage rolls go great with a side of fries. Personally, I prefer regular potato fries, but sweet potato fries are also great. I recommend deep frying the fries, but oven-baked will work fine.
The last side dish I am going to recommend is a healthy green salad. My favorite combination is lettuce, tomato, red onion, cucumber, and avocado. However, there are plenty of other salads that will work nicely with these sausage rolls.
Personalizing the Recipe
You can tweak this recipe if you want to introduce some new flavors. Below are a couple of ideas of what you can do.
I recommend using ground beef as it produced the nicest tasting sausage rolls for me. However, you can easily swap the meat for something else. For example, ground pork or chicken will work surprisingly well.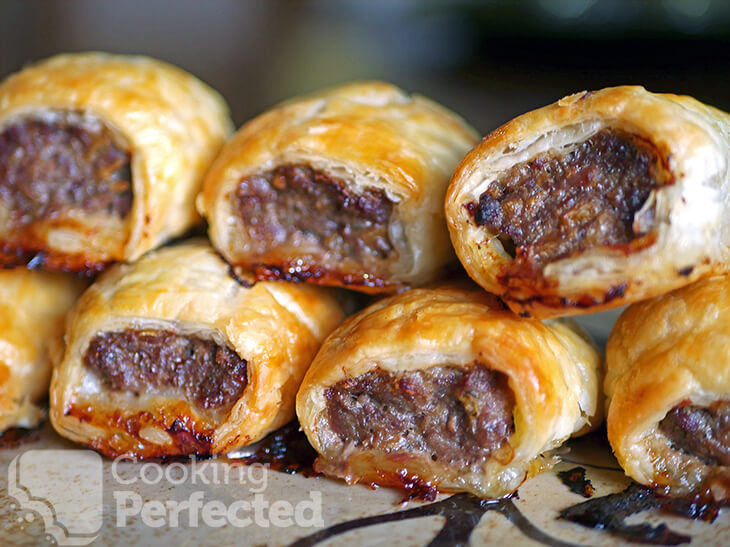 You can add more vegetables into the meat mixture but try not to add too much as it can make the meat mixture too wet. Popular additions include minced onion, grated carrot, or even grated zucchini. You can try pre-cooking some of the additions to help reduce the amount of liquid in the mixture.
The puff pastry produces the tastiest sausage roll, but you can use shortcrust instead. The process of making this recipe is the same, so pick whatever pastry you prefer most.
The full recipe for making these delicious homemade sausage rolls is right below.
Sausage Rolls Recipe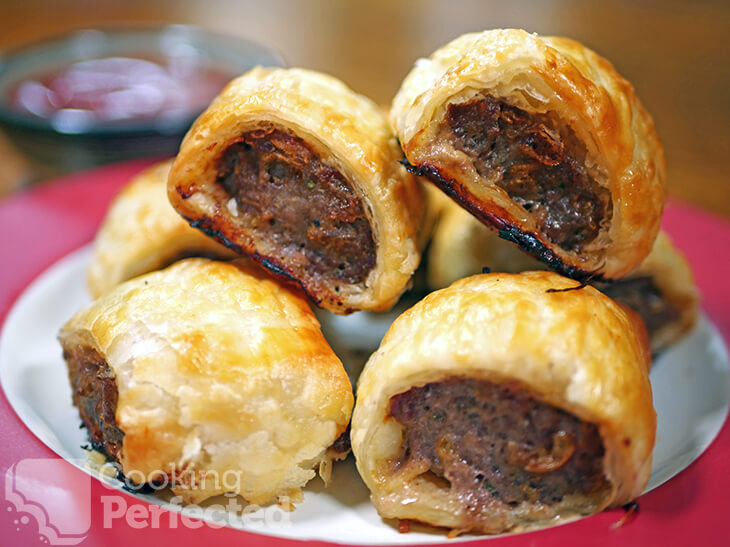 Ingredients
Meat Filling
500 g (1.1 lb) ground beef
250 g (8.8 oz) sausage meat
1 Tbsp garlic, crushed
1 Tbsp Worcestershire sauce
1 egg
1 tsp parsley, chopped
1 tsp oregano
1 tsp salt
Pinch of pepper
Pastry
4 sheets of puff pastry
1 egg, beaten
Instructions
Preheat an oven to 220°C (430°F)
In a bowl, combine the ground beef, sausage meat, garlic, Worcestershire sauce, egg, parsley, oregano, salt, and pepper.
Place a defrosted piece of puff pastry on a flat surface and cut it in half.
On a piece of pastry, place a 2-3 cm (0.4-1 inch ) strip of the meat mixture. Place it close to one side of the pastry.
Roll up the pastry, and finish with the seam facing down.
Using a sharp knife, cut the log into roughly six to eight pieces.
Place each piece onto a lined baking tray with the seam side facing down.
Repeat step three to seven until you run out of meat mixture.
Brush the sausage rolls with the beaten egg.
Cook in preheated oven for 20-30 minutes or until golden brown and cooked.
Serve & Enjoy.
Recipe Tips
Sausage meat is also known as sausage mince. In Australia, it is available at most supermarkets. If you cannot get your hands on any, then I recommend replacing it with ground beef.
Shortcrust pastry can be used instead of puff pastry. However, you do miss out on that lovely golden flaky pastry that puff pastry produces.
Breadcrumbs can be added if you are worried about the meat mixture being too wet.
Nutrition Information
Serving Size: 170g (6 oz)
Servings Per Recipe: 6
Calories Per Serving: 609
Amount Per Serving
Saturated Fat: 17.8g
Trans Fat: 1.5g
Dietary Fiber: 1g
Sugars: 1g
Cholesterol: 124mg
Sodium: 864mg
Protein: 21g
The information above is an estimate generated by an online nutrition calculator.
More Puff Pastry Recipes
Below are a few more puff pastry recipes that you might want to check out if you like this recipe. They are all unbelievably delicious.
The pigs in a blanket are remarkably similar to this recipe, but instead of using a homemade meat mixture, we use some hot dogs. They are super easy to prepare and work great as platter food for a party. I highly recommend giving them a try if you like this recipe.
I have also got to recommend trying the puff pastry pizza scrolls. The scrolls are loaded full of cheese, tomato paste, and ham. They are a great party food that I highly recommend making.
I hope that you enjoy these homemade sausage rolls as much as I do. If you have some feedback, please do not hesitate to leave a comment at the bottom of this page.