The air fryer is the perfect way to roast pumpkin until it is deliciously tender and slightly crisp.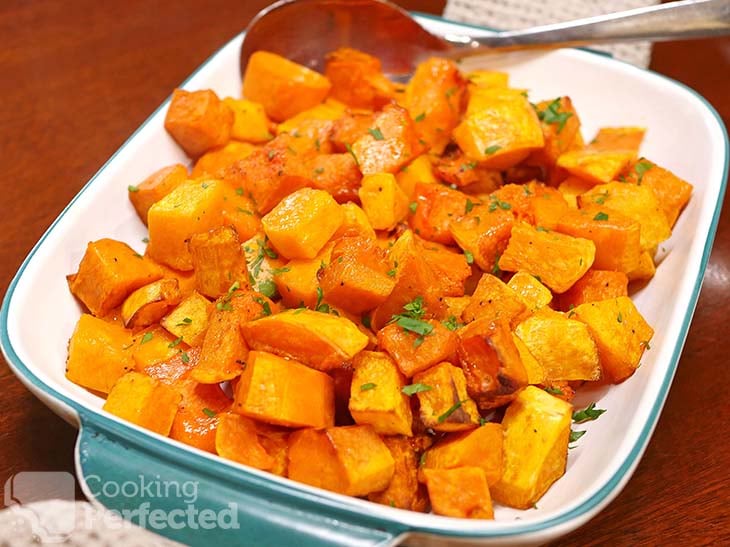 This recipe will have the pumpkin being the main flavor as we only season it slightly with a bit of salt and pepper. You can add more seasonings such as thyme and paprika if you want more flavor.
A single batch of this roast pumpkin should easily feed four to six people. However, it will vary depending on how you plan to serve the dish and whether the people you are feeding are big eaters.
You can store any leftover roast pumpkin in the refrigerator or freezer. The leftovers will work great in a wide variety of different recipes. It should last in the fridge for three days or three months in the freezer.
Serving Ideas for Roast Pumpkin
My favorite and most straightforward way to serve the roast pumpkin is as a side dish to another meal. It goes perfect alongside a delicious roast such as roast beef, roast pork, or roast chicken. You can also serve it with a casserole, crumbed chicken, sausages, steak, and so much more.
As I mentioned earlier, you can use the pumpkin in another dish. For example, the roast pumpkin will work great as a component in a salad, pasta, or even as a pizza topping. There is a vast number of ways that you can utilize pumpkin.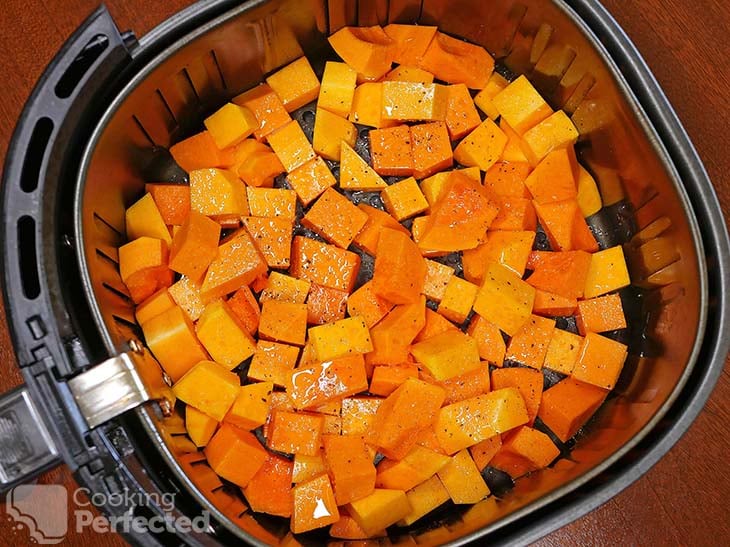 One of my favorite ways to use roast pumpkin is as part of a pumpkin soup. I find that roasting the pumpkin before using it in a soup brings out loads more flavors.
You can easily eat this delicious air-fried pumpkin without any additional foods. It is perfect as a light lunch with a couple of condiments such as tomato sauce or mayonnaise.
Tweaking the Recipe
Adding more flavor to the pumpkin is super easy. There are plenty of seasonings, spices, and herbs that will add a huge amount of flavor. However, you will need to be careful as sometimes they can be very overpowering. Cinnamon, nutmeg, cloves, garlic powder, thyme, rosemary, or paprika will work nicely with pumpkin.
Pureeing the air fryer roast pumpkin is an option if you want to serve the pumpkin a specific way. However, you will likely need to add more fluid, such as cream, for the best puree possible.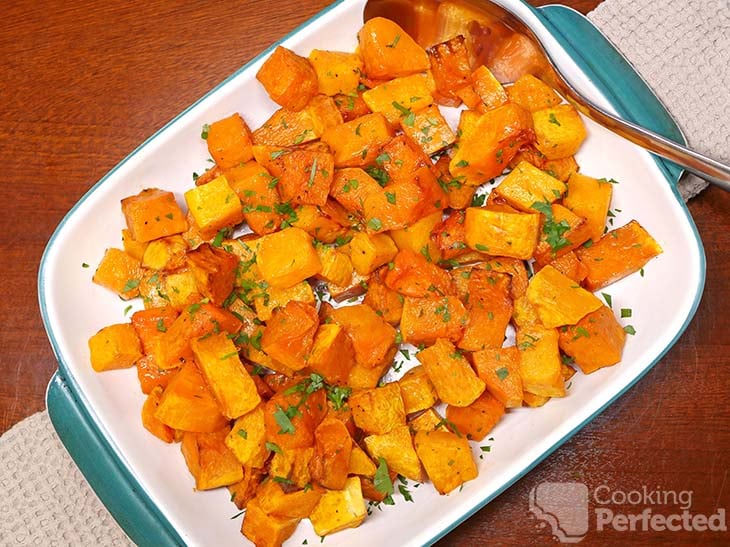 I cut the pumpkin into cubes, but you can instead cut it into fries or wedges. Since the pumpkin fries are likely to be smaller, you may need to reduce the cooking time slightly. I recommend trying roughly ten minutes.
You can easily swap the oil in this recipe with something else. For example, vegetable oil, duck fat, or even clarified butter would work great to replace olive oil. Ensure the replacement oil's smoke point is not too low; otherwise, it may burn when you air fry the pumpkin.
Best Pumpkins for Roasting
You can use almost any variety of pumpkin for roasting, but below are a couple of my favorites. I generally prefer using pie pumpkins as they tend to have more flavor.
Butternut squash or pumpkin is my favorite type to use for roasting. It has a wonderful sweet rich flavor that leaves you wanting more. You should be able to pick this pumpkin up at your local supermarket.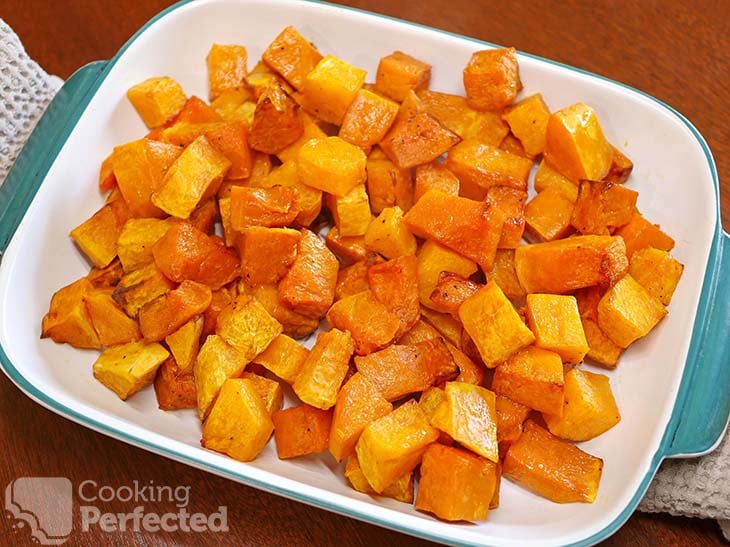 Jap or Kent pumpkin is one of the more popular types of pumpkin that you can get. It has delicious nutty flavors and soft flesh. It is a great variety to roast and will match nicely with herbs such as rosemary.
There are plenty of other great pumpkin or squash varieties that you can use in this recipe. If you have a suggestion, be sure to leave us a comment at the bottom of this page.
The recipe below will take you through all the steps to roasting pumpkin in the air fryer.
Air Fryer Roast Pumpkin Recipe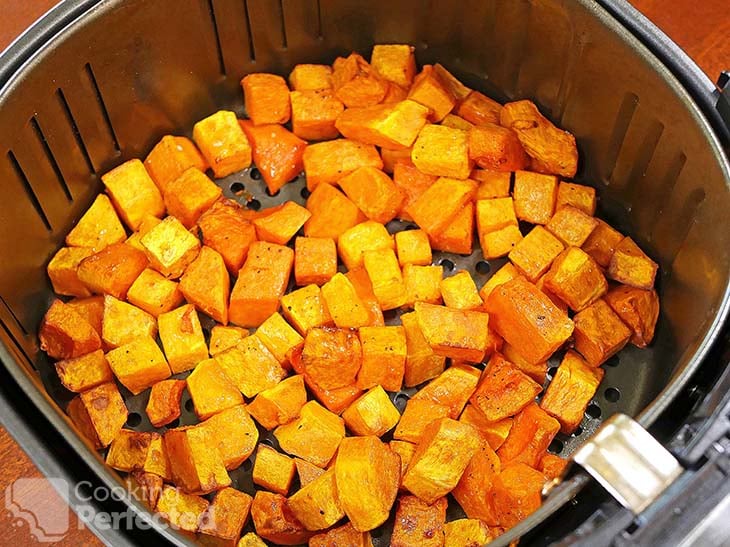 Ingredients
1 kg (2.2 lb) pumpkin, peeled, deseeded, and cut into large cubes
1 Tbsp olive oil
1 tsp salt
1 pinch of pepper
Instructions
Preheat the air fryer to 180°C (350°F). It will take roughly five minutes to heat.
In a large bowl, coat the pumpkin with the oil, salt, and pepper.
Place the pumpkin into the air fryer basket.
Cook for 20 minutes. Halfway through cooking, flip or shake the pumpkin.
Season to taste with salt and pepper.
Serve & Enjoy.
Recipe Tips
Once cooked, a knife should easily cut into the pumpkin. If there is a bit of resistance, cook the pumpkin for longer.
You can swap the oil for a different type of oil. But, whatever you do, I recommend keeping the oil as it helps get the outside crispy.
Additional seasonings such as herbs and spices are a great way to add more flavor to the pumpkin. However, avoid accidentally going overboard with extra flavors as you risk hiding the pumpkin flavor.
Preheating the air fryer is optional but does help ensure the pumpkin is cooked faster.
You can use frozen pumpkin, but you will need to tweak the time slightly. If it is precooked frozen pumpkin, you need to reduce the time. Otherwise, you may need to increase the cooking time.
Nutrition Information
Serving Size: 170g (6 oz)
Servings Per Recipe: 6
Calories Per Serving: 64
Amount Per Serving
Saturated Fat: 0.4g
Trans Fat: 0g
Dietary Fiber: 1g
Sugars: 5g
Cholesterol: 0mg
Sodium: 389mg
Protein: 2g
The information above is an estimate generated by an online nutrition calculator.
More Air Fryer Recipes
There are loads more delicious vegetable side dishes that you can cook in the air fryer. Below are a couple of my favorite recipes that I recommend giving a try.
I love cooking carrots in the air fryer as they are easy to get right. The result is deliciously tender carrots that are seasoned to perfection. They are one of the easiest homemade side dishes you can cook.
Our homemade roast potatoes are an absolute treat and cook perfectly in the air fryer. If you are looking for the ultimate side dish, I highly recommend giving them a try. They have always been a huge hit when I have made them for the family.
I hope that you love air-fried roast pumpkin as much as I do. If you have some feedback regarding this recipe, please do not hesitate to leave a comment below.