The air fryer is great for quickly cooking frozen battered fish to perfection. The batter cooks to be crispy and the fish deliciously hot.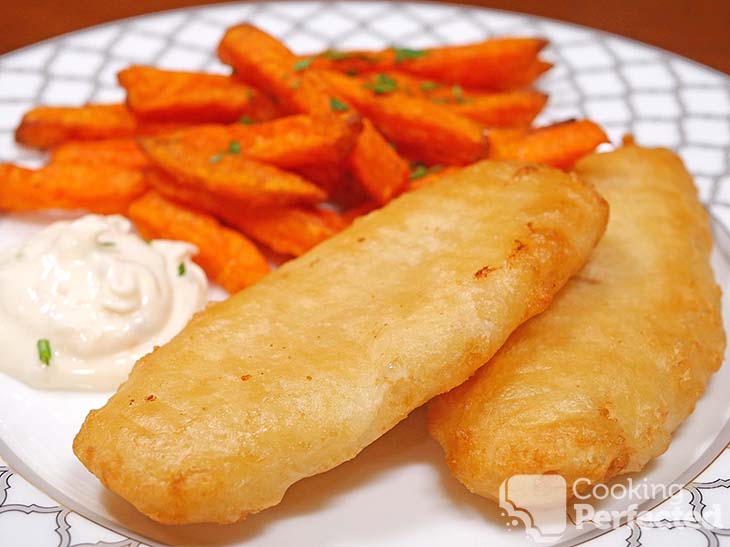 For the best outcome, pick your favorite brand of frozen battered fish. The type of batter does not hugely matter, but my favorite is either a beer batter or tempura. Also, the fish itself will heavily impact the final flavor. For example, I typically use battered fish that uses white fish fillets rather than salmon.
The air fryer does a great job quickly cooking the battered fish and is usually faster than the traditional oven. I recommend lightly coating the fish with some oil using a cooking spray.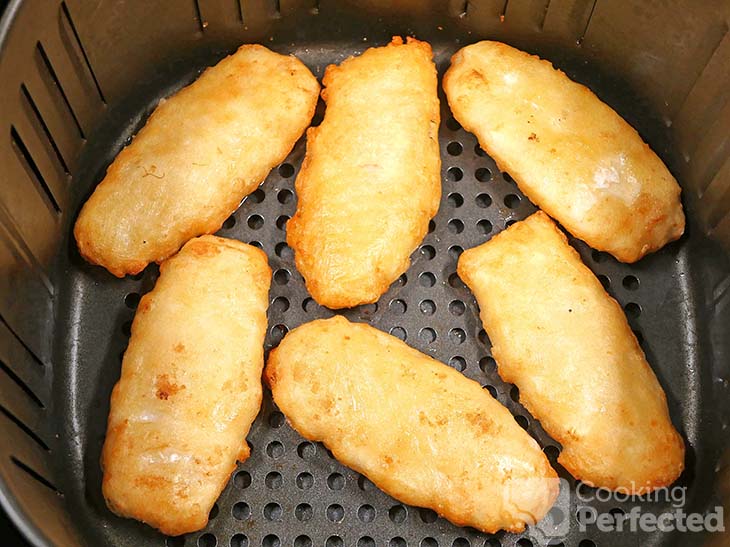 I aim for roughly one piece of fish per person, which will have this recipe serve four people. However, you may need to adjust quantities if people are big eaters or you have small pieces of fish.
You can make battered fish from scratch, but you will find it will not cook very well in the air fryer and will likely make a mess. Crumbed fish will likely work better as the coating won't be runny.
Serving Ideas for Battered Fish
My favorite way to serve battered fish is alongside some delicious thick-cut chips and a couple of slices of lemon. Other potato dishes such as French fries, Tater Tots, or even scalloped potatoes will work very nicely.
The best salad to serve with fish is a refreshing coleslaw. You can make coleslaw at home, or you can take the easy choice and pick it up at your local supermarket. Other salads will also work great with fish. For example, I love a good potato salad.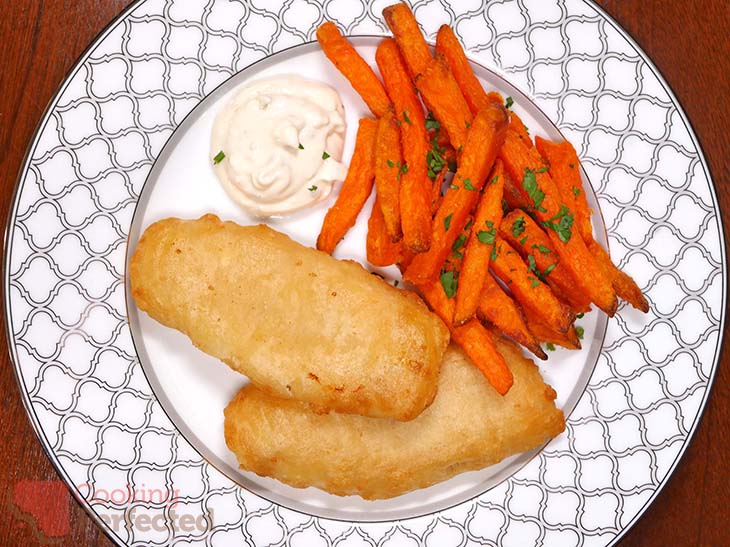 Condiments such as tartar sauce are the perfect match for fish. I love making tartar sauce at home as it is surprisingly easy to do. Other condiments such as seafood sauce, garlic aioli, and regular mayonnaise will work fantastic.
Using the battered fish, you can make a delicious fish burger. I love to do a simple combination of tartar sauce, cheese, brioche bun, and the fish itself. However, feel free to get creative with what you put inside the burger bun.
The recipe below will take you through the few easy steps to cooking frozen battered fish in the air fryer.
Air Fryer Frozen Battered Fish Recipe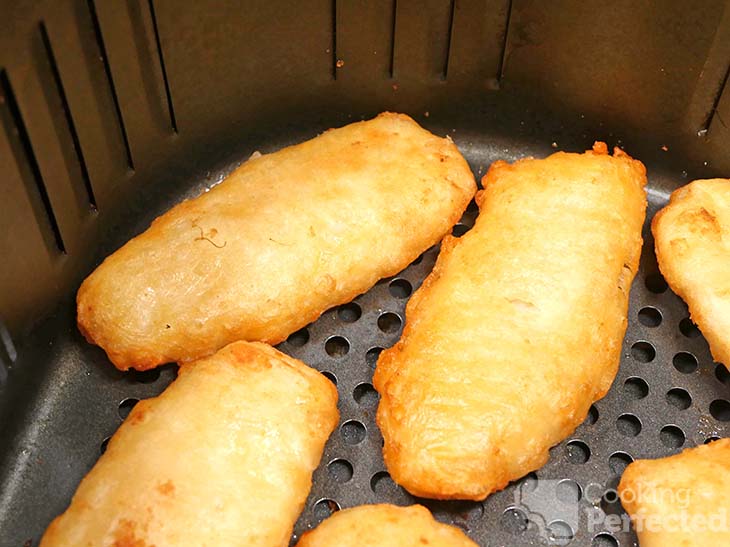 Ingredients
4 frozen battered fish fillets
1 tsp cooking oil
Instructions
Preheat the air fryer to 180°C (350°F). It will take roughly five minutes to heat.
Add the battered fish to the air fryer basket and lightly spray with oil.
Cook for 12 minutes or until lightly browned. Flip halfway through cooking.
Serve & Enjoy.
Recipe Tips
I recommend using a meat thermometer to check whether the fish is fully cooked. The internal temperature should be at least 63°C (145°F). You can double-check the product box for temperatures to be safe.
The oil is optional, but I recommend using it as it will help the batter get crisp.
Larger or smaller pieces of fish will result in different cooking times. If you want to be safe, check the fish at the eight-minute mark, then check it every 4 minutes.
Do not overload the air fryer as it will cause inconsistent cooking and soggy batter. Try to keep the fish as a single layer. You may need to cook in batches.
Please refer to the frozen battered fish box for the most accurate nutritional information.
Nutrition Information
Serving Size: 76g (2.7 oz)
Servings Per Recipe: 4
Calories Per Serving: 218
Amount Per Serving
Saturated Fat: 3g
Trans Fat: 0.1g
Dietary Fiber: 1g
Sugars: 1g
Cholesterol: 21mg
Sodium: 301mg
Protein: 8g
The information above is an estimate generated by an online nutrition calculator.
More Air Fryer Recipes
There are almost a limitless number of frozen foods that you can cook in the air fryer. Below are a couple of other foods that I highly recommend giving a try.
Frozen chicken tenders will cook perfectly in the air fryer. I love serving the tenders with a few different dipping sauces and some lovely air-fried fries. It is the perfect meal for when you feel like eating some comfort food.
If crumbed fish takes your fancy, you should check out our frozen fish sticks recipe. It is straightforward and will result in some delicious pieces of fish. I highly recommend giving it a try.
I love air frying frozen battered fish fillets as they are quick, easy, and always work out nicely. If you have some feedback regarding this recipe, please do not hesitate to leave a comment below.