The air fryer is perfect for cooking some frozen cauliflower to perfection.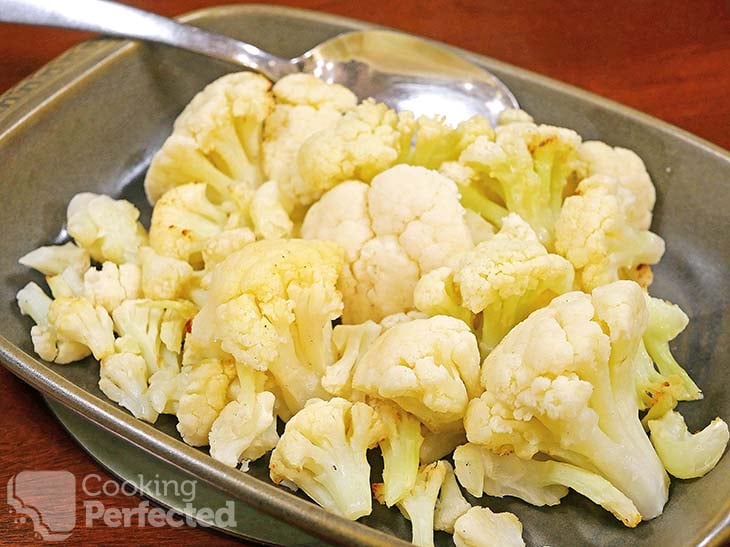 I love using frozen cauliflower as it is available all year round and tastes almost as good as fresh cauliflower. The air fryer is great as you can quickly defrost and cook the cauliflower in no time at all. You should be able to buy cauliflower at any good local supermarket.
We do not add a massive amount of flavoring to this recipe, so instead, you will get a lot of the natural flavors of cauliflower. Texture-wise the cauliflower will be tender but crisp. It is a very straightforward low-carb side dish but will please most fussy eaters.
A single batch of this air-fried cauliflower should feed roughly four to six people. If you are adding additional ingredients, you might be able to feed more people. I recommend serving this as a side dish to another meal.
If you somehow end up with leftover cauliflower, then keep it in either the fridge for up to three days or in the freezer for a few months. The leftovers will work great in a huge number of meals, or you can grate it and make cauliflower rice.
Air-Fried Frozen Cauliflower Serving Ideas
One of my favorite ways to serve cauliflower is with a generous amount of cheese sauce. Our cheese sauce recipe is incredibly easy and will not take up much of your time. I highly recommend giving it a try if you love cheese.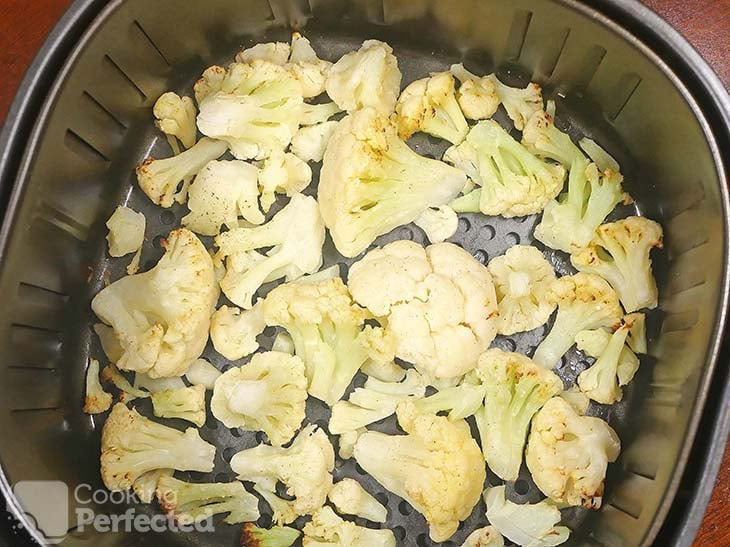 You can use air-fried cauliflower as part of another dish. For example, you can use cauliflower in a stir-fry or a salad. I love using it in a soup such as a roasted cauliflower soup or cheesy cauliflower soup. There are a huge number of options on what you can do.
The easiest option is to serve the cauliflower without any extras and alongside another meal. For example, roast cauliflower goes great as a low-carb side dish to roast pork, casseroles, chicken parmesan, roast beef, and so much more.
Adding More Flavor to the Recipe
There are loads of extra seasonings you can use to add more flavor to the cauliflower. Some people love to add ingredients such as cumin, curry powder, garlic powder, paprika, and so much more. However, I recommend keeping whatever you add to a minimum to avoid overpowering the cauliflower.
You can finish the cauliflower with a generous garnishing of shaved parmesan cheese. I also like to sprinkle a teaspoon of chopped fresh parsley over the top.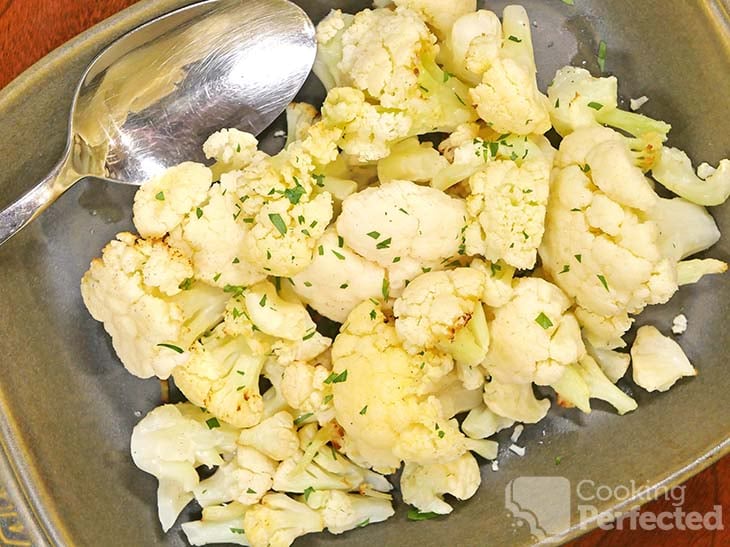 For buffalo cauliflower, simply coat the cauliflower in roughly half a cup of buffalo sauce. You should not need to alter anything else in the recipe. I recommend serving it with a blue cheese dip.
Even though this recipe is for frozen cauliflower, you can easily use fresh cauliflower instead. Fresh cauliflower should air fry in roughly the same amount of time. To be safe, I recommend checking after eight minutes of cooking.
The recipe below will take you through all the steps to cooking frozen cauliflower in the air fryer. In addition, you will see why air frying is way better than the traditional oven for cooking frozen vegetables.
Air Fryer Frozen Cauliflower Recipe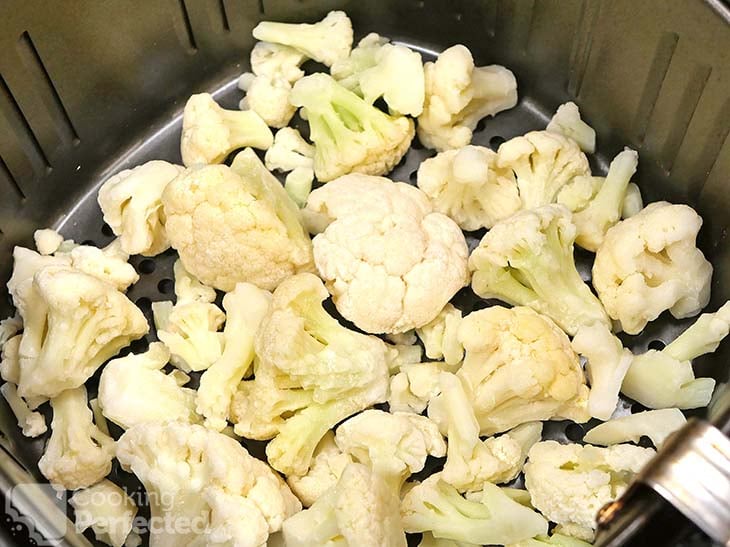 Ingredients
750 g (1.7 lb) frozen cauliflower florets
1 Tbsp cooking oil
1/2 tsp salt
1 pinch of pepper
Instructions
Preheat the air fryer to 180°C (350°F). It will take roughly five minutes to heat up.
Add the cauliflower to the air fryer basket and lightly spray with oil. Sprinkle the salt and pepper over the top.
Cook for 12 minutes or until lightly browned. You might need to shake the air fryer basket halfway through.
Serve & Enjoy
Recipe Tips
Be careful not to burn the cauliflower as it will make it go bitter. I recommend checking the cauliflower after it has been cooking for eight minutes.
You can use regular cauliflower instead of the frozen variety. You may need to adjust the cooking time slightly.
Try not to overload the air fryer as it may cause inconsistent cooking. For example, the florets at the top will burn quickly, and the florets underneath will not cook. Cook in batches if required.
An olive oil spray or regular cooking oil spray will work great for coating the cauliflower evenly. Alternatively, drizzle the oil over the top and quickly coat using your hands.
This recipe is gluten-free, keto, and paleo-friendly. However, be aware of the type of oil you use.
Nutrition Information
Serving Size: 192g (6.8 oz)
Servings Per Recipe: 4
Calories Per Serving: 76
Saturated Fat: 0.3g
Trans Fat: 0g
Dietary Fiber: 4g
Sugars: 4g
Cholesterol: 0mg
Sodium: 336mg
Protein: 4g
The information above is an estimate generated by an online nutrition calculator.
More Air Fryer Recipes
Below are a couple of my favorite air-fryer side dish recipes that I highly recommend giving a try.
Using the air fryer to cook sweet potato fries is an excellent option. When the fries are ready, they will be slightly crisp, hot, and loaded with flavor. They are one of my favorite alternatives to regular potato fries.
Our air fryer mushrooms taste absolutely amazing. The mushrooms cook in a generous amount of butter, garlic, Worcestershire sauce, and some herbs. They are a great side dish, so I recommend cooking them to go with your next meal.
I hope that the frozen cauliflower cooks great in the air fryer for you as well. If you have some feedback, please do not hesitate to leave a comment below.