This easy cauliflower cheese is perfect for anyone who wants an amazing cheesy dish without having to spend too much time preparing it.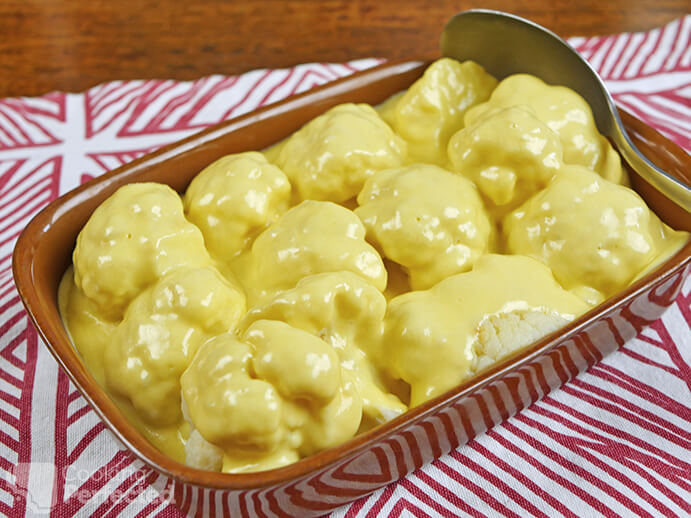 When you dig into eat this tasty dish, you will be greeted with a smooth cheesy sauce that has a slight hint of mustard. The cauliflower will be so tender that it will melt in your mouth.
The best part of this cauliflower cheese recipe is that it doesn't require any baking. No baking means you can make it super fast, and there are fewer things to go wrong.
Some Tasty Variations
This dish is pretty amazing by itself, but there are a few things you can do to make this mind-blowing delicious.
My personal favorite variation is to fry off some bacon, then mix the bacon into the cheese sauce. I also like to keep some bacon to the side and scatter it on the top.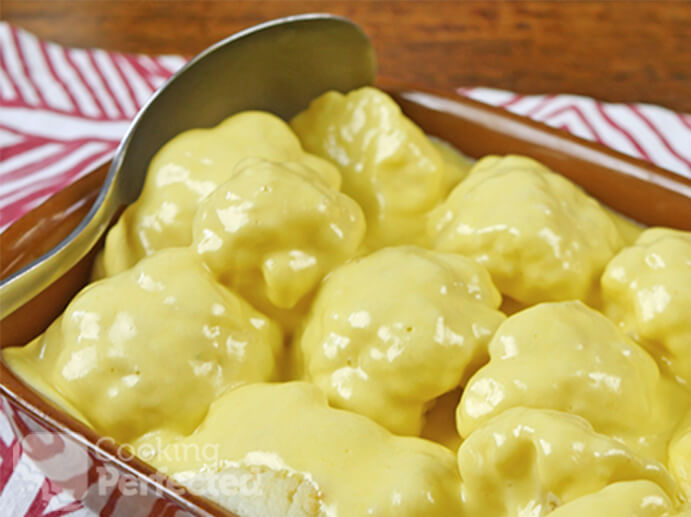 You can also try making a crumb mixture so you can have a crunchy cheesy topping on the cauliflower florets. You can do this by combining cheese, breadcrumbs, and a little bit of butter.
Adding some chives is also an excellent tweak you can make to this recipe. Much like the bacon, I like to stir chopped chives into the sauce itself, then scatter some over the top at the end.
If you have a variation that you would like to share, then please don't hesitate to leave a comment at the bottom of this page.
Super Easy Cheese Sauce
Unlike most recipes, you will notice how the cheese sauce for the cauliflower doesn't have any flour in it. This method reduces the chance of ending up with a lumpy sauce from messing up a roux.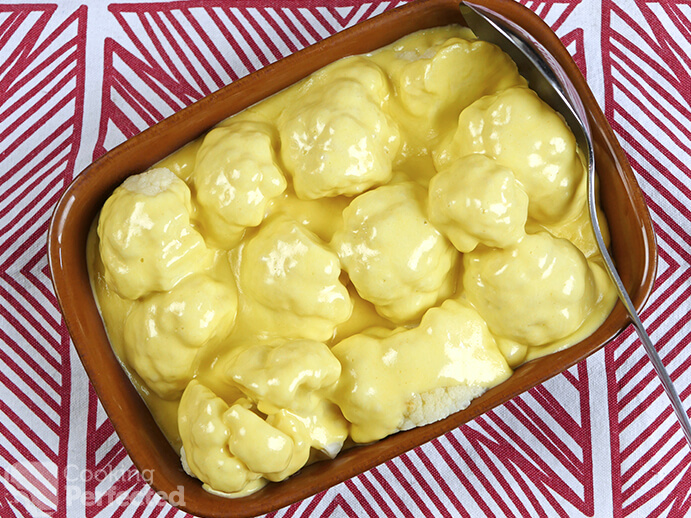 The cheese sauce will only take you a few minutes over the stove and doesn't require much stirring if you cook it on low heat. It's probably the easiest sauce I have ever made.
Having no flour makes this dish perfect for anyone who is on a gluten-free diet.
Side Dish or Main Meal
A lot of people would consider this to be a side dish, but I can eat this as an entire meal.
If you do plan on having it as a side dish, this would probably feed two to four people. Otherwise, as a main meal, it's likely to feed only one or two people.
If you're ready to see how to make this cauliflower cheese recipe, then be sure to check out the video below.
The video takes you through all the steps you need to do to perfect this recipe. If you love the video and like to see more, then don't forget to subscribe.
Easy Cauliflower Cheese Recipe
Ingredients
3 cups cheddar cheese, shredded
1 Tbsp mustard
½ cup milk
1 cauliflower cut into florets (Fresh or Frozen)
Instructions
Par-cook the cauliflower in a pot of salted boiling water. Cook until a knife goes into the cauliflower smoothly.
Once the cauliflower is tender, drain and place into a serving dish.
In a different pot, add the cheddar cheese, mustard, milk, and cook over low heat. Continuously stir until melted, and you get a thick sauce consistency.
Season the cheese sauce to taste.
Pour the cheese sauce over the top of the cauliflower.
Serve & Enjoy.
Recipe Tips
It is essential that you cook the cheese sauce at low heat. Cooking it at a high temperature can cause the cheese to burn and become bitter. If you think the pan is getting too hot, then simply remove for a few minutes before returning to the stove.
Par-cooking the cauliflower is essential if you want the cauliflower to be soft and nice to eat every time you go to cook this. Skipping this step will leave you with undercooked or raw cauliflower.
You can steam the cauliflower if you prefer that over boiling. Alternatively, you can cook the florets in the microwave using a microwavable container.
Nutrition Information
Serving Size: 343g (12.1 oz)
Servings Per Recipe: 4
Calories Per Serving: 422
Amount Per Serving
Saturated Fat: 18.3g
Trans Fat: 0g
Total Carbohydrate: 14.7g
Dietary Fiber: 5.7g
Sugars: 7g
Cholesterol: 91mg
Sodium: 604mg
Protein: 27g
The information above is an estimate generated by an online nutrition calculator.
More Tasty Recipes
Assuming you plan on making this as a side dish and need something such as a main meal, then be sure to check out our other delicious easy dinner recipes.
If I were to pick a meal to go alongside this, it would probably be the baked honey mustard chicken recipe. It is super simple and won't end up making very much. It's the perfect dish to along with this one.
Assuming you're looking for something super cheesy and straightforward like this recipe, then be sure to check out the crispy yet gooey fried cheese sticks.
If you have your own variation, have feedback, or anything else about this easy cauliflower cheese recipe, then feel free to leave me a comment below.