This easy baked brie recipe is any cheese lover's dream. After about five minutes, it comes out as a delicious gooey cheese that is amazing just by itself or with some crackers. A nice red wine also goes amazingly well with the cheese.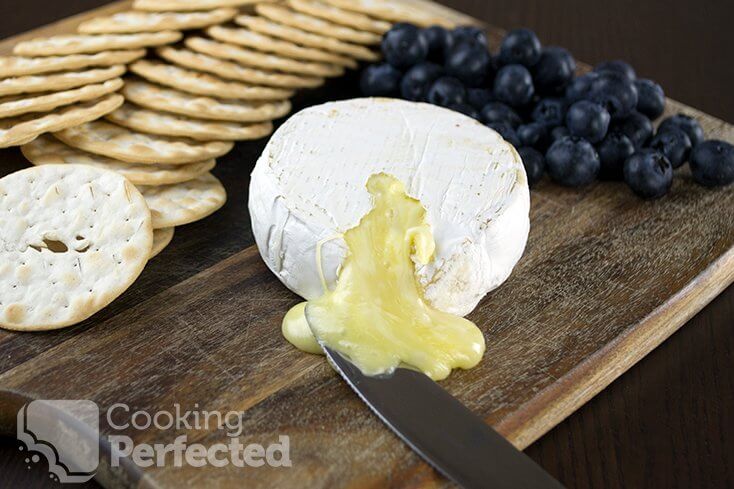 This recipe is super simple and won't take you long at all. If you're short on time and want something warm and delicious, then this recipe is perfect for you.
You can easily feed a couple of people with this cheese, or you can keep it all to yourself. Keep in mind this is super rich, and I found that half a wheel of brie was more than enough for me.
What to Serve with Baked Brie
This recipe is best served with some crackers and fresh fruit. I find sliced apple is the best match for the brie. Also, if you have some around, then an olive tapenade is super delicious when you combine it with a cracker and the soft, warm brie.
There are so many dips that go great with this cheese such as caramelized onion dip, or smoked salmon dip. I highly recommend giving them a try if you're feeling a little adventurous.
Other additions such as compotes, different cheeses, deli meats, and nut mixes go amazing alongside this delicious baked brie.
Toppings for the Cheese
A delicious homemade caramelized onion chutney is an excellent topping and matches nicely with the cheese. If you don't have the time, then a store-bought chutney will work just as well.
For a sweeter cheese, you can top it with a combination of honey and rosemary. I recommend using fresh rosemary and high-quality honey for the best tasting result.
Another sweet topping that will work nicely is chopped apples and caramel sauce. It involves a bit more time in the kitchen but is definitely worth the effort.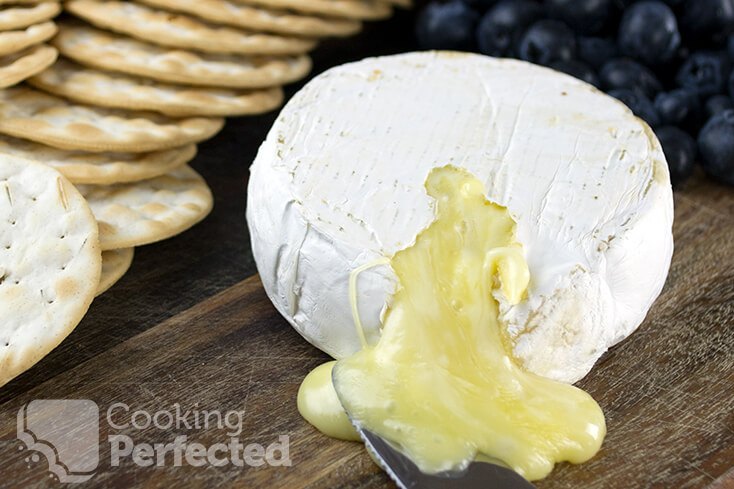 My last recommendation is savory and is very delicious. You can simply scatter some sun-dried tomatoes and a bit of thyme over the top of the cheese. It tastes as good as it sounds.
There are hundreds of different combinations that you can use as a topping on the cheese, and above are just a couple of my favorites. Be sure to let us know of any combinations that you think work fantastic in the comments section at the bottom of this page.
Unlike most of my recipes, this doesn't have a video. I thought it was too simple and didn't really warrant a twenty second video. You can still find an excellent text version of the recipe right below.
Easy Baked Brie Recipe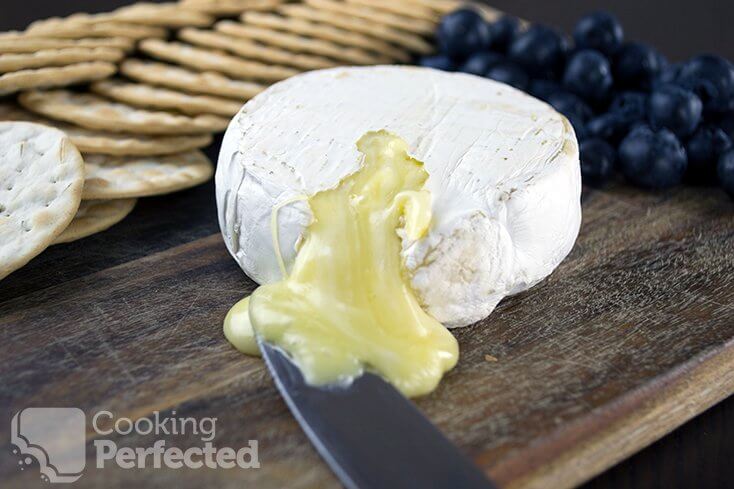 Ingredients
1 wheel of brie
1 piece of baking paper
Instructions
Preheat an oven to 180°C (350°F).
On a tray lined with baking paper, place the wheel of brie.
Place into the preheated oven and bake for 5 to 8 minutes.
Once done, remove from the oven.
Serve & Enjoy.
Recipe Tips
Make sure your oven is at full temperature before putting the cheese in. If you put the cheese in as the oven is just warming up, you may end up with consistency problems.
Since this recipe thrives around the cheese, you will certainly benefit if you get a better quality brie cheese. That said, it is still great with the cheaper varieties.
If you want to add a bit of sweetness to this baked brie recipe, then I recommend drizzling some honey over the top. You can do this before you put it in the oven, so you get a delicious warm honey and brie combo.
Instead of an oven tray, you can use a cast-iron skillet or a casserole dish.
Nutrition Information
Serving Size: 64g (2.3 oz)
Servings Per Recipe: 2
Calories Per Serving: 214
Amount Per Serving
Saturated Fat: 11.1g
Trans Fat: 0g
Dietary Fiber: 0g
Sugars: 0g
Cholesterol: 64mg
Sodium: 403mg
Protein: 13g
The information above is an estimate generated by an online nutrition calculator.
More Cheesy Recipes
If you like this recipe, then be sure to check out the delicious fried camembert recipe. It again is super easy, and you get some fantastic crunchy gooey pieces of cheese. These go well in a salad, or you can eat them by themselves.
Assuming you're a fan of soft cheeses, then you should take a look at the baked brie wrapped in puff pastry. Much like this recipe, it turns out to be lovely and gooey, but on the outside has a flaky, crunchy shell.
I hope that you find this easy baked brie recipe handy and that it cooks to be perfectly gooey. As always, if you have a variation, feedback, or anything else you would love to share with us, then be sure to drop us a comment below.