Back to Recipe
Print Recipe
Easy Baked Brie Recipe
---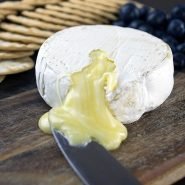 Prep time: 1 Minute
Cook time: 8 Minutes
Total time: 9 Minutes
Serves: 2
Ingredients
1 wheel of brie
1 piece of baking paper
---
Instructions
Preheat an oven to 180°C (350°F).
On a tray lined with baking paper, place the wheel of brie.
Place into the preheated oven and bake for 5 to 8 minutes.
Once done, remove from the oven.
Serve & Enjoy.
---
Recipe Tips
Make sure your oven is at full temperature before putting the cheese in. If you put the cheese in as the oven is just warming up, you may end up with consistency problems.
Since this recipe thrives around the cheese, you will certainly benefit if you get a better quality brie cheese. That said, it is still great with the cheaper varieties.
If you want to add a bit of sweetness to this baked brie recipe, then I recommend drizzling some honey over the top. You can do this before you put it in the oven, so you get a delicious warm honey and brie combo.
Instead of an oven tray, you can use a cast-iron skillet or a casserole dish.
Did you make this recipe?
We want to see! Tag
@cookingperfected
on Instagram or use the hashtag
#cookingperfected
so we can find you!
---