The air fryer is a great way to bake some delicious homemade scones. They turn out so incredibly delicious they will have you going back for seconds.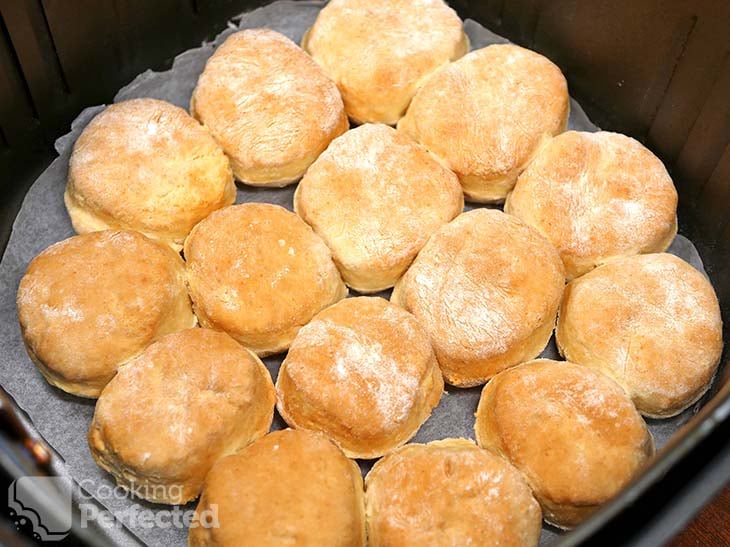 Scones are baked goods that are typically made from wheat flour and a raising agent. They are generally made to go along with tea or coffee but can be enjoyed as a snack or dessert. There are loads of different scone recipes that range from sweet to savory.
For this recipe, we are making slightly fluffy scones that are typically served with additional ingredients. These scones may differ from the type you are accustomed to as they can vary quite a bit from country to country.
The scones this recipe produces will require some extra foods to go with them. The classic combination of jam and cream is the perfect match, but feel free to get creative with other flavorings.
You should be able to make enough scones to feed roughly six people without needing to adjust the recipe. However, like most foods, it heavily depends on appetites. If you decide to double the recipe, you may need to cook the scones in batches.
Scones Serving Ideas
Raspberry jam and whipped cream are a combination that many people love to serve with their scones. Simply cut the scone in half and fill it with a little bit of jam and cream. You can use other jams such as apricot jam, strawberry jam, or even blackberry jam.
One of my favorite ways to serve these scones is with homemade lemon curd. Simply cut a scone in half, spread the lemon curd on each half, then sandwich together. For a bit of extra creaminess, whipped cream will go great with the curd. Store-bought lemon curd is an excellent alternative if you do not have the time to make it.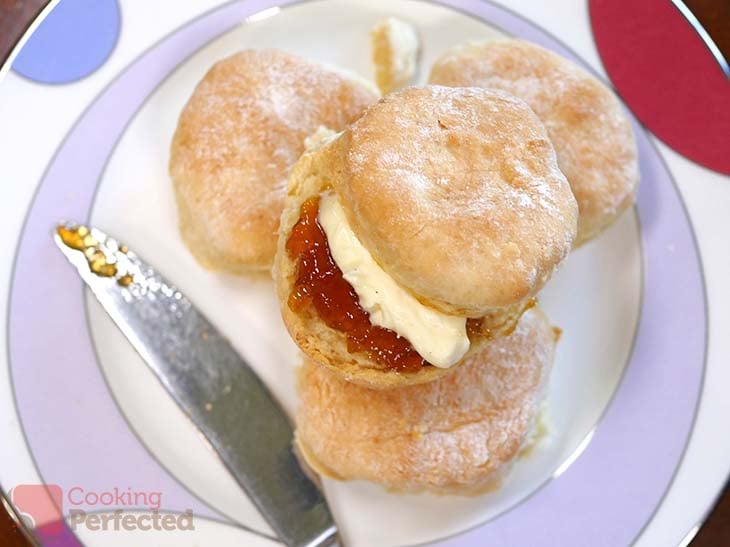 Savory toppings such as guacamole and smoked salmon will work nicely with these muffins. If you have the time, I recommend making the guacamole yourself rather than buying it from the supermarket.
Another savory combination that I love is cheese and bacon. I recommend topping each scone at the end of cooking with some shredded cheese and crispy bacon. You will need to cook the scones for a couple more minutes so that the cheese melts.
Tweaking the Scone Recipe
If you want your fresh scones to have a touch of sweetness to them, you can add a couple of teaspoons of sugar to the flour mixture. I recommend doing this if you plan on serving the scones with sweet toppings such as jam and cream.
Some spices such as cinnamon and nutmeg are a great way to add loads of flavor. I recommend half a teaspoon of each, but you can easily adjust this to your tastebuds. To go one step further, you can add some raisins into the scone mixture. It is a super delicious tweak.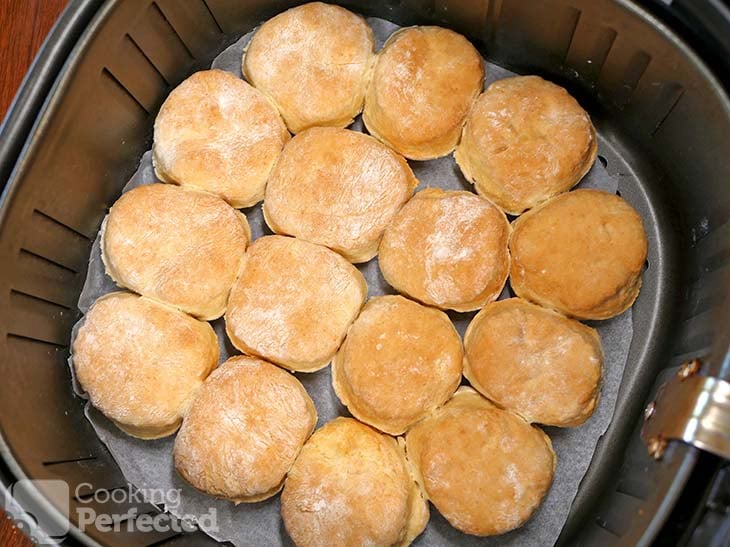 For some chocolatey scones, you can add a touch of cocoa powder and sugar into the scone dough. Then, you can go one step further and add some chocolate chips for the ultimate chocolate goodness. I highly recommend giving it a try.
Lastly, you can easily turn these scones savory with the addition of seeded mustard, cheese, and shaved ham. Simply mix these three ingredients into the scone mixture. Be careful not to go overboard on the mustard as it can be very overpowering.
The recipe below will take you through all the steps to cooking some of the best scones in the air fryer. If you give it a try, please let us know how you go.
Air Fryer Scones Recipe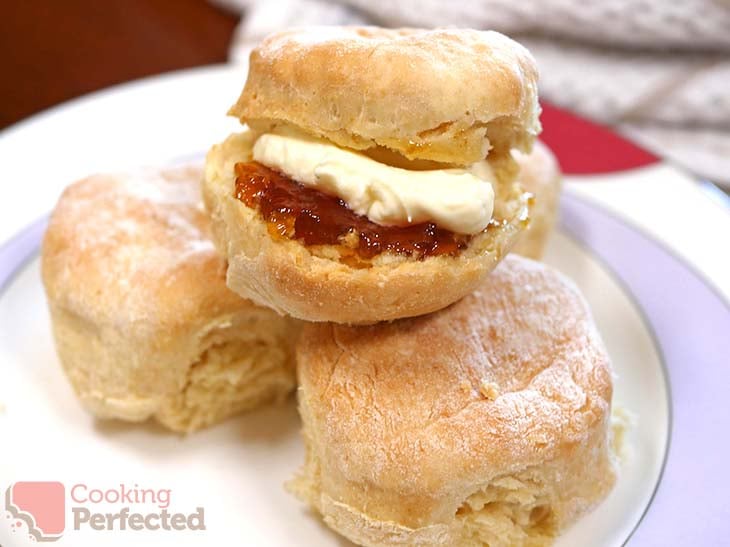 Ingredients
450 g (15.9 oz) self-rising flour
80 g (2.8 oz) unsalted butter, chilled and cubed
250 ml (8.5 fl oz) milk
To Serve
Raspberry Jam
Whipped Cream
Instructions
Preheat the air fryer to 160°C (320°F). It will take roughly five minutes to heat up.
In a large bowl, add the cold butter and flour. Rub the butter into the flour until it resembles bread crumbs.
Make a well in the middle of the flour. Add the milk into the middle and mix using a flat-bladed knife until it comes together. The dough should be soft, gradually stir in more milk if it is too dry.
On a lightly floured surface, knead the dough until smooth. Avoid kneading too much as it will make the scones tough.
Roll the dough out, so it is roughly 2 cm (0.8 in) thick. Using a 5cm (2 in) round scone cutter, cut out as many pieces as possible. Press the dough together and cut out the remaining pieces. Repeat if necessary.
Place a piece of baking paper into the bottom of the air fryer basket. Place the scones onto the paper, so they are almost touching. You will likely need to cook in batches.
Cook for 15 minutes or until the scones are golden brown and sound hollow when you tap them.
Serve & Enjoy.
Recipe Tips
A cookie-cutter or the top of a drinking glass are great alternatives if you do not have a scone cutter.
Use a teaspoon of sugar to turn your scones slightly sweet. I recommend using fine sugar such as superfine or caster sugar.
Avoid overmixing the scone dough, as it will likely lead to tough and chewy scones.
Depending on your air fryer, you might need to cook the scones for less or more.
Nutrition Information
Serving Size: 132g (4.7 oz)
Servings Per Recipe: 6
Calories Per Serving: 388
Saturated Fat: 7.8g
Trans Fat: 0.4g
Dietary Fiber: 2g
Sugars: 2g
Cholesterol: 33mg
Sodium: 915mg
Protein: 9g
The information above is an estimate generated by an online nutrition calculator.
More Air Fryer Recipes
Below are some more fantastic air fryer recipes that are certainly worth a try.
One of my favorite ways to start the day is to cook some French toast in the air fryer. The bread cooks to be deliciously crispy and is fantastic with some summer fruits and a good drizzle of maple syrup. I certainly recommend giving it a try.
Whenever I have some spare time, I love cooking some homemade chicken tenders in the air fryer. The tenders cook to have a deliciously crispy coating that is loaded with flavor. They go great with some dipping sauces such as BBQ sauce.
I hope that you love these air fryer scones as much as I do. If you have some feedback, please do not hesitate to leave a comment below.