Using the air fryer to cook some chicken sausages is incredibly easy. The result is some perfectly cooked sausages that taste amazing.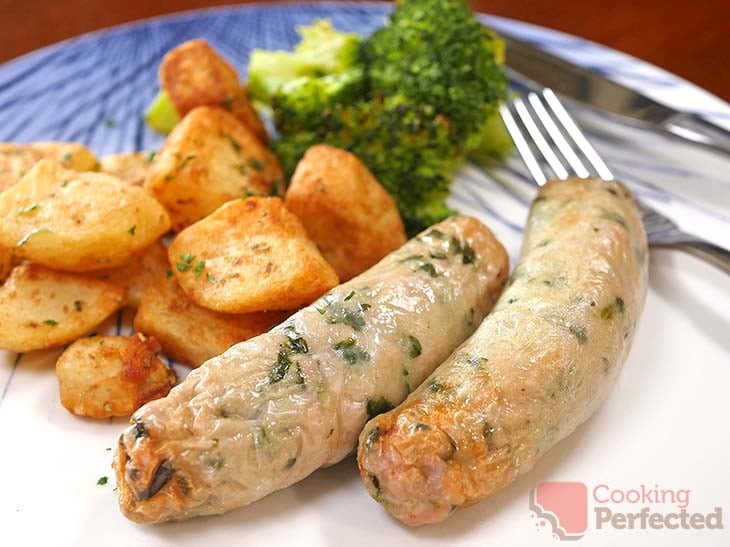 The outcome of this recipe heavily relies on the brand of chicken sausages you have. For the best results, I recommend buying a brand that you know and love. My favorite has some additional herbs and flavors added to the sausage.
You can easily swap the chicken sausages for a different kind of sausage. For example, pork, beef, or even turkey sausages will work fine with this recipe.
Depending on how many side dishes you make, you should be able to get roughly three to six servings out of this recipe. You can easily cook more sausages but be careful not to overload the air fryer basket. Cooking in batches is always an option.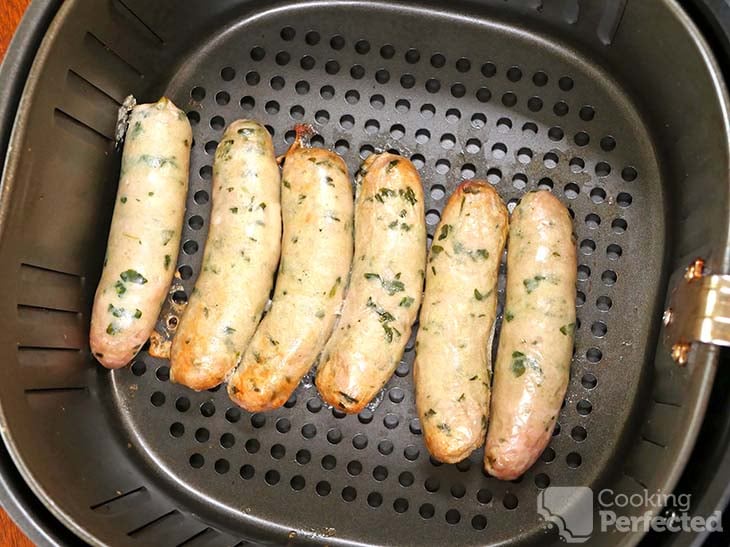 You can do quite a bit with leftover sausages, so store them in either the fridge for a few days or the freezer for a few months. My personal favorite is to cook some curried sausages.
Side Dish Ideas for Chicken Sausages
One of the best side dishes I love to serve with sausages is cauliflower and cheese sauce. It is a super easy dish and only requires fifteen minutes to prepare everything. I highly recommend giving it a try.
If you have a spare air fryer, you might want to give our garlic mushrooms a try. They are easy to get right and will not take very long to cook in the air fryer. Of course, you can always cook extra vegetables such as broccoli and mushrooms as well.
Homemade onion gravy is absolutely delicious poured over the chicken sausages. If you do not have the time, some pre-prepared gravy such as Gravox is an excellent alternative. Whatever you do, you cannot go wrong with gravy and sausages.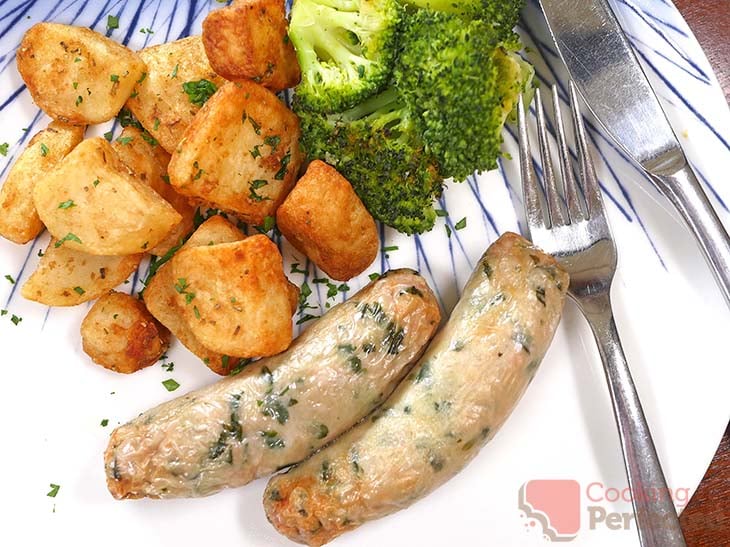 Some roast potatoes are also an excellent side dish that you can cook in your air fryer. I recommend cooking them separately from the sausages for the best result. If roast potatoes do not take your fancy, then sweet potato fries or regular potato fries are also great options.
My last recommendation is making a side of creamed spinach. It will require a little bit of extra time in the kitchen, but the result is well worth it. Of course, to speed things up, you can always skip the crumb for the spinach.
The recipe below will take you through all the steps to cooking chicken sausages in the air fryer. If you have some feedback, please leave us a comment at the bottom of this page.
Air Fryer Chicken Sausages Recipe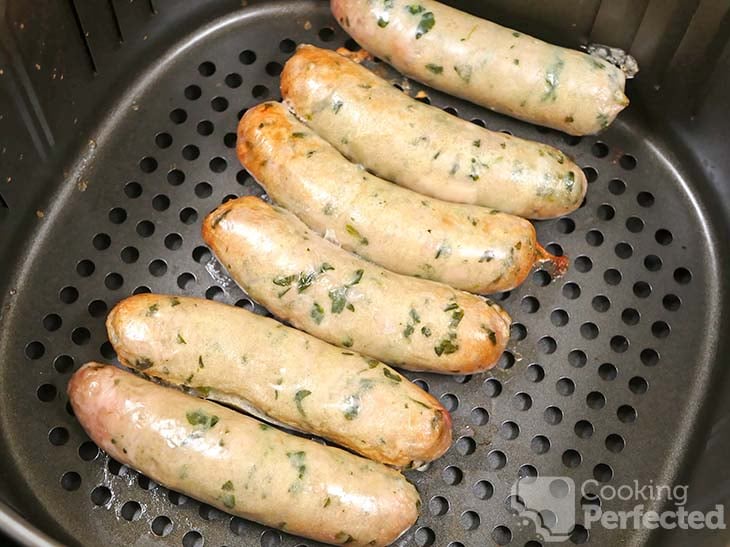 Ingredients
6 chicken sausages
1 tsp cooking oil
Instructions
Preheat the air fryer to 180°C (350°F). It will take roughly five minutes to heat up.
Lightly spray the air fryer basket with the cooking oil.
Place the chicken sausages into the air fryer basket. Make sure they are a single layer.
Cook for 10 minutes or until browned and fully cooked. Flip the sausages halfway through cooking.
Serve & Enjoy.
Recipe Tips
I recommend using a meat thermometer to check the internal temperature of the sausages. The internal temperature should be at least 75°C (170°F).
Be wary of the size of your sausages, as thinner or thicker sausages might require slight cooking time adjustments. The type I used in this recipe was roughly 2cm (0.8 in) thick.
Make sure you do not stack the sausages or overcrowd the air fryer. Doing either of these will cause longer cooking times and more inconsistent cooking.
Pricking the sausages with a fork or knife will help reduce the chance of the sausages exploding. One downside is that it can cause the meat to go dryer than usual.
The cooking oil is optional but will prevent the sausages from sticking to the air fryer basket.
You will need to double-check your packet of sausages, but most good-quality sausages should be keto, gluten-free, and paleo-friendly.
Nutrition Information
Serving Size: 101g (3.6 oz)
Servings Per Recipe: 6
Calories Per Serving: 242
Saturated Fat: 4g
Trans Fat: 0g
Dietary Fiber: 0g
Sugars: 0g
Cholesterol: 160mg
Sodium: 639mg
Protein: 15g
The information above is an estimate generated by an online nutrition calculator.
More Air Fryer Recipes
There are loads more chicken meals that you can cook in the air fryer. Below are a couple of my favorite recipes that I highly recommend that you try.
Our air fryer chicken parmesan recipe requires a bit of preparation but is well worth the effort. The result is crispy pieces of chicken loaded with a homemade sauce and lots of cheese. It is one of my all-time favorite recipes.
I have mentioned our air-fried chicken thighs many times before, but I still absolutely love it. You coat the chicken in a homemade seasoning that helps lock in the juices and add a ton of flavor. You have got to give it a try.
I love using the air fryer for cooking chicken sausages as they perfectly cook every time. I hope you find the same. If you have any feedback, please do not hesitate to leave a comment at the bottom of this page.