The air fryer is a great way to cook corn on the cob as fast as possible and have it taste absolutely delicious.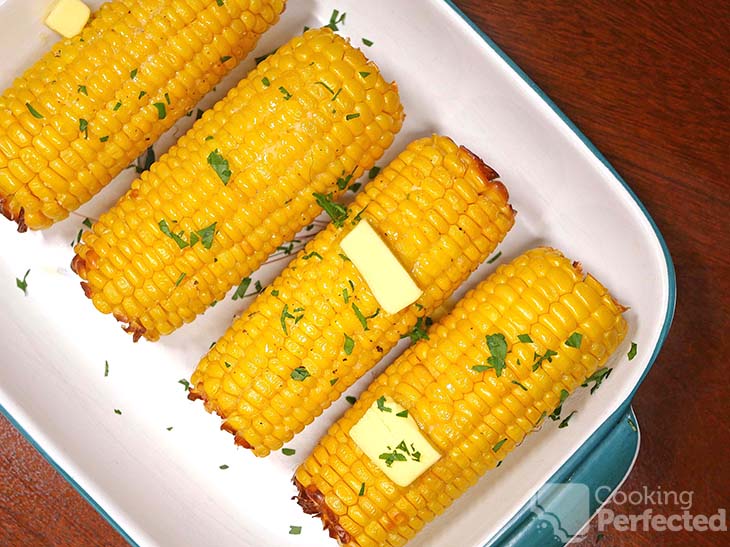 Using the air fryer is a fast and easy way to cook corn on the cob. It takes just ten minutes in the air fryer instead of almost forty minutes in a traditional oven. However, both methods result in some delicious corn.
A cob of corn features an incredible amount of sweet tender corn kernels that go slightly crispy in the air fryer. I love to add a couple of butter cubes on top of the corn alongside a touch of seasoning for extra flavor. It is a simple meal but incredibly delicious.
I aim for roughly one corn on the cob per person, so this recipe should feed about four people. Depending on the size of your air fryer, you may be able to cook more corn. There are many ways to serve the corn, so feel free to get creative.
If you somehow end up with leftovers, you can use the corn in a wide variety of other dishes, or you can eat the leftover corn off the cob. The sweet corn should last for roughly three days in the refrigerator. Alternatively, you can freeze the leftovers.
Serving Ideas for Corn on the Cob
My favorite way to eat corn on the cob is to pick it up and eat it. However, if you do not like getting your hands messy, you can get some corn cob holders.
I love to garnish the corn with a touch of butter and nothing else. However, if you want more flavor, you can always sprinkle some shaved parmesan cheese over the top.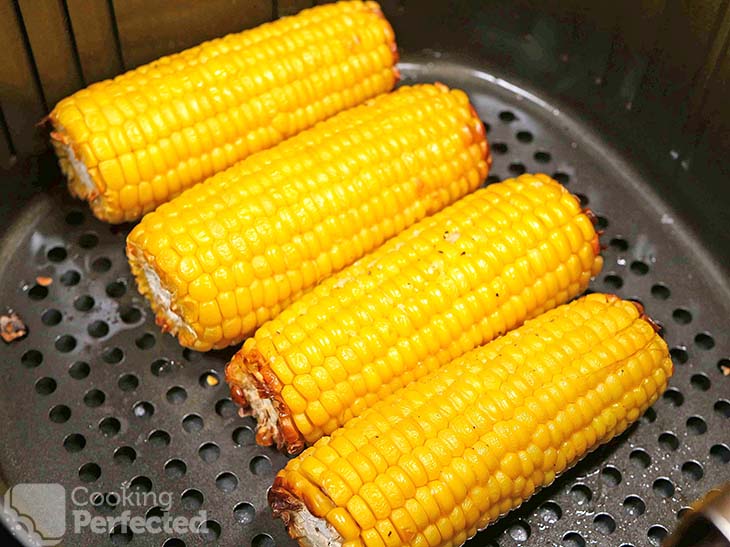 You can eat the sweet corn as a full meal, but I recommend having it as a side dish. Corn is usually great alongside BBQ foods such as sausages, salads, burgers, and so much more. Sometimes I love to air fry some corn to go alongside a good roast.
Another option is to gently cut the corn kernels away from the cob and use them in another meal. For example, meals such as corn chowder, creamed corn, salads, and soups are perfect with fresh air-fried corn.
Tweaking the Recipe
You can cook frozen corn on the cob in the air fryer, but you will need to adjust the cooking time slightly. I recommend cooking for roughly fifteen to twenty minutes instead. However, I recommend checking the air fryer regularly to avoid overcooking or burning the corn.
There are a ton of extra flavors that you can add to the corn. A couple of ingredients you can add include chives, garlic, parsley, rosemary, thyme, or paprika. You can get creative but try not to use ingredients that will overpower the flavor of the corn.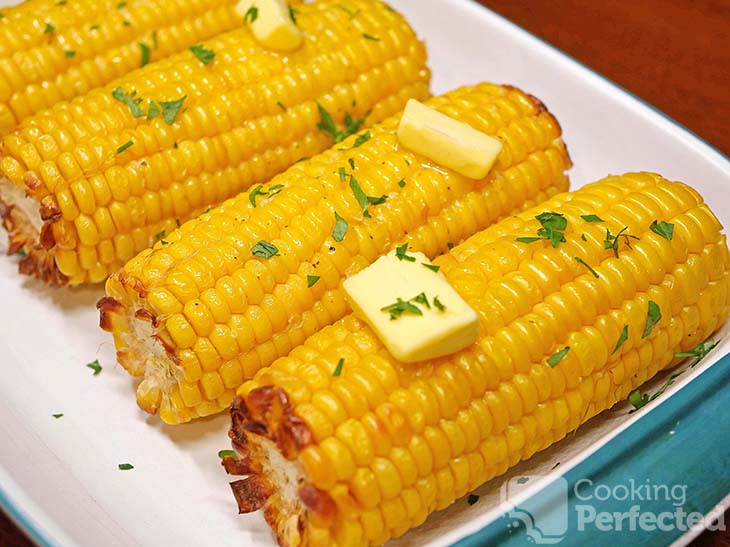 Using a different oil is a great way to add a slightly different flavor to the corn. I like to use oils that are not strong in flavor such as vegetable oil. However, feel free to use some strong oils such as coconut oil, olive oil, or bacon fat.
To stop the corn from crisping too much, you can wrap it in foil and only remove it for the last few minutes of cooking. However, I have never found the need to use foil in the air fryer.
The recipe below will take you through all the steps to cooking corn on the cob in the air fryer. If you give this recipe a try, be sure to let us know what you think.
Air Fryer Corn on the Cob Recipe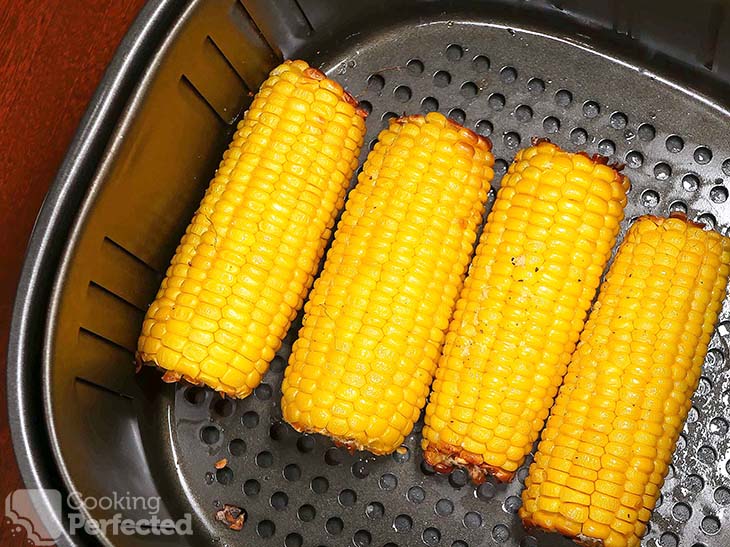 Ingredients
4 ears of corn
1 tsp cooking oil
1/4 tsp salt
1 pinch of pepper
Instructions
Preheat the air fryer to 180°C (350°F). It will take roughly five minutes to heat.
Place corn ears in the air fryer basket.
Lightly spray the ears of corn with the cooking oil.
Season with salt and pepper.
Cook for 10 minutes. Flip the corn halfway through cooking.
Serve & Enjoy.
Recipe Tips
Do not overload the air fryer with corn, as it will lead to inconsistent cooking. Try to keep all the ears of corn as a single layer.
Remove any corn husks before cooking the corn in the air fryer. The husks may burn and spoil the food.
As I mentioned earlier, you can cook frozen corn on the cob in the air fryer. You will need to increase the cooking time by five to ten minutes.
Always check your food throughout cooking to ensure it does not burn.
Nutrition Information
Serving Size: 145g (5.1 oz)
Servings Per Recipe: 4
Calories Per Serving: 134
Saturated Fat: 0.4g
Trans Fat: 0g
Dietary Fiber: 4g
Sugars: 5g
Cholesterol: 0mg
Sodium: 167mg
Protein: 5g
The information above is an estimate generated by an online nutrition calculator.
More Air Fryer Recipes
Below are a couple of recipes that I reckon you will love if you enjoy corn on the cob. I highly recommend giving them a try.
I love cooking some frozen broccoli in the air fryer as it is quick and easy. In addition, you can add some more ingredients to the broccoli. For example, I love to add shredded cheese once it is almost ready.
Another vegetable dish I love cooking in the air fryer is carrot fries. The carrot fries are a healthier alternative to potato fries and are super easy to get perfect. I highly recommend giving them a try as they are absolutely delicious.
I love air-fried corn on the cob and hope that you will too. If you have some feedback, please do not hesitate to leave a comment below.