These gluten-free curried sausages are packed full of flavor thanks to the lovely combination of spices.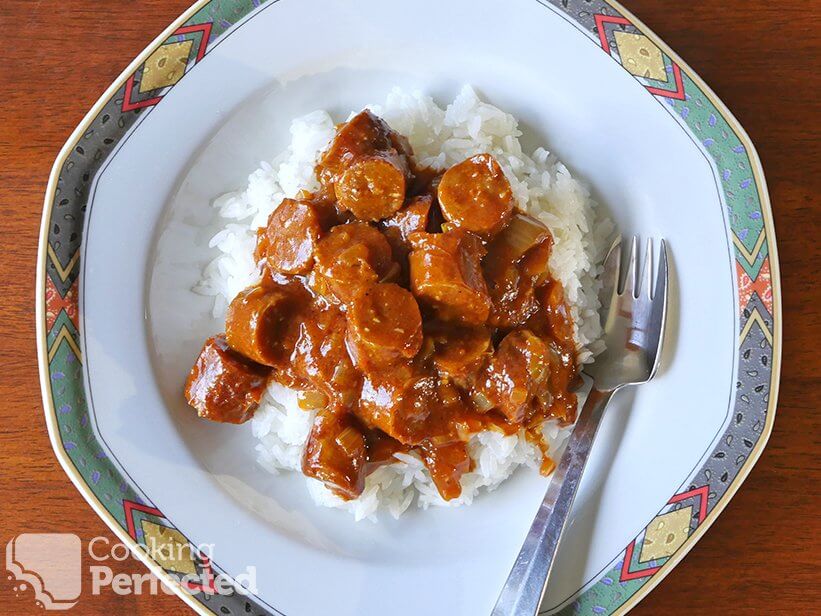 This dish has an excellent combination of curry powder and garam masala. These will add a ton of flavor and a bit of spice to the dish. The rest of the ingredients, such as the tomato paste, ginger, garlic, and onion, will help add a bit of depth to the recipe.
Curried sausages are an excellent way to use up some leftover sausages from a BBQ. If they have already been cooked, then you can skip the first step. It does not hugely matter if you end up adding more than the eight recommended sausages.
It is unlikely, but if you do end up with leftovers, make sure you keep them. The leftovers will heat up excellent for lunch or dinner the next day. Just make sure you keep them in the fridge or freezer.
What to Serve with Curried Sausages
These curried sausages are great on their own, but I do recommend having something else to go with them. Below are a couple of ideas on what you can do.
Some delicious steamed rice is probably the easiest side dish that you can do. I typically cook mine in a rice cooker rather than over the stove. As an alternative, you could try making some cauliflower rice.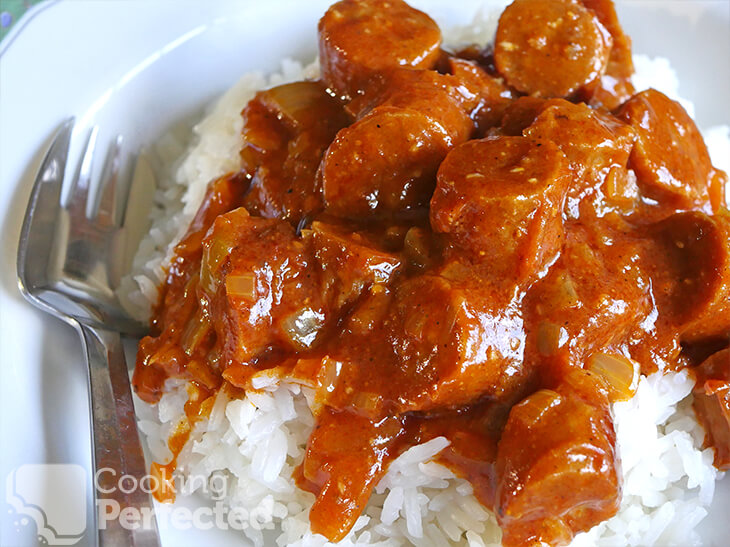 The homemade gluten-free naan bread is an excellent side dish and works great with some rice as well. If you do not have time to make them at home, then you can find regular naan at most good supermarkets.
For something a little different, you can serve this dish over the top of some mashed potatoes. If you want something healthier, you can try making the mashed cauliflower instead.
Be sure to let us know if you have any serving ideas for these curried sausages as we will love to hear them.
Recipe Tweaks
Feel free to add some more vegetables such as peas, carrots, and even some corn kernels. If you are adding carrots, then they are best added at the start. Peas, on the other hand, are best to add at the end.
If you do not have any chicken stock, then it can be replaced with some water or a different stock. You may need to add a bit more salt to the dish to make up for the loss of flavor if you use water.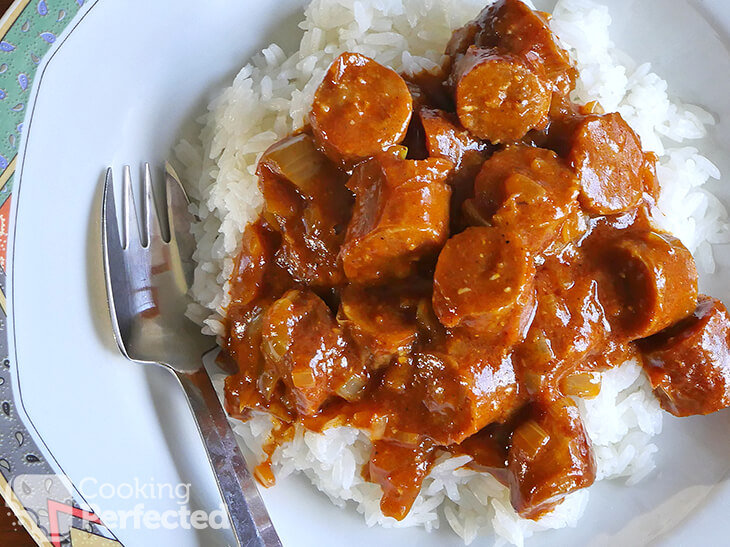 A little bit of tomato chutney or sugar can be added into the curry sauce for a bit of sweetness.
Other sausages such as pork or chicken will work great in this recipe. Just choose a sausage that you know you will like.
If you want to learn how to make these excellent curried sausages, then you can find the recipe right below. Do not forget to check out the cooking tips as they come in handy when it comes to perfecting this dish.
Curried Sausages Recipe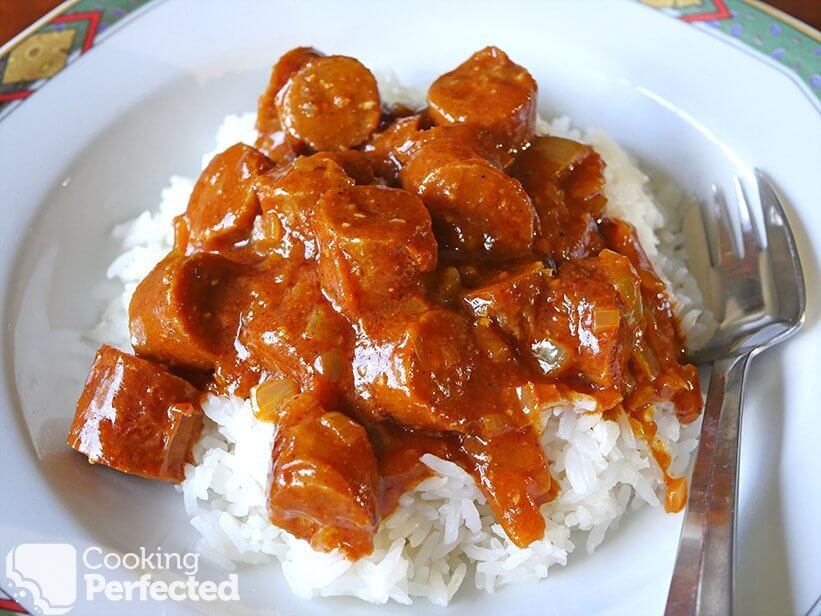 Ingredients
8 thick beef sausages
1 Tbsp oil
20 g (0.7 oz) butter, unsalted
2 Tbsp ginger, grated
1 Tbsp garlic, crushed
2 onions, diced
3 Tbsp yellow curry powder
1 Tbsp garam masala
2 Tbsp tomato paste
2 Tbsp gluten-free cornstarch
625 ml (21.1 fl oz) chicken stock
2 bay leaves
Instructions
In a frypan over high heat, heat the oil. Cook the sausages until browned on all sides. Once cooked, put to the side, and allow them to cool.
Once the sausages are warm, cut into 2cm (0.8 in) pieces.
In the frying pan, add and melt the butter. Next, add the ginger, garlic, and onion. Cook over medium heat for 5 minutes or until the onion is translucent.
Stir in the curry powder and garam masala. Cook for a minute or until fragrant.
Next, add tomato paste and cook for another minute.
Add the cornstarch, and slowly mix in.
Gradually stir in the chicken stock.
Bring it to a simmer. Add the sausages and bay leaves.
Cook on low heat for 15 minutes.
Serve & Enjoy.
Recipe Tips
Yellow or red curry powder will work just fine. I made use of the yellow curry powder, but red will work just as well.
You can skip cutting the sausages and leave them whole. It will save you a little bit of time in the kitchen.
Like most dishes, curried sausages can also be made in the slow cooker. The only change you will need to make to this recipe is to add the cornstarch at the end of cooking.
Nutrition Information
Serving Size: 251g (8.9 oz)
Servings Per Recipe: 6
Calories Per Serving: 464
Amount Per Serving
Saturated Fat: 14.9g
Trans Fat: 2.1g
Dietary Fiber: 3g
Sugars: 4g
Cholesterol: 80mg
Sodium: 909mg
Protein: 17g
The information above is an estimate generated by an online nutrition calculator.
More Gluten-Free Recipes
There are many excellent gluten-free recipes that you can make. Below are a couple of my personal favorites.
If you are looking for more curries, then be sure to check out the peanut chicken curry. It has a delicious combination of flavors and makes use of a homemade curry paste.
Another dish that you might like is the chorizo and sweet potato casserole. The casserole is very simple and consists of sweet potato, chorizo, garlic, paprika, and a bit of chicken stock. Even though it is simple, it is still very delicious.
I do hope that you enjoy these curried sausages and that the recipe is easy to follow. If you have some feedback, tips, or anything else, then please do not hesitate to leave a comment below.