This fantastic chicken jambalaya is the perfect dish for when you want a meal that is both full of flavor and incredibly easy to make.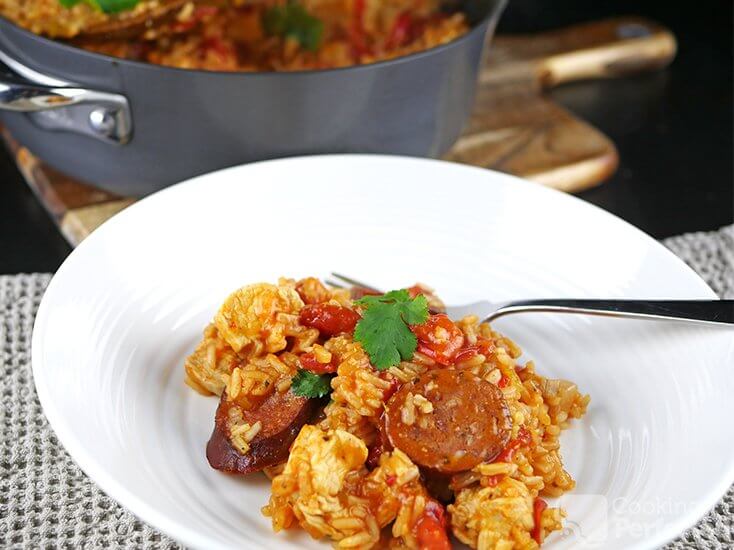 By the time you take the pot off the stove, the kitchen will be full of aroma from the Cajun spices. The jambalaya itself will be loaded with chicken, chorizo, rice, and a delicious sauce that has a ton of flavor.
This jambalaya is not one hundred percent authentic, but it is very heavily inspired by the traditional dish. The flavors in this recipe will certainly not disappoint, and it is super easy to make.
You will only need one pot to make this delicious dish, so it is great if you would rather not deal with a ton of washing up. You will still need a chopping board and knife unless you can buy all the ingredients pre-cut.
This dish will reheat fine, so be sure to keep the leftovers in the fridge. Personally, I would not recommend freezing the leftovers as rice does not seem to freeze very well.
Extra Ingredients to Add
If you love seafood, then prawns work exceptionally well in this dish. You must not add them until the end of cooking. Otherwise, they will overcook and become like bullets. They should only need about five minutes of cooking.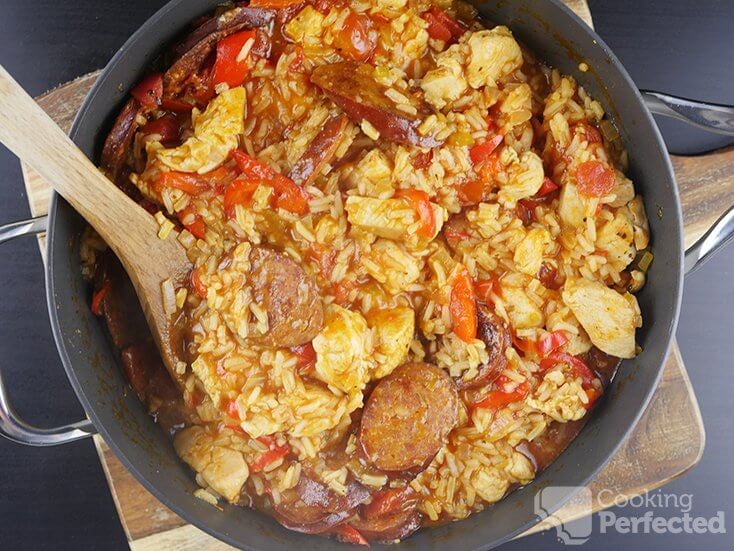 Other meats will work nicely in this jambalaya if you want to try something other than chicken. For example, pork is an excellent substitution for the chicken.
Even though I recommend chorizo, other smoked sausages will work nicely in this dish. For example, andouille sausage, or Polish sausage will match very nicely with the rest of the flavors
Side Dishes That Work Great with Jambalaya
As with most pasta and rice dishes, some fantastic sides go well with this dish. For example, I always love making some deliciously easy garlic bread. It just comes down to how much time you have to spare.
An absolute classic to have with jambalaya is some homemade cornbread. My favorite recipe has some chopped semi-dried tomatoes, bacon, and cheese. It is certainly delicious, so I highly recommend giving it a try.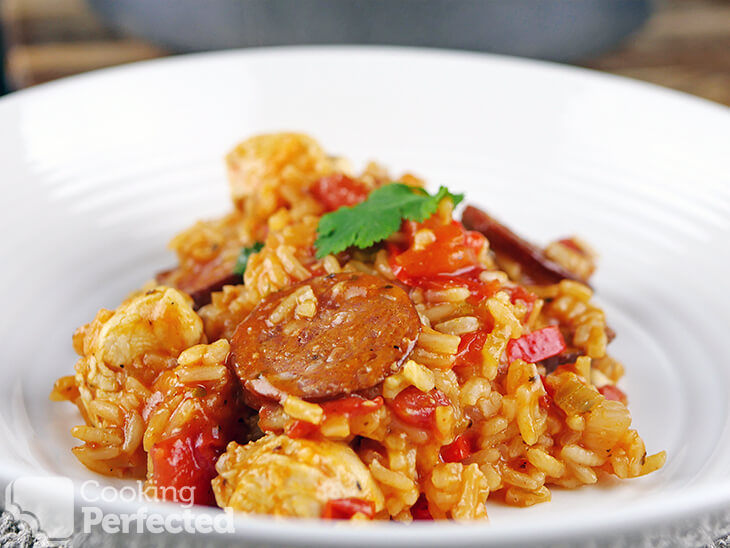 Some corn on the cob is another classic side dish to have with this meal. I love to melt some butter over the top and then eat the corn straight off the cob. Some people love to sprinkle some Cajun seasoning over the top as well.
If you want to see how to make this easy jambalaya, then be sure to check out the video below. It is short, snappy, and will take you through everything you need to know about getting this dish from the fridge to the table.
Easy Chicken Jambalaya Recipe
Ingredients
2 chicken breasts, chopped
100 g (3.5 oz) chorizo sausage, sliced
1 onion, diced
2 tsp garlic, crushed
1 celery stalk, diced
1 red bell pepper, sliced
1 cup long-grain rice
400 g (14.1 oz) crushed tomatoes
1 Tbsp Cajun spice
500 ml (16.9 fl oz) chicken stock
Instructions
In a frying pan over medium heat, add the chorizo. Cook for 5 minutes or until the chorizo is starting to brown.
Add the onion, garlic, celery, chicken, and red bell pepper. Cook for 5 minutes.
Add the rice, tomatoes, Cajun spice, and the chicken stock.
Bring to a simmer and lower the heat on the stove to about low-medium with the lid. Cook for 20-25 minutes until the rice is tender.
Serve & Enjoy.
Recipe Tips
Using a heavy-based frypan will help prevent the rice from burning as it will distribute the heat better.
Make sure the heat is relatively low when you are cooking the rice. The low heat will help prevent the rice from sticking and burning to the bottom of the pan.
You may need to add a little bit more chicken stock if the rice still is not cooked at the twenty-minute mark.
If you have no lid for the pot, then try making a temporary one out of foil. Alternatively, you can use no lid at all, but you will need to keep an eye on the fluid level as a lot of it will evaporate and could result in the dish burning.
You can make Cajun spice at home if you don't have any in the cupboard.
For something a little different, you can cook the jambalaya in a slow cooker. It is far from tradition but works perfectly if you do not have much time to spend in the kitchen.
Nutrition Information
Serving Size: 324g (11.4 oz)
Servings Per Recipe: 6
Calories Per Serving: 367
Amount Per Serving
Saturated Fat: 4.7g
Trans Fat: 0.1g
Dietary Fiber: 2g
Sugars: 4g
Cholesterol: 70mg
Sodium: 576mg
Protein: 25g
The information above is an estimate generated by an online nutrition calculator.
More One-Pot Recipes
There are plenty of other fantastic one-pot dishes that you should check out.
The belly-warming chili con carne is a great dish that only needs to be cooked in a single pot. It is the perfect dish for when you are craving something hot and spicy.
Another one-pot meal that I love is the cauliflower cheese soup. It is perfect all year round and is one of my favorites. I love to have it with a serving of cornbread.
I hope that you enjoy this easy chicken jambalaya recipe. If you have any feedback that you would like to share, then please do not hesitate to leave a comment below.