This easy chili con carne is always a huge hit at dinner time. It is super simple, so you can have a hearty dish ready very quickly.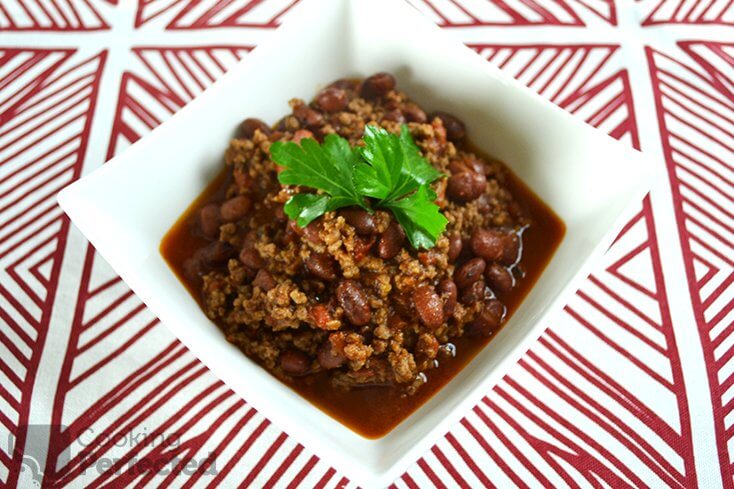 Chili con carne is a classic dish that is a favorite of many households. It is relatively cheap and is straightforward to prepare and cook.
The end result of this recipe is a stew that has lots of flavors thanks to the ground beef, vegetables, and spices. You can serve the dish on its own, or you can serve it with another dish.
This meal is great for when you need to feed lots of people and is surprisingly affordable to make in bulk. Most of the ingredients that you need are easily sourced at a reasonable price at your local supermarket.
What to Serve with Chili Con Carne
This recipe goes very well as a topping on some nachos, mashed potatoes, steamed rice, and so much more. I think the chili is great on its own, so don't feel the need to make anything extra.
A condiment that I highly recommend having with this chili is some easy guacamole. If I were to pick another condiment, then it would definitely be some sour cream. Both of these choices are amazing and even go great together.
Some Tortilla chips go great dipped into this chili. You can make some tortilla chips at home, or you can take the easy route and buy some from the supermarket. I prefer to make them myself, but store-bought is always good too.
There are countless possibilities on how you can serve this delicious chili. Some of the most popular combinations are dishes such as chili cheese fries, chili hot dogs, and so much more.
Tweaking the Recipe
If you're finding the sauce is a bit too bitter, then try adding about one tablespoon of sugar. This adjustment helps cut out the bitterness of the tomatoes, making it a much more enjoyable meal.
I recommend adding a bit more spice if you love your chili con carne hot. I reckon another two teaspoons will be enough to get your mouth breathing fire.
You can swap the beans for some diced carrot if you're not a fan of beans. Remember that you may need to cook the chili for longer to ensure that the carrot is fully cooked.
The video below will take you through all the steps on how to make chili con carne. Alternatively, there is a full written recipe immediately beneath the video.
Easy Chilli Con Carne Recipe
Ingredients
500 g (1.1 lb) ground beef
1 tsp cumin
1 tsp chili flakes
1 Tbsp tomato paste
400 g (14.1 oz) crushed tomatoes
1 tsp oregano
400 g (14.1 oz) kidney beans, drained and rinsed
Instructions
Heat the oil in a pan over medium heat.
Add the ground beef, cumin, chili flakes, and cook until the ground beef is browned.
Add tomato paste, crushed tomatoes, oregano, and kidney beans.
Simmer for 15-20 minutes, stirring occasionally.
Season with salt and pepper.
Serve & Enjoy.
Recipe Tips
This easy chili con carne recipe keeps well in the fridge so you can cook up a large batch and enjoy it the next day. It also freezes nicely, so if you want to stock up for those lazy nights, then this is a great recipe for doing exactly that.
Draining any excess fluid after browning the ground beef is an excellent way of reducing the amount of fat in your chili.
Adding a little bit of sugar helps take away some of the bitterness from the tomatoes.
You can leave this chili cook for longer than twenty minutes. The longer cooking time will help bring out even more flavor, it's quite common to see a chili cooked in a slow cooker.
Nutrition Information
Serving Size: 330g (11.6 oz)
Servings Per Recipe: 4
Calories Per Serving: 655
Amount Per Serving
Saturated Fat: 8g
Trans Fat: 0g
Total Carbohydrate: 71.1g
Dietary Fiber: 19.1g
Sugars: 8.2g
Cholesterol: 84mg
Sodium: 293mg
Protein: 48.8g
The information above is an estimate generated by an online nutrition calculator.
More Ground Beef Recipes
There are so many different meals that you can make with some ground beef. Below are a couple of suggestions that I highly recommend trying.
The tater tot casserole is a combination of tater tots, ground beef, gravy, and a generous amount of cheese. It's not the healthiest dish around, but it certainly is very tasty.
Another dish that I highly recommend trying is easy meatloaf. It's super easy to make and cooks to be incredibly moist. It also features a lovely rich tomato sauce that takes the dish to a whole new level.
If you have any variations, or anything else that you want to mention about this quick and easy chilli con carne, then be sure to drop us a comment below.