Gluten-free naan bread is the perfect accompaniment to a good curry. It's also great as some dipping bread to go with delicious homemade dips.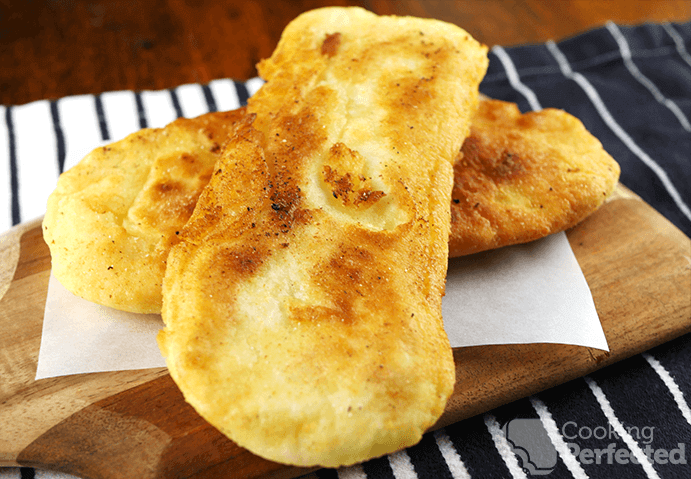 One of the best things I love about this Naan is how easy it is to make. Unlike most recipes, you don't need a ton of ingredients such as yogurt and milk. This recipe might not be traditional, but it is undoubtedly great and easy to make.
The method you use to cook these is up to you, but I recommend cooking them in a frying pan for the best tasting gluten-free naan bread. Personally, I would add a little bit of fat, such as oil or butter in the frying pan to help assist with cooking.
Recipes Naan Bread Goes Great With
As I mentioned above, there is plenty of dishes that you can have with this bread. For example, I love to have it with some slow-cooked curries or even some tasty dips. The choice is totally up to you.
An excellent curry to have naan bread with is the peanut chicken curry, and I just love dipping the naan straight into the curry sauce. It's so good I always end up overeating.
In terms of dips, the caramelized onion dip is one that you certainly need to try with this tasty bread.
Leftover Naan
Make sure you keep any leftover naan as it is perfect the next day. You can even prepare it a day ahead and reheat when you need it. With that said, it's best cooked nice and fresh. Any longer than a day and the naan bread will become quite hard and inedible.
There are some things that you can do with leftover naan. For example, you can use it as a pizza base, or you can make a toasted sandwich using it.
You can find the written recipe right below, and it will take you through all the steps to making this incredibly tasty naan bread.
Gluten-Free Naan Bread Recipe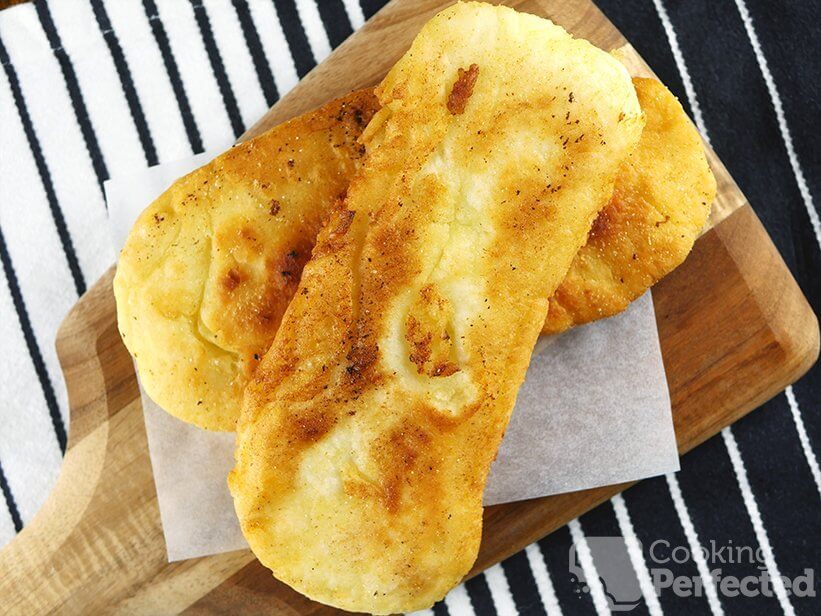 Ingredients
1 & ½ cups warm water
1 Tbsp sugar
2 tsp active dry yeast
1 tsp salt
Instructions
In a jug, dissolve the yeast, and sugar in the water. Allow to sit for 5-10 minutes or until frothy.
Sieve together the flour, and salt.
Slowly add the yeast mixture. Mix until it's a soft dough. You might need to add some more flour if it's too wet.
Place into a greased bowl and cover. Allow to sit in a warm place for 30-45 minutes.
Dust a surface with gluten-free flour and knead the dough. Divide into roughly 6-8 pieces and roll into ovals with a thickness of about 1/8" or 3mm.
Cook in a hot frying pan on each side for 1-2 minutes, use a fat such as oil to help cook the naan (1-2 Tbsp should be enough). Continue to cook until golden brown and the dough is cooked on the inside.
Serve & Enjoy
Recipe Tips
The type of oil you cook in is completely up to you. Vegetable oil, butter, and coconut oil all work surprisingly well when it comes to cooking the gluten-free naan bread.
If you roll the naan out a bit thicker, then you can get some nice thick pieces of bread that work great as a sandwich when sliced in half.
You can keep the naan warm by placing into a preheated oven at about 120°C (280°F). Make sure you keep it covered in foil, so it doesn't dry out.
If the yeast mixture doesn't start to foam, then the water was either too hot, too cold or your yeast is already dead (Check use-by date). If it doesn't foam, then your dough will still rise thanks to the self-rising flour.
You can cook the naan bread straight away if you don't have time for the yeast to work its magic. The bread might be a little denser but will still fluff up quite nice.
Nutrition Information
Serving Size: 94g (3.3 oz)
Servings Per Recipe: 8
Calories Per Serving: 173
Amount Per Serving
Saturated Fat: 0.1g
Trans Fat: 0g
Dietary Fiber: 2g
Sugars: 1g
Cholesterol: 0mg
Sodium: 852mg
Protein: 5g
The information above is an estimate generated by an online nutrition calculator.
Other Gluten-free Recipes to Try
There are plenty of gluten-free dinner dishes that you can have this tasty bread as a side dish. A good gluten-free curry always works well with this naan. There are so many different curries that you can do that are gluten-free, and one of my favorites is something like a chicken korma curry.
In terms of bread, you might also want to try gluten-free banana bread. It bakes to be moist, fluffy, and is absolutely delicious. It's perfect as a dessert after a good curry or two.
I hope that this gluten-free naan bread recipe works out for you as well as it did for me. If you have some feedback, queries or anything else, then please don't hesitate to leave a comment below.