This toasted sandwich recipe tastes great and is super easy to prepare. It's pretty basic, so you should try and be creative and do some different filling combinations.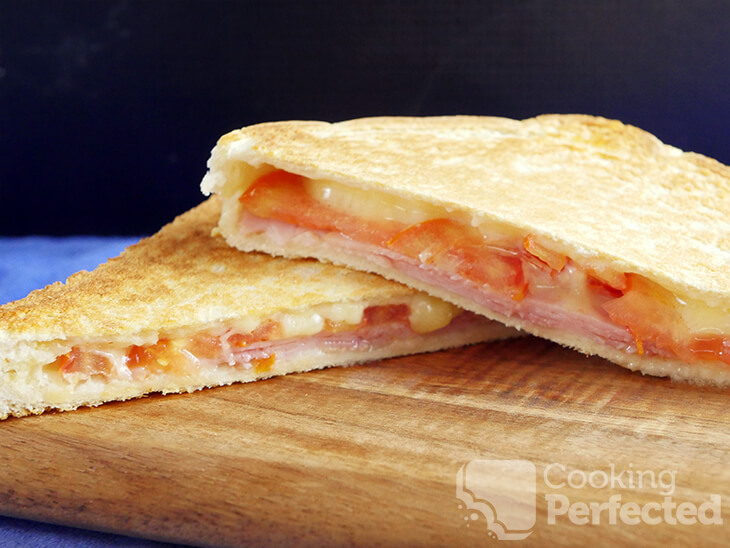 By experimenting with fillings, you will likely find some fantastic combination of flavors that send your taste buds on a fantastic adventure.
There is nothing I like more than having a nice quick and easy, delicious lunch. One of the easiest meals to cook with minimal effort is the classic toasted sandwich.
Hundreds of Different Filling Combinations
There are so many different filling combinations that you can have in a toasted sandwich. Below are just a couple of my favorite variations.
A Hawaiian inspired filling is absolutely delicious and involves some pineapple pieces, ham, cheese, and a little bit of tomato paste. It certainly packs a punch of flavor.
One of my favorites is the zesty smoked salmon filling. It features pesto, smoked salmon, brie, red onion, and a little bit of lemon zest. You get an amazing explosion of flavor when you bite into the sandwich.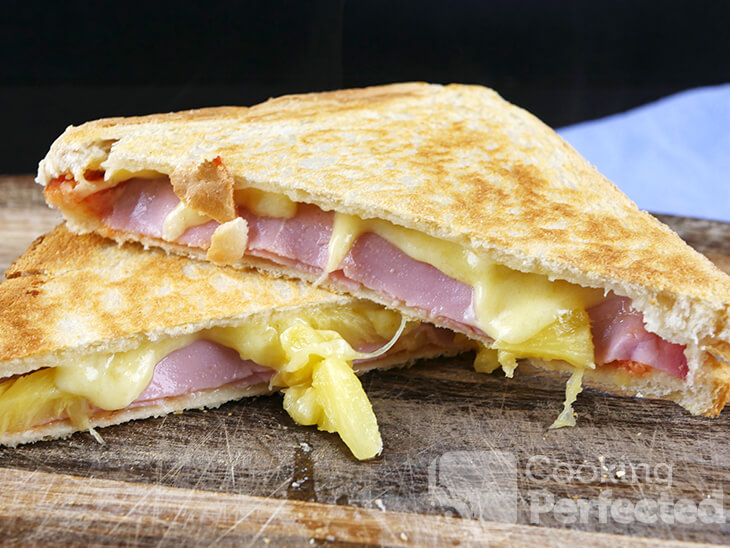 For something a little different, you can try a banana and chocolate dessert toasted sandwich. It has chocolate bits, ricotta, and sliced banana. It's incredible if you feel like something sweet and delicious.
For this recipe, we use the classic combination of ham, cheese, and tomato. It's incredibly delicious, and I highly recommend giving it a try.
If you have a combination that you think is amazing, then be sure to let us know by leaving a comment at the bottom of this page.
What to Serve with a Toasted Sandwich
Toasted sandwiches are usually great on their own, so you don't need to make anything extra. However, if you're feeling extra peckish, then I have a couple of suggestions below.
Some sweet potato fries are perfect to snack on with this ham cheese toasted sandwich. The only downside is that they take a while to cook.
You can quickly make some cauliflower cheese to serve with the sandwich. It's the perfect side dish if you can never get enough cheese.
Salad is a healthier side dish that can quickly be prepared. There are hundreds of different variations of salads, but I think a simple green salad will suffice.
Dipping a toasted sandwich into a delicious cheesy soup is an incredible experience. I recommend making something like a broccoli cheese soup.
I don't have a video up for this grilled ham, cheese, tomato recipe, but you can find detailed instructions on preparing this recipe below.
Toasted Sandwich Recipe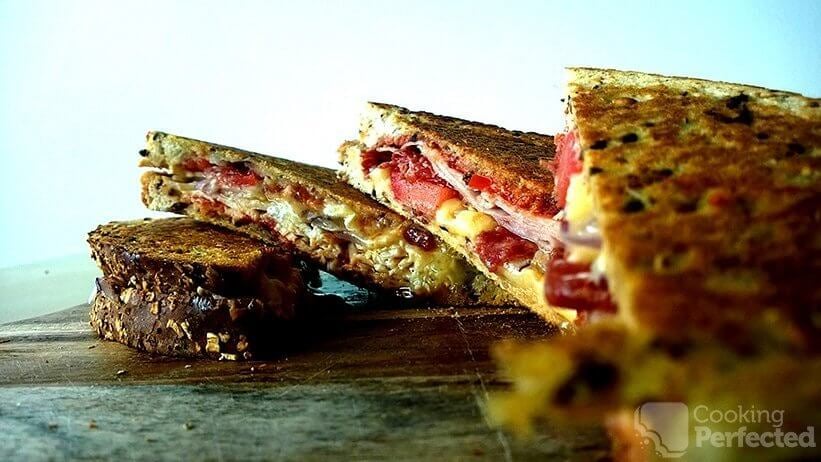 Ingredients
4 slices of bread
2 slices cheese
2 slices of ham
8 slices of tomato
Butter
Instructions
Gather your ingredients.
Spread butter on the grilling side of each slice of bread.
Place your ham, cheese, tomato on the non-buttered side of the bread.
Place the other slice of bread on top of the fillings with the buttered side facing upwards.
How to cook using a sandwich press
Place the sandwich on the bottom heat plate once it is hot. Close the sandwich press and allow it to cook. It should take about 1-5 minutes to be ready.
Serve & Enjoy.
How to cook using a frying pan
Heat the frying pan, so it is reasonably hot.
Place the sandwich in the frying pan and cook on one side for 1-3 minutes, be careful not to burn the bread.
After 1-3 minutes, flip the sandwich and cook again for 1-3 minutes. Feel free to press down on the sandwich to help compress it a little.
Serve & Enjoy.
Recipe Tips
There are hundreds of different fillings you can have in a toasted sandwich, mix it up, and try something new.
You can toast the sandwich without butter if you want to be slightly healthier.
For a super simple toasted cheese sandwich, just use a nice cheddar, butter, and bread. This combination will give you a lovely toasted, gooey cheese sandwich.
Nutrition Information
Serving Size: 284g (10 oz)
Servings Per Recipe: 1
Calories Per Serving: 473
Amount Per Serving
Saturated Fat: 10g
Trans Fat: 0g
Dietary Fiber: 3g
Sugars: 12g
Cholesterol: 56mg
Sodium: 2090mg
Protein: 27g
The information above is an estimate generated by an online nutrition calculator.
More Easy Recipes worth Making
There are so many easy recipes that are perfect for making lunch an absolute breeze. Below is just a couple of my favorite quick and easy lunch recipes.
If you're feeling like eating pizza, the tortilla pizza recipe is super simple and will only take you a few minutes to whip and have in the oven.
Alternatively, the chicken quesadilla recipe is an amazing lighter version of a toasted cheese sandwich. It is very similar, but instead of bread, you can use tortillas.
If you have your own combination of toasted sandwich ingredients that are just amazing and you would love to share them, then drop a comment below.