Back to Recipe
Print Recipe
Toasted Sandwich Recipe
---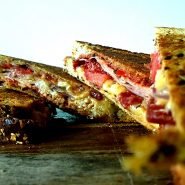 Prep time: 10 Minutes
Cook time: 5 Minutes
Total time: 15 Minutes
Serves: 1
Ingredients
4 slices of bread
2 slices cheese
2 slices of ham
8 slices of tomato
Butter
---
Instructions
Gather your ingredients.
Spread butter on the grilling side of each slice of bread.
Place your ham, cheese, tomato on the non-buttered side of the bread.
Place the other slice of bread on top of the fillings with the buttered side facing upwards.
How to cook using a sandwich press
Place the sandwich on the bottom heat plate once it is hot. Close the sandwich press and allow it to cook. It should take about 1-5 minutes to be ready.
Serve & Enjoy.
How to cook using a frying pan
Heat the frying pan, so it is reasonably hot.
Place the sandwich in the frying pan and cook on one side for 1-3 minutes, be careful not to burn the bread.
After 1-3 minutes, flip the sandwich and cook again for 1-3 minutes. Feel free to press down on the sandwich to help compress it a little.
Serve & Enjoy.
---
Recipe Tips
There are hundreds of different fillings you can have in a toasted sandwich, mix it up, and try something new.
You can toast the sandwich without butter if you want to be slightly healthier.
For a super simple toasted cheese sandwich, just use a nice cheddar, butter, and bread. This combination will give you a lovely toasted, gooey cheese sandwich.
Did you make this recipe?
We want to see! Tag
@cookingperfected
on Instagram or use the hashtag
#cookingperfected
so we can find you!
---