Chicken Quesadillas are a fantastic quick meal that are great for both lunch and dinner. They are easily cooked in a sandwich press, frying pan, or oven.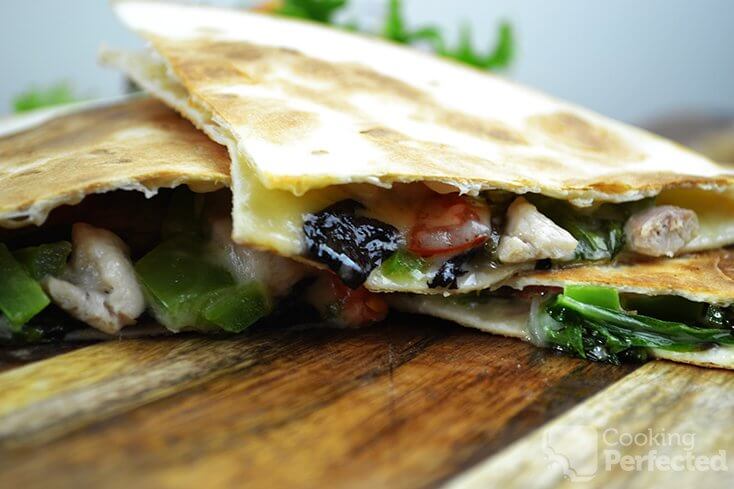 Traditionally Quesadilla is a meal that consists of two tortillas that have a layer of cheese in between them. You can also add other ingredients into the filling, such as the combination we use in this recipe.
Typically this dish is cooked in a flat griddle over a stove. To make things easier, we will be using a sandwich press. You can make things even easier by using a microwave, but you won't get crispy tortillas.
This chicken Quesadilla recipe is straightforward. You can have a meal ready in ten to fifteen minutes, and it will taste amazing. It is indeed a tasty quick and easy chicken recipe that is well worth trying out.
Perfecting the Chicken Quesadilla
The most important thing with this recipe is to have all your ingredients ready to use when you go to cook your quesadilla.
It's essential not to overload the quesadilla with fillings as this will cause the tortillas to go soggy, and it won't be very enjoyable to eat.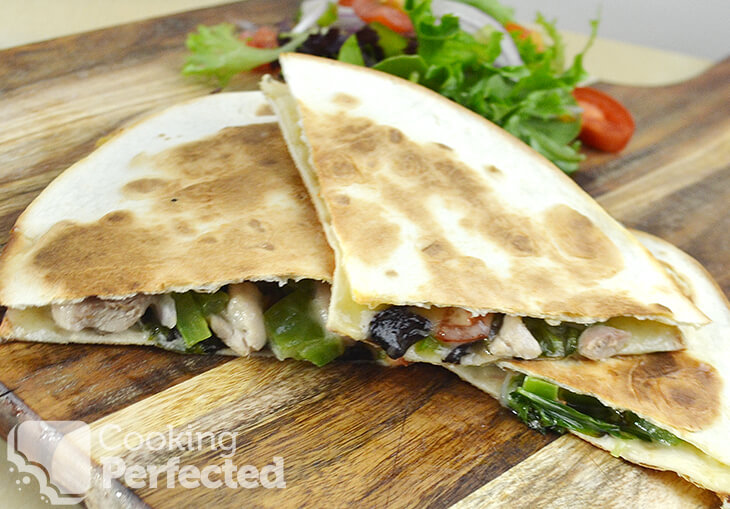 Make sure your frying pan, sandwich press, or oven is hot when you add the quesadilla. If they're cold, then the tortillas might go soggy as it will not cook fast enough.
This dish is ideal for feeding a couple of people rather than a crowd. It will get very tricky cooking for a crowd as you can only do one at a time.
Side Dishes that Match Perfectly
My favorite side dish is some delicious deep-fried chips, but if you want something a little healthier, than you should try making some oven-baked sweet potato fries.
All the Mexican classics such as refried beans, guacamole, or tomato salsa will go excellent inside or next to these chicken quesadillas. Pick a couple of your personal favorites and have them ready to go.
If you feel like a super fulfilling side dish, then you have to give some cheesy potatoes a try. You can make them in either the slow cooker or in the oven. Both result in a delicious side dish that will please almost anyone.
There are so many side dishes that you can do to go alongside this delicious meal. If you have any ideas that you would love to share, then please don't hesitate to leave a comment at the bottom of this page.
The video below will go through all the steps on how to make a chicken quesadilla. If you prefer written recipes, then you can find it immediately underneath the video.
Chicken Quesadilla Recipe
Ingredients
50 g (1.8 oz) cooked chicken, diced or shredded
100 g (3.5 oz) red or green bell pepper
50 g (1.8 oz) tomatoes, sliced
50 g (1.8 oz) lettuce, shredded
100 g (3.5 oz) cheese, shredded
8 tortillas
Instructions
Heat the sandwich press until it is hot and ready.
Place one tortilla wrap on the press.
Top the wrap with your filling mixture, scatter it evenly.
Place the second wrap on top of the filling and close the press.
Cook for about 5 minutes or until well toasted.
Remove from the sandwich press and cut into quarters.
Serve & Enjoy.
Recipe Tips
These can also be cooked in the oven. Simply place into a preheated oven at 220°C (430 °F) for ten minutes or until golden brown.
It is important not to overload your tortilla as you will find that the filling will pour out of the sides and possibly make it very hard to pick up and eat.
You don't have to use two tortillas, you can instead use one and fold it in half. Only place the filling on one half of the tortilla; otherwise, you may end up with a mess.
You should avoid using too much oil as the tortilla will absorb the oil and go soggy.
These are not very easy to cook for a crowd, but if you're going to give it a go, you will need multiple pans or sandwich presses. They don't keep very well, so you should serve straight away.
You can also use a pan for cooking your chicken quesadilla, but it is a little trickier as you will need to flip it to cook the other side. It is easy to overcook your tortilla, so use medium heat and cook until the tortillas are crispy.
There are many different variations that you can do with quesadillas. For example, you can use different fillings such as pulled beef, smoked salmon, pulled pork, and much more.
Nutrition Information
Serving Size: 363g (12.8 oz)
Servings Per Recipe: 2
Calories Per Serving: 468
Amount Per Serving
Saturated Fat: 11.2g
Trans Fat: 0g
Dietary Fiber: 7.5g
Sugars: 3.4g
Cholesterol: 72mg
Sodium: 374mg
Protein: 26g
The information above is an estimate generated by an online nutrition calculator.
More Tortilla Recipes
There are so many different meals that you're able to make with a simple tortilla.
One of my personal favorites is making some delicious homemade tortilla chips. It's surprisingly easy and perfect if you're running low or have no chips in the cupboard.
A tortilla pizza is yet another great easy meal that you can make using tortillas. It's the perfect meal for when you want something quick, easy, and incredibly tasty.
If you have your own variation on the quesadilla that you would like to share, then make sure you leave a comment below.