Back to Recipe
Print Recipe
Chicken Quesadilla Recipe
---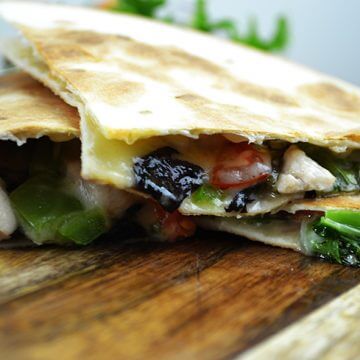 Prep time: 10 Minutes
Cook time: 5 Minutes
Total time: 15 Minutes
Serves: 2
Ingredients
50 g (1.8 oz) cooked chicken, diced or shredded
100 g (3.5 oz) red or green bell pepper
50 g (1.8 oz) tomatoes, sliced
50 g (1.8 oz) lettuce, shredded
100 g (3.5 oz) cheese, shredded
8 tortillas
---
Instructions
Heat the sandwich press until it is hot and ready.
Place one tortilla wrap on the press.
Top the wrap with your filling mixture, scatter it evenly.
Place the second wrap on top of the filling and close the press.
Cook for about 5 minutes or until well toasted.
Remove from the sandwich press and cut into quarters.
Serve & Enjoy.
---
Recipe Tips
These can also be cooked in the oven. Simply place into a preheated oven at 220°C (430 °F) for ten minutes or until golden brown.
It is important not to overload your tortilla as you will find that the filling will pour out of the sides and possibly make it very hard to pick up and eat.
You don't have to use two tortillas, you can instead use one and fold it in half. Only place the filling on one half of the tortilla; otherwise, you may end up with a mess.
You should avoid using too much oil as the tortilla will absorb the oil and go soggy.
These are not very easy to cook for a crowd, but if you're going to give it a go, you will need multiple pans or sandwich presses. They don't keep very well, so you should serve straight away.
You can also use a pan for cooking your chicken quesadilla, but it is a little trickier as you will need to flip it to cook the other side. It is easy to overcook your tortilla, so use medium heat and cook until the tortillas are crispy.
There are many different variations that you can do with quesadillas. For example, you can use different fillings such as pulled beef, smoked salmon, pulled pork, and much more.
Did you make this recipe?
We want to see! Tag
@cookingperfected
on Instagram or use the hashtag
#cookingperfected
so we can find you!
---