A chip butty is an absolute classic and super easy to make. If you have never tried it, then you are in for a treat.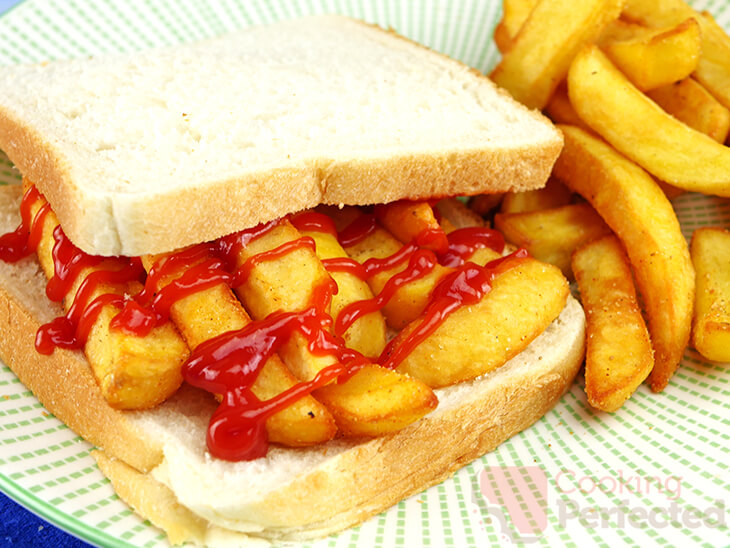 When you bite into this sandwich, you are greeted with hot crispy chips, tomato sauce, and deliciously soft bread. It's a match made in heaven and can be dangerously addictive.
This classic goes by a few different names such as chip sandwich, chip cob, piece and chips, chip sanger, or chip sarnie. There are probably even more names, but these are the most common.
The chip butty originated in the United Kingdom and Ireland but is now popular in other countries such as Australia. You will often find this sandwich for sale in fish and chip shops, but it is super easy to make yourself.
I love encouraging people to make a chip butty as you can easily feed more people from a single batch of chips. It is also a great way to add a bit of a variety to some classic hot chips.
The Best Condiments for a Chip Butty
Everyone likes to tweak their chip butty so that it is slightly different. Feel free to experiment with different condiments to go in the sandwich. Below are a couple of examples of what you can do.
You can try drizzling some mustard over the top of the chips for some extra flavor. You can try some hot English mustard or something a little more mild such as Dijon mustard.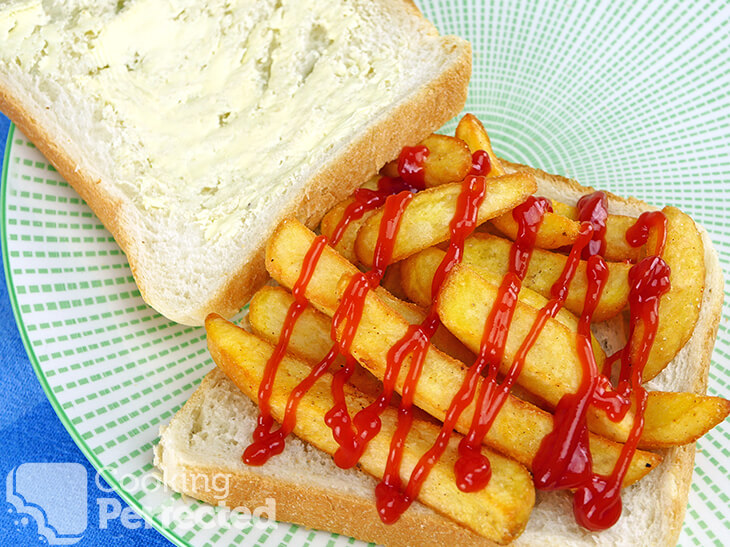 A couple of cheese slices will work very nicely in with the chips, and if the chips are hot enough, you will get some delicious melted cheese. Mozzarella, cheddar, or even swiss cheese will work very nicely in this chip sandwich.
Relishes, tomato chutney, caramelized onion, or mayonnaise are great options if you want to be a little more gourmet. I prefer the classic combination with just a drizzle of tomato sauce or ketchup.
If you have an absolutely amazing variation, be sure to mention it in the comments section towards the bottom of this page. I would love to hear your take on this classic.
Chip Butty Recipe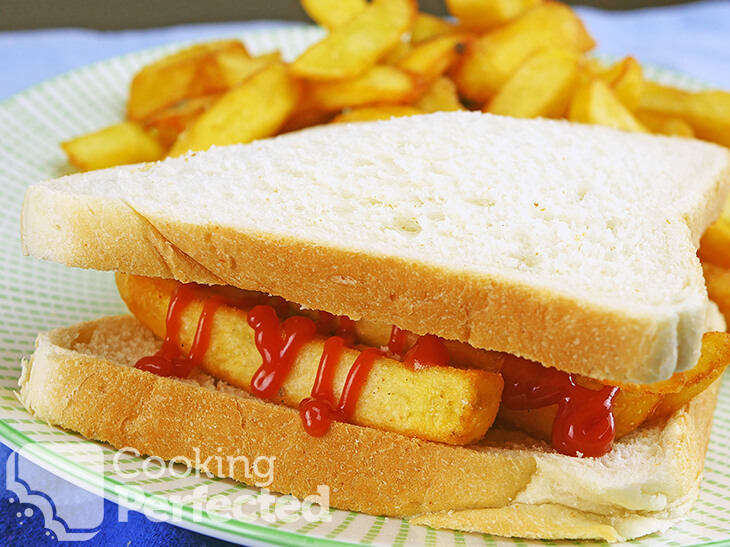 Ingredients
100 g (3.5 oz) hot chips
2 slices of bread
1 Tbsp tomato sauce
1 tsp butter
Instructions
Butter one side of both pieces of bread.
Arrange the hot chips on the buttered side of a piece of bread.  Make sure the chips are evenly spread.
Evenly drizzle the tomato sauce over the chips.
Place the slice of bread on top of  the chips.
Serve & Enjoy.
Recipe Tips
Chips are not exactly great once they go cold, so I do not really recommend making a chip butty with cold chips. For the best results, use hot chips that have just come out of the deep fryer or oven.
Soft fresh bread will work best in this recipe.
Hot chips are known as steak fries in America. You can use French fries, but the result is not nearly as satisfying.
You can cook the chips yourself or get them from your local fish and chip shop, I prefer the latter.
Nutrition Information
Serving Size: 162g (5.7 oz)
Servings Per Recipe: 1
Calories Per Serving: 644
Amount Per Serving
Saturated Fat: 6.9g
Trans Fat: 0.2g
Dietary Fiber: 7g
Sugars: 6g
Cholesterol: 10mg
Sodium: 359mg
Protein: 11g
The information above is an estimate generated by an online nutrition calculator.
More Delicious Potato Recipes
If you love fries, then you should try making some oven-baked sweet potato fries. You can use these in the chip butty instead of regular chips. It just depends on what you are feeling like eating.
Another sandwich that you might love is sloppy joes. It is essentially a sandwich filled with a saucy ground beef mixture that is loaded with flavor.
I do hope that you give a chip butty a try and that you do end up loving this delicious dish. If you have a variation that you absolutely love, please feel free to leave a comment below.