These easy deviled eggs are a fantastic snack, lunch, or platter food. You will end up with twelve halves of egg, and if you need more, you can easily double or triple the recipe.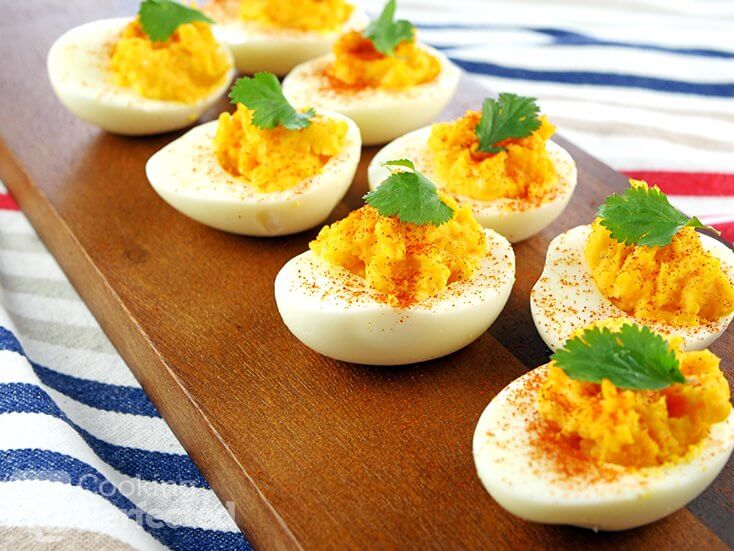 When you bite into an egg, you will be greeted with a flavor-packed egg yolk filling that's seasoned with some yellow mustard powder. The egg white compliments the yolk mixture nicely.
The trickiest part of this recipe is actually the cooking of the eggs. If you have some already boiled, then this is the easiest recipe in the world.
Best Way to Serve Deviled Eggs
These eggs are best served as a part of a platter, entree, or as a side dish. I like to make deviled eggs for a party as people can easily pick up the slices of eggs and eat them.
Deviled eggs are a pretty good side dish as you only really need one or two halves. When I have the energy, I would usually do these as a side dish to go along with something like an easy meatloaf.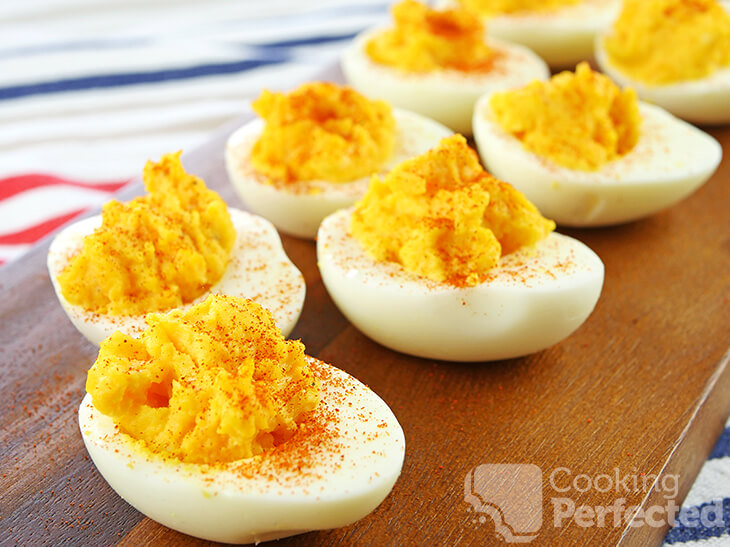 To make these prettier, you can pipe the egg mixture into the egg halves instead. Piping requires a fair bit more work, but the result is worth it. As you can tell from the photos, I simply spooned it in.
These eggs will keep in the fridge for a few days, so they're perfect if you need to prepare some food ahead of when you need it.
Tweaking the Deviled Eggs Recipe
There are a ton of variations that you can make on these delicious eggs. Some recipes have a couple of ingredients, and others require a lot. To keep things as simple as possible, we use three very simple ingredients.
To add even more flavor to these eggs, you can mix in some additional ingredients. For example, the following ingredients are a great way to add even more flavor; crumbled crispy bacon, blue cheese, chopped nuts, herbs, or more spices.
If you wish to use no mayonnaise, then you can swap it for sour cream or something similar. The flavors will be a little different, but it will still be a delicious dish.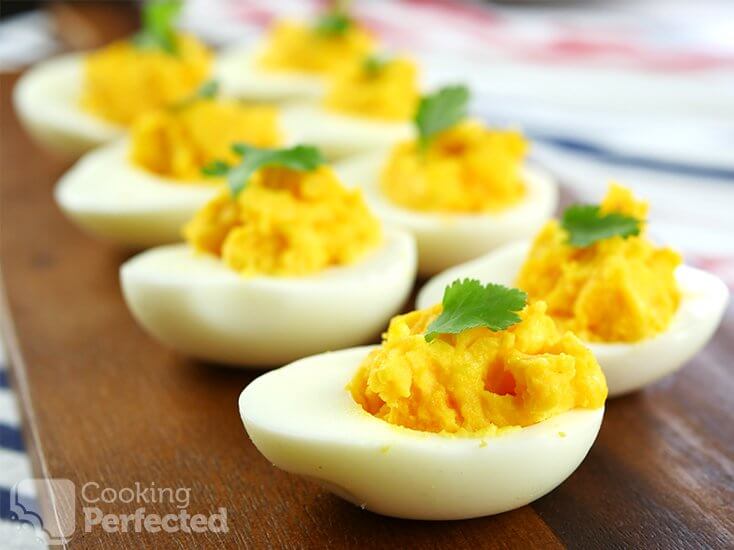 To have the egg mixture keep its shape, you can add a tablespoon of melted butter into the egg mixture. It will make the egg mixture go slightly hard, but it will certainly still be delicious.
You can try experimenting with the quantity of mustard powder you use. If you're worried this recipe will be too strong, you can reduce the amount of mustard powder.
If you would like to see how to make these deliciously easy deviled eggs, then be sure to check out the video below. It takes you through all the steps to making this tasty lunch recipe.
Easy Deviled Eggs Recipe
Ingredients
Instructions
Place the eggs into a pot with enough water to cover them.
Bring to a boil and then turn down to a simmer. Cook for 11 minutes.
After 11 minutes have passed, drain and cool using cold running water.
Gently remove the eggshells.
Slice each egg length-ways. Scoop the yolks into a bowl.
In the yolk bowl, add the mayonnaise and mustard.
Mix and season to taste.
Fill the egg whites with the yolk mixture.
Serve & Enjoy.
Recipe Tips
If you want to make the eggs look super fancy, then using a piping bag with a star nozzle is a great way to achieve some pretty cool effects.
Make sure you start the timer when the water is simmering to ensure that the eggs are fully cooked when you go to slice them open.
If your eggs are floating when you first add them to the water, then this is a good indicator that they have gone bad and should be discarded.
These deviled eggs go amazing topped with some sliced crispy bacon. This tweak will, unfortunately, require extra work unless you already have some fried bacon lying around.
You can also top with an herb or spice. For example, chives, parsley, or even paprika works amazing when sprinkled over the top of the finished eggs.
Nutrition Information
Serving Size: 40g (1.4 oz)
Servings Per Recipe: 12
Calories Per Serving: 51
Amount Per Serving
Saturated Fat: 0.9g
Trans Fat: 0g
Dietary Fiber: 0g
Sugars: 0.5g
Cholesterol: 83mg
Sodium: 70mg
Protein: 2.8g
The information above is an estimate generated by an online nutrition calculator.
More Egg Recipes
There are a ton of delicious, easy egg recipes that you can make. For example, the cheese, egg, and ham bread bowl is the perfect breakfast that makes zero dishes.
A delicious frittata is another dish that's worth making. It requires quite a few eggs, but the result is worth it. You can eat it either hot or cold.
I hope that these easy deviled eggs come out to be incredibly tasty. If you run into problems, have feedback, tips, or anything else, then please don't hesitate to leave a comment below.