This breakfast sandwich is an excellent way to start the day. It is loaded with everything you expect in a good breakfast.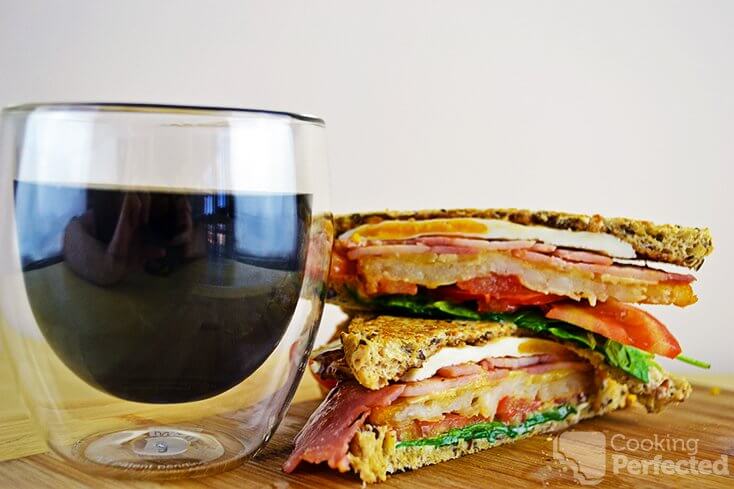 When you bite into this sandwich, you are greeted with a huge range of flavors. First, you get the flavors of the egg, then everything in-between, and lastly, the delicious homemade mayonnaise. It is one of my favorite foods to start the day with.
This sandwich combines all the typical ingredients that you would find in a full breakfast. My favorite full breakfast usually contains ingredients such as crispy bacon, hash browns, eggs, spinach, and bread. It is not the healthiest breakfast, but it is indeed incredibly tasty.
I have tried to make this recipe as easy as possible and be one of the best-tasting breakfast sandwiches you would have ever eaten. All you need is a simple sandwich press to cook this sandwich, but you can also cook it in a frypan.
This recipe only makes one sandwich so you will need to adjust the ingredients if you need to feed more. These are pretty fulfilling, so one sandwich should be enough for one person.
Personalizing the Sandwich
There are a huge number of sandwich fillings you can do for breakfast. Below are a couple of ideas on how you can tweak this breakfast sandwich.
The bacon can be swapped for a different type of meat. Personally, I find ham is a nice replacement, but you could also try shredded chicken or pulled pork.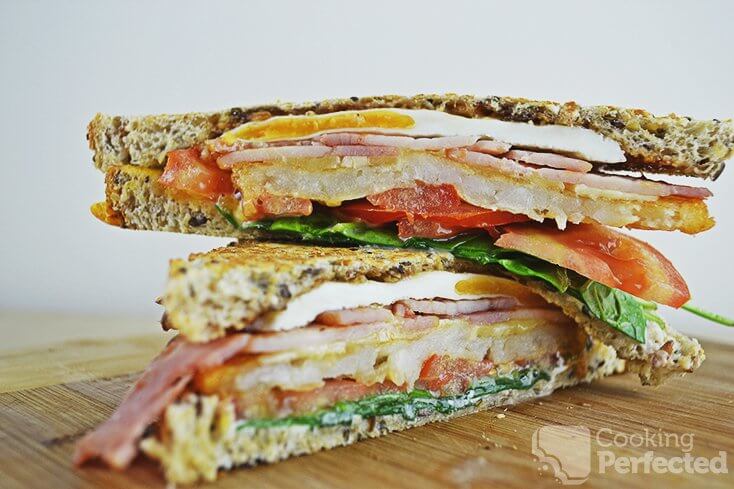 BBQ sauce is my favorite for this sandwich, but it can easily be swapped out for a different condiment. A good tomato relish or caramelized onion will work nicely instead of the sauce. Try not to go overboard as sauces can quickly overpower all the ingredients.
More ingredients can be added to the sandwich. Mushrooms or red onion are just two ingredients that will make this sandwich even more delicious. Be careful not to go overboard as the sandwich might become very difficult to eat.
Be sure to check out my video below on how to make the ultimate breakfast sandwich. It is an easy way to learn how to prepare this delicious breakfast.
Ultimate Breakfast Sandwich Recipe
Ingredients
3 rashers of bacon
1 hash brown
1 egg
1 handful spinach
1-2 slice cheese
2 slices bread
1 Tbsp mayonnaise
1 Tbsp BBQ Sauce
Instructions
First, heat the sandwich press, so it is hot.
Place the hash brown onto the sandwich press and cook for about 2 minutes.
Add the bacon and cook to your liking, 5 minutes was long enough for me.
Remove both the hash brown, bacon, and place to one side.
Start to cook the egg.
While the egg is cooking, assemble the sandwich on the sandwich press. I did it in the following order; a slice of bread, mayo, baby spinach, sliced tomato, hash brown, cheese, bacon, egg, BBQ sauce, and lastly, another slice of bread.
Cook the sandwich until the bread is crispy.
Serve and Enjoy.
Recipe Tips
One thing that you can do if you do not have a sandwich press is to use a frypan. Just follow the same method, but you will need to flip the sandwich so that both sides are crispy.
If you are not worried about your diet, then you can butter the bread to achieve a deliciously crispy outside.
Nutrition Information
Serving Size: 293g (10.3 oz)
Servings Per Recipe: 1
Calories Per Serving: 623
Amount Per Serving
Saturated Fat: 16.1g
Trans Fat: 0g
Total Carbohydrate: 26.5g
Dietary Fiber: 2.2g
Sugars: 5.2g
Cholesterol: 251mg
Sodium: 1745mg
Protein: 34.9g
The information above is an estimate generated by an online nutrition calculator.
More Sandwich Recipes
I hope that you love the process and idea behind making this incredibly delicious sandwich.
If you enjoyed this recipe, then you should also check out the tasty toasted sandwich recipe. It is very similar but more designed for your typical toasties.
Another sandwich that is always highly recommended is sloppy joes. It is ground beef cooked in a delicious tomato-based sauce. The mixture is then loaded into a bread roll and topped with some cheddar cheese.
I hope that you love this breakfast sandwich recipe and that it is on your favorites list. If you want to leave some feedback, then please do not hesitate to leave a comment below.