This gluten-free banana bread cooks to be moist and packed full of that rich banana flavor we all know and love.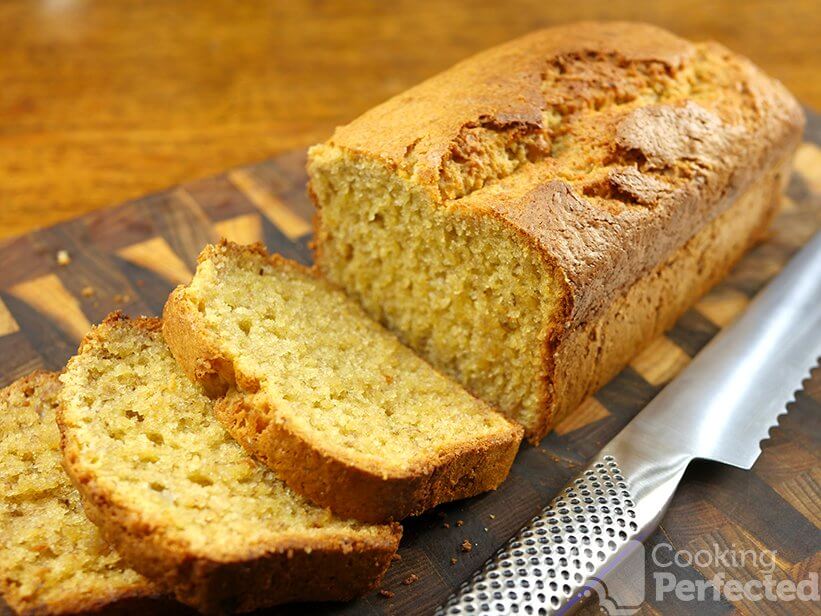 When you pull this banana bread out of the oven, you will be greeted with the lovely aromas of baked banana. The bread itself will be moist, fluffy, and have a nice crunchy outside.
The flavors of this bread are everything you expect out of a good quality banana bread. There is a slight hint of cinnamon, good banana flavors, and is sweet but not too sweet.
This bread is a great all-rounder and is perfect for breakfast, dessert, or even as a snack. Personally, I love to have it for breakfast, as it's easy to slice and eat.
You will be glad to see that this recipe is quite easy to prepare quickly. It's perfect if you just want a delicious snack sooner rather than later.
What to Eat with this Banana Bread
You can eat the bread as is, or you can toast it and have it with a little bit of butter. Both options are excellent and taste delicious.
If you want to take this banana bread to the next level, then caramelize some sliced bananas in a fry-pan with butter. Slice the banana bread and add the caramelized bananas on top of each piece. Drizzle some maple syrup or honey over the top to complete the dish.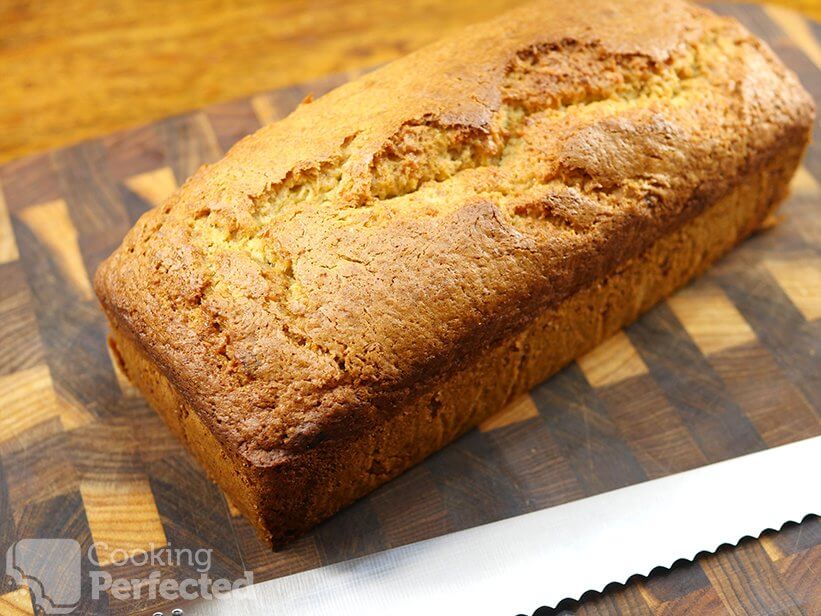 To turn this into a meal, you can use this banana bread as a replacement to regular bread in a bread pudding. It's a delicious twist that I highly recommend trying. I love making it as it can easily feed quite a few people from a single batch.
Tweaking the Recipe
Some chocolate chips can be added into the bread mixture for some chocolate goodness. I recommend adding about half a cup of chocolate chips. If you love chocolate, then you will probably be happier with a full cup.
For a bit of extra crunch, you can add some chopped nuts into the banana bread mixture and on top of the loaf. I recommend using walnuts or almonds. I reckon walnuts would be the better choice.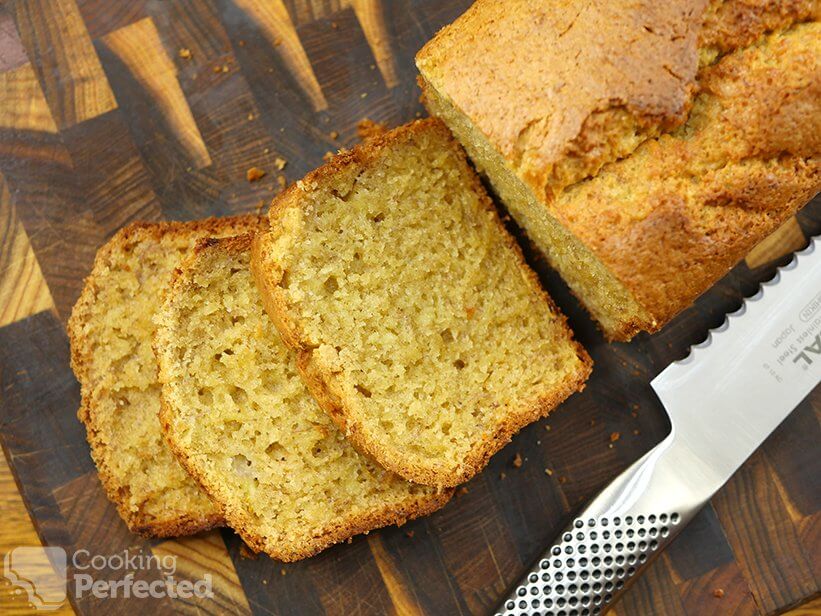 This banana bread will keep fresh for a couple of days as long as you keep it in a sealed container or wrapped in some plastic wrap. After a couple of days, you might want to toast the bread before eating it.
You can also freeze the bread if you know you're not going to eat it all fast enough. It should last for up to six months in the freezer.
The full recipe for this delicious gluten-free banana bread can be found right below. If you need any help, then be sure to check out the cooking tips below the recipe.
Gluten-Free Banana Bread Recipe
Ingredients
300 g (10.6 oz) gluten-free self-rising flour
125 g (4.4 oz) brown sugar
½ tsp cinnamon, ground
250 g (8.8 oz) mashed banana
150 ml (5.1 fl oz) olive oil
2 eggs, lightly beaten
2 Tbsp honey
Instructions
Preheat an oven to 180°C (350°F).
Grease and line a 11cm (4.3 in) x 20cm (7.9 in) loaf pan.
Combine the gluten-free flour, brown sugar, cinnamon in a bowl.
Beat together the banana, oil, eggs, and honey. Mix into the flour until well combined.
Spoon the banana bread mixture into the loaf pan. Smooth the surface.
Bake for 1 hour or until a skewer comes out clean.
Cool for 5 minutes before turning out onto a wire rack.
Serve & Enjoy.
Recipe Tips
The honey can be left out if you don't have any or don't want to add it. Alternatively, you can use regular sugar as a replacement.
Overripe bananas are the best for this recipe as they mash easier and have a much stronger taste.
Lining the loaf tin is crucial as it will prevent your gluten-free banana bread from sticking to the sides.
If you feel like adding a few more flavors to the banana bread, then you can try adding some chocolate chips or walnuts. Both ingredients go excellent with bananas, so I highly recommend adding them if you want to experiment a little.
If your banana bread starts to burn on the top, then cover with foil. This method will slow down the browning, allowing your bread to cook all the way through.
Nutrition Information
Serving Size: 72g (2.5 oz)
Servings Per Recipe: 12
Calories Per Serving: 253
Amount Per Serving
Saturated Fat: 1.9g
Trans Fat: 0g
Dietary Fiber: 1g
Sugars: 14g
Cholesterol: 27mg
Sodium: 262mg
Protein: 3g
The information above is an estimate generated by an online nutrition calculator.
More Gluten-Free Recipes
You have got to try some of the other delicious gluten-free recipes that we have. If you feel like eating some cake, then the chocolate fudge cake will please if you're a chocolate lover.
If you don't need your banana bread gluten-free, then you should check out our other banana bread recipe. It's super easy like this one but uses regular flour instead. Both loaves of bread are excellent.
I hope that this gluten-free banana bread recipe works out as well as it did for me. If you have some feedback, tips, or anything else, then please don't hesitate to leave a comment below.