One of my favorite breakfast choices is an egg and bacon muffin sandwich, especially after a big night.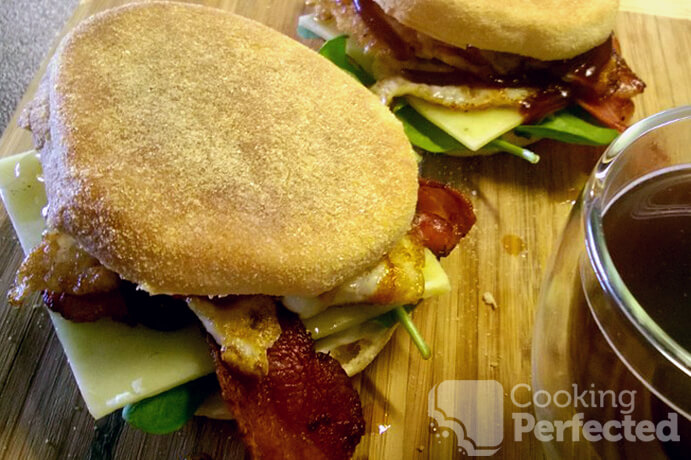 If you're looking for a delicious way to start the day, then you should look at making one or multiple of these.
This recipe is inspired by the McMuffin that you can get from McDonald's. Obviously, it's not exactly the same as I use a few extra-tasty ingredients.
You can make the English muffins at home or simply buy them from your local bakery. I prefer the easier option, especially for early morning breakfasts.
Hundreds of Ingredient Combinations
This egg and bacon muffin recipe is quite simple, so you shouldn't be afraid to add extras. Other ingredients may turn this from a wow to a mind-blowing breakfast.
I love to add some fried mushrooms and tomato in my muffin. These both add a ton of flavor without being too overpowering.
Changing the sauces is an excellent way of personalizing this recipe. For example, you can add a bit of BBQ sauce or tomato chutney. You can even try replacing the mayonnaise with something else.
Rather than using a fried egg, you can make some scrambled eggs or an omelette. Either method is ideal if you don't like how messy fried runny eggs can be when they're in a sandwich.
If you want a traditional muffin, then just keep the ingredients to bacon, egg, and of course, one slice of cheese. It is likely not to taste the same, but it does get pretty close to it.
There are hundreds of different ingredient combinations that you can do. I like the one that I have in this recipe.
Why Make it at Home
Apart from saving money, you can also choose exactly the ingredients that you want to use. For example, if you wish to have extra bacon, then simply cook some more. If you want more cheese, then simply just double up on the cheese.
There is just so much flexibility when you make food at home rather than eating out.
Below is the entire recipe for making these delicious egg and bacon muffin sandwiches. They're pretty straightforward, and I highly recommend that you give my ingredient combination a go.
Egg and Bacon Muffin Sandwich Recipe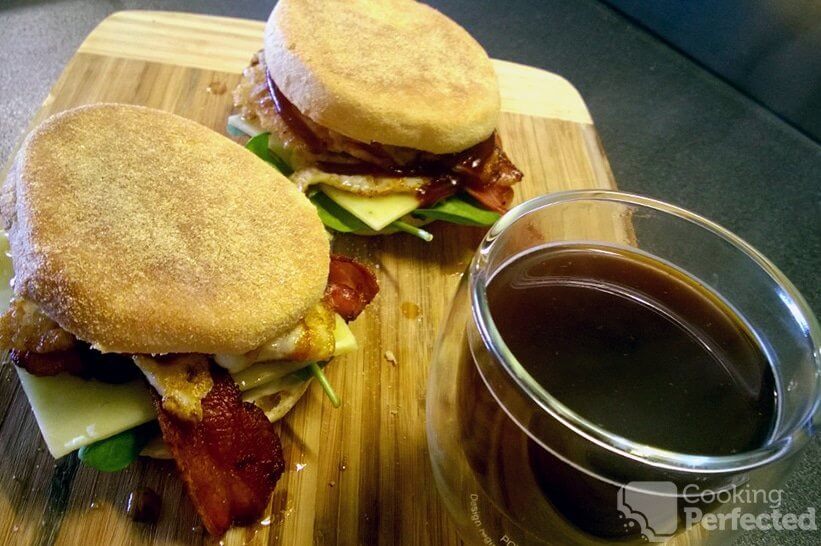 Ingredients
2x English muffins
2x rashers of bacon
2x eggs
Optional
Baby spinach
Cheese slices
BBQ sauce
Mayonnaise
Instructions
Heat a frypan until you can feel the heat rising from it.
Add the bacon to the frypan and cook to your liking
Move the bacon off to the side and crack your eggs into the pan.
While the eggs are cooking, begin to toast your muffins.
Once the egg whites are almost no longer opaque, flip them using a spatula. Cook for 1-2 minutes.
Once cooked, assemble your muffins.
Serve & Enjoy.
Recipe Tips
You can add sauces such as tomato sauce, BBQ sauce, mayonnaise, tomato relish, or whatever you enjoy most.
If you have limited room in your kitchen, turn your oven on to a lower temperature so you can keep cooked ingredients such as the bacon warm while you do other preparation and cooking.
Are you feeling like eating some salmon? Simply exchange the bacon with some smoked salmon.
If you like runny eggs, flip, then cook for a couple of seconds rather than minutes before removing from heat.
You're able to make mayonnaise at home if you don't have any already.
Nutrition Information
Serving Size: 291g (10.3 oz)
Servings Per Recipe: 2
Calories Per Serving: 559
Amount Per Serving
Saturated Fat: 12.4g
Trans Fat: 0.4g
Dietary Fiber: 5g
Sugars: 3g
Cholesterol: 665mg
Sodium: 971mg
Protein: 28g
The information above is an estimate generated by an online nutrition calculator.
More Delicious Breakfast Recipes
If this breakfast recipe is a little too involved and you would love something a little easier, then be sure to check out the egg, cheese, and ham bread bowl. This fantastic bread bowl has egg, ham, cheese and is so easy to whip up quickly. Even better is that you don't need to use any dishes at all.
Another breakfast dish that I love is pancakes. I love making pancakes as they're super easy, and everyone loves them. You can be very creative with the toppings that you put on them.
If you have your own amazing variation on the egg and bacon muffin sandwiches that you would love to share, then feel free to leave a comment below.