Egg in a hole is an absolute classic that is super easy to make. You only need three simple ingredients and some seasonings to make this delicious dish.
When you serve this dish, you should have a lovely buttered piece of toasted bread with a delicious egg in the middle. The egg can be cooked to your liking, I love to cook mine so that it is still slightly gooey.
This dish goes by quite a few different names. For example, some people refer to this dish as eggs in a nest or toad in the hole. However, a different dish is called toad in the hole as well. There are a few more, so if you have any other variation on naming, be sure to let us know.
Egg in a hole is always a huge hit with kids, so if you are looking for an easy kid-friendly dish, this is the perfect solution. You can use a cookie cutter to make unique shapes to make the egg hole a lot more interesting.
Tweaking the Recipe
Below are just a couple of ideas on how you can tweak this delicious classic.
Cheese is always a great addition to this dish, just sprinkle shredded cheese over the top and bottom of the bread before you fry it.
You can even try adding some cheese into the hole with the egg. Just make sure you do not end up burning the cheese as burnt cheese can be quite bitter.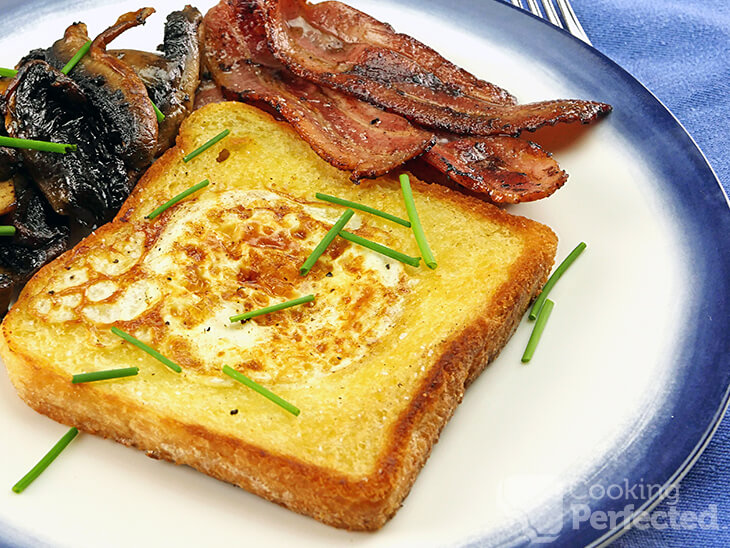 If you love avocado, then you can line the hole with slices of avocado before you put the egg in. In the end, you will have a delicious avocado and egg middle. It is simply delicious.
Any type of bread will work fine, so feel free to use your favorite. If you want to treat yourself, then brioche is a fantastic choice of bread for this dish. Alternatively, I have seen some pretty tasty variations that make use of English muffins.
What to Serve with Egg in a Hole
You can eat this dish on its own, but there are many side dishes that go great with egg in a hole.
I love to serve this dish with all the typical ingredients of a cooked breakfast. This includes some delicious hash browns, crispy bacon, fried mushrooms, fried tomatoes, and some baked beans. It is not the healthiest, but it certainly is fulfilling.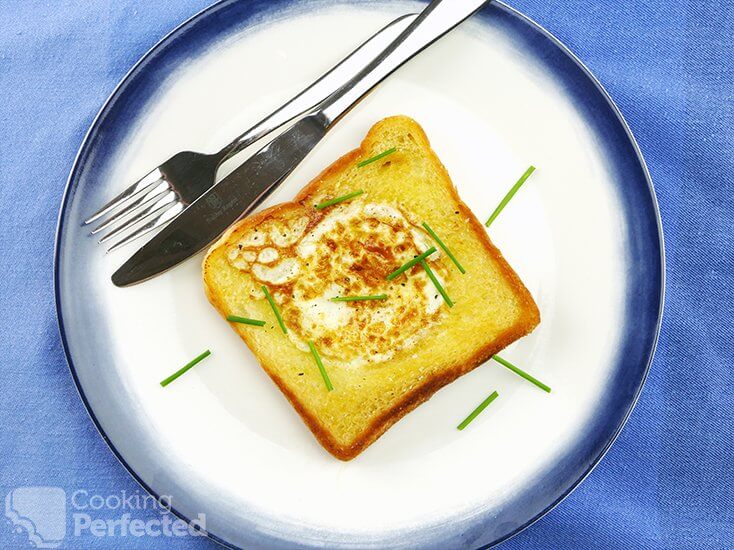 Condiments such as guacamole, tomato relish, and mayonnaise work great with this dish. Personally, I love to make all these condiments at home, but store-bought varieties are usually just as good.
If you want to see how to make egg in a hole, then be sure to check out the video below. Alternatively, you can find the full written recipe underneath the video.
Egg in a Hole Recipe
Ingredients
1 slice of bread
1 Tbsp butter
1 egg
Instructions
Using the rim of a glass or a cookie cutter, make a hole in the center of the bread.
In a frying pan over medium heat, add the butter.
Once the butter has melted, add the bread, and crack the egg into the hole.
Once the egg has started to set, flip the bread over and cook until the egg is cooked to your liking.
Serve & Enjoy.
Recipe Tips
If you prefer, you can spread the butter on the bread rather than melting it in the pan. This method is likely to be a bit healthier as you can use a lot less butter.
You can cook the egg for as long as you want. However, be sure you do not burn the bread. Personally, I prefer to have runny eggs rather than solid.
If you want your egg to be sunnyside up, then just do not flip it. You may want to fry one side of the bread before adding the egg, so both sides of the bread are nicely toasted.
Nutrition Information
Serving Size: 112g (4 oz)
Servings Per Recipe: 1
Calories Per Serving: 189
Amount Per Serving
Saturated Fat: 8.7g
Trans Fat: 0g
Dietary Fiber: 0.2g
Sugars: 0.7g
Cholesterol: 194mg
Sodium: 205mg
Protein: 6.4g
The information above is an estimate generated by an online nutrition calculator.
More Breakfast Recipes
There are tons of other easy breakfast recipes that you are able to do.
If you need something to eat while on the go that is also really easy, then you should certainly check out the delicious omelette in a mug. It takes just a couple of minutes before it is ready to eat.
Another easy recipe that I love to make for breakfast is French toast. It is super simple to make and goes great with a wide variety of foods such as bacon, maple syrup, banana, and so much more.
I hope that you love this egg in a hole recipe, and you did not have any trouble making it. If you have any feedback, then please do not hesitate to leave a comment below.