Toad in the hole is a simple yet delicious dish that both kids and adults can enjoy. It's straightforward to prepare, so it's great to get the kids involved in making this delicious dish.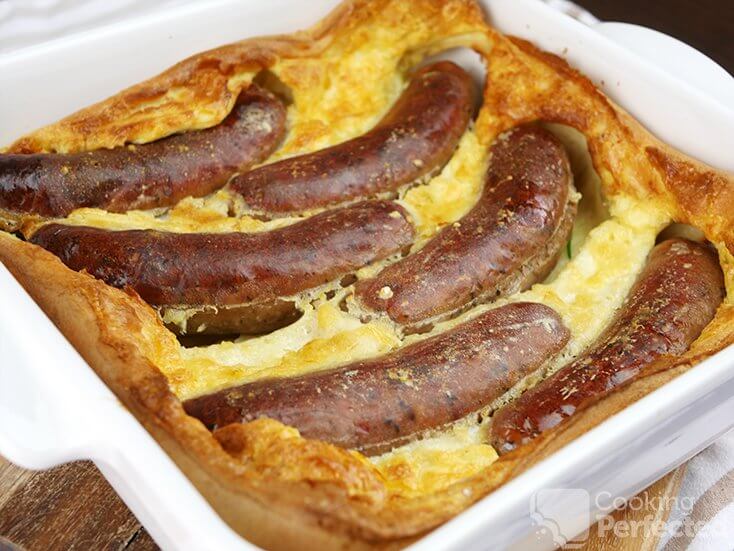 For anyone who has never heard of this dish, it's sausages cooked in a Yorkshire pudding batter. It's a classic British dish that was traditionally made using rump steak or lamb's kidney. The dish is incredibly popular throughout the world and is usually served hot for breakfast or dinner.
This recipe is super simple and incredibly filling so perfect if you're someone who is on a tight budget but wants a tasty meal.
The batter mix for toad in the hole is easy to get right but very critical that you do. The dish very heavily relies on the batter being fluffy and airy.
What to Serve with Toad in the Hole
This dish is excellent on its own, but you might want to cook up some onion gravy or something similar to go with it.
While the sausages are in the oven baking, it's the perfect time for you to prepare a delicious gravy. Doing this will ensure the gravy is ready to go when the sausages come out of the oven.
If you're trying to think of some side dishes to go with this meal, then mashed potatoes and peas are the perfect match for toad in the hole.
A delicious cauliflower cheese will go great as a side dish and is super easy to make. You will only need four ingredients and twenty minutes of spare time.
Some oven-baked sweet potato fries are also an excellent side dish to have with this delicious dish. You can cook these in the oven at the same time you're making the rest of the dinner.
There are a vast amount of other sides that I haven't mentioned that will perfectly match with this dish. It just really comes down to what you're feeling like eating and how big your budget is.
Tweaking the Recipe
There are some tweaks that you can do to this recipe to make it more to your liking. I will just go through some suggestions on what you can do.
This recipe will feed roughly four people, so you might want to adjust it if you need to feed more or less. If you're feeding big eaters, you might want to double the recipe.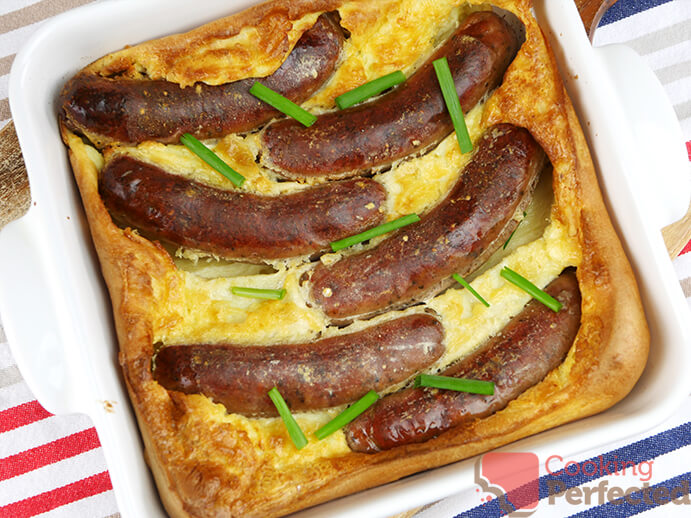 For individual serves, simply split the mixture across four different ovenproof dishes. Reduce the cooking time by roughly twenty minutes and keep an eye on it to make sure it doesn't burn.
You can add some fried onions in with sausages for a bit of extra flavor. With that said, I prefer to have the onions in with my gravy.
The video below will take you through all the steps on how to make toad in the hole. It's incredibly simple and won't take up too much of your time. You can find the full written recipe underneath the video.
Easy Toad in the Hole Recipe
Ingredients
2 Tbsp oil
500 g (1.1 lb) thick beef sausages
¾ cup plain flour
½ tsp salt
2 eggs
1 & ¼ cups milk
Instructions
Preheat an oven to 200°C  (400°F).
Pour the oil into a casserole dish and add the sausages.
Bake the sausages for roughly 10 minutes in the preheated oven. Turn after 5 minutes.
While the sausages are cooking, sift the flour and salt into a bowl. Make a well in the middle, add the milk and eggs. Whisk until the batter is smooth.
Remove the casserole dish from the oven and pour the batter over the sausages.
Bake for 30-45 minutes or until the batter is puffed up and golden brown.
Serve & Enjoy.
Recipe Tips
You can pan fry the sausages instead, but this will, of course, make more washing up.
If you're using frozen sausages, then it's best to defrost them before starting this recipe. Cooking from frozen may not deliver the best result.
Thick sausages work the best, but you can use slimmer ones instead. Just be careful that you don't overcook thin sausages. I recommend that you reduce the initial baking time of the thin sausages to only five minutes.
If you want to be super lazy, then you can always use a Yorkshire pudding packet mix instead.
Nutrition Information
Serving Size: 255g (9 oz)
Servings Per Recipe: 4
Calories Per Serving: 658
Amount Per Serving
Saturated Fat: 16.8g
Trans Fat: 0g
Dietary Fiber: 1g
Sugars: 4g
Cholesterol: 185mg
Sodium: 1269mg
Protein: 25g
The information above is an estimate generated by an online nutrition calculator.
More Tasty Recipes
If you have decided that you don't feel like making this dish, then there are a ton of others that you should try out. A sausage casserole is always an easy dish that will also feed a few heads.
Another casserole that I highly recommend that you give a try is the Tater Tot casserole. It's incredibly cheesy and has a wonderful ground beef and cream of mushroom gravy.
I hope you enjoy this deliciously easy toad in the hole recipe and that you didn't run into problems making it. If you have some feedback, tips, variations, or something else that you would love to add, then be sure to leave a comment below.