This gluten-free pizza dough is the perfect replacement of the traditional dough that we all know and love. It's super easy to make and cooks to be light, fluffy, and doesn't fall to bits when you go to eat it.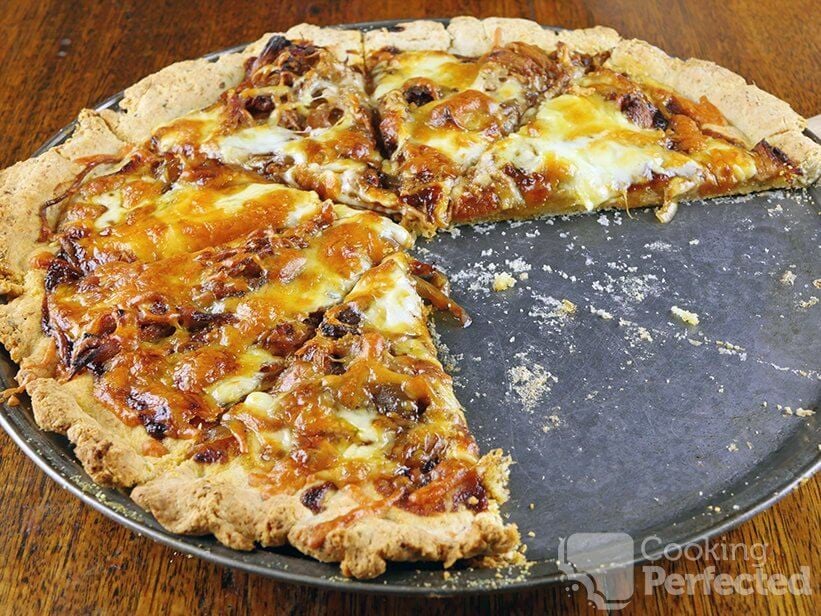 The dough bakes to be a delicious pizza base that won't fall to bits. Unlike a lot of gluten-free pizza bases, it is still nice and soft. It's hopefully a dough that you will come back to a lot in the future.
One of the best things about this dough is that it doesn't need time to rise as we're not using yeast. This is excellent if you find yourself quite time-limited but want a delicious gluten-free pizza.
This recipe is the go-to pizza base for when it comes to feeding our gluten-free family and friends. It's a super easy recipe and is undoubtedly harder to stuff up compared to more traditional recipes.
Pizza Topping Ideas
There are so many toppings that you can have on this delicious pizza base. Below are a couple of my favorite ideas.
In the photos, I use a combination of caramelized onion, mozzarella cheese, and some fried ground beef. It's absolutely delicious, and I highly recommend giving it a try.
A pesto pizza is simple but very flavorsome. You will need to spread the base with some basil pesto and sprinkle some mozzarella cheese, and sliced tomatoes over the top.
For a truly delicious pizza, I recommend spreading the base with a gluten-free BBQ sauce. Next, top it with pulled pork, mozzarella cheese, bacon, and some red onion. It's a truly delicious pizza topping.
If you have some sloppy joes leftover, then it will work great as a pizza topping. Simply spread over the pizza base and top it with a blend of mozzarella and cheddar cheese.
There are many other toppings that you can do, so if you have any suggestions, be sure to let us know.
The full written recipe for this gluten-free pizza crust is right below. It takes you through all the steps to making this delicious pizza base.
Gluten-Free Pizza Dough Recipe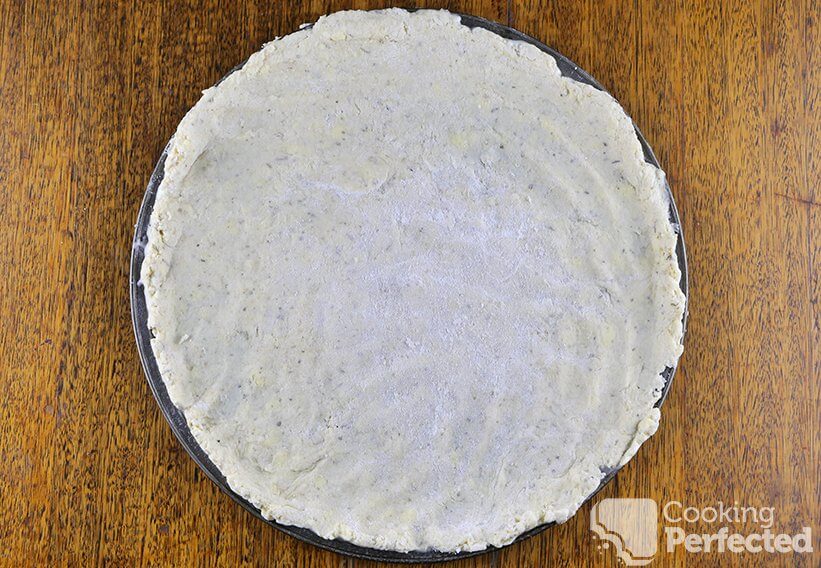 Ingredients
Instructions
Preheat the oven to 210°C (410°F).
In a large bowl, add and mix the dry ingredients.
Rub in the butter until the mixture resembles light breadcrumbs.
Mix in the egg, milk, garlic, and mixed herbs. Continue to mix until it forms a soft dough.
Gently press the dough into the desired size pizza.
Blind bake the pizza for 8 minutes.
Add your toppings.
Bake in the oven for 20 minutes or until the cheese is golden.
Serve & Enjoy.
Recipe Tips
Scatter some polenta across the pizza pan to get a crispier base. It also helps prevents the dough from sticking or becoming soggy.
The herbs and garlic are optional, but I highly recommend that you do add them. They will help add a ton of flavor to the gluten-free pizza dough.
A pizza wheel or something similar is perfect for cutting the pizza base once it is ready to serve.
You're able to roll this dough, but I find it easier to press into the shape of my desired pizza.
If you're feeling a little experimental, you can always try this pizza dough in the slow cooker.
Nutrition Information
Serving Size: 162g (5.7 oz)
Servings Per Recipe: 2
Calories Per Serving: 614
Amount Per Serving
Saturated Fat: 16.4g
Trans Fat: 1g
Dietary Fiber: 3g
Sugars: 4g
Cholesterol: 147mg
Sodium: 43mg
Protein: 13g
The information above is an estimate generated by an online nutrition calculator.
More Gluten-Free Recipes
If you love this pizza dough, then you should also check out our almond pie crust. The pie crust is perfect if you need to cook a pie for anyone who is gluten intolerant.
For something a little different, I highly recommend making a chicken korma curry. It's loaded with flavor and goes great with some cauliflower rice or steamed rice.
I hope that this gluten-free pizza dough recipe works out as well as it did for me. If you have any feedback, tips, or anything else, then please don't hesitate to leave a comment below.