Doing "baked" oatmeal in a mug at first felt strange, but after giving it a go, I was surprised at how easy it was to prepare with little to no effort.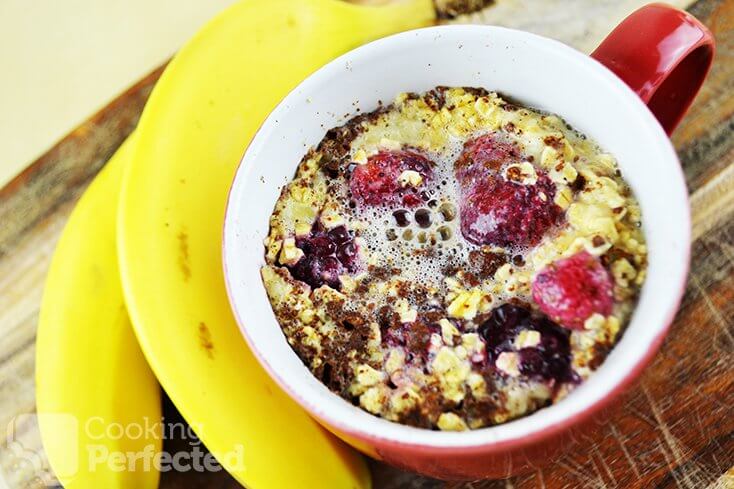 When you pull the mug out of the microwave, the oatmeal will be somewhat similar to a mug cake. It's loaded with delicious flavors thanks to the banana, fruit, and cinnamon. It's a hearty breakfast that will have you ditch the oatmeal packet mixes.
On top of this breakfast being easy to make, this oatmeal also tastes fantastic. With that said, I am not sure if it is better than the real thing, but it would come pretty close.
This oatmeal is a perfect breakfast if you don't have a huge amount of time in the morning but would still love a cooked breakfast. You can have it prepared, cooked, and ready to eat in less than five minutes.
Personalizing the Recipe
To add more flavor to your baked oatmeal in a mug, you can add some additional ingredients to the recipe. I have listed some suggestions below that will help make your oatmeal even better.
I recommend adding some raspberries into the oatmeal, but other fruits such as raisins, chopped apple, blueberries, or even strawberries will work very nicely.
You can add more spices into the oatmeal for more flavor. A little bit of nutmeg will complement the cinnamon nicely. Be careful not to go overboard as spices can quickly overpower other flavors.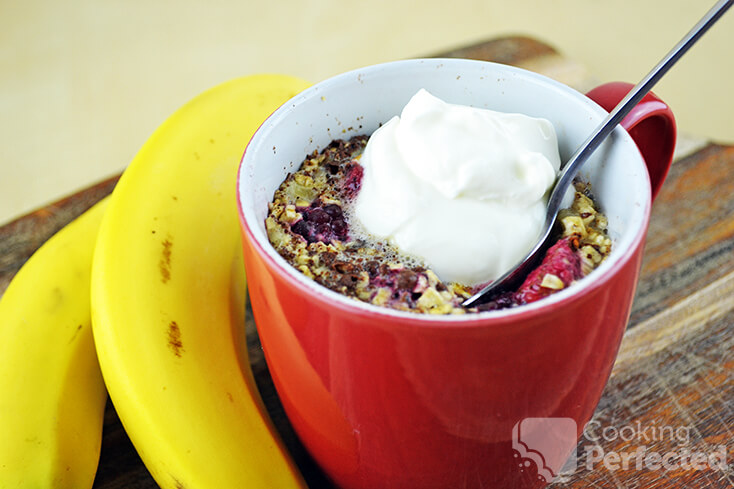 If you're a bit of a sweet tooth, then feel free to adjust the amount of honey in the recipe. You can easily double or triple the honey and still have the oatmeal taste nice. I only recommend adjusting the sweetener if you feel like experimenting.
To add a bit more nutrition to the oatmeal, you can add some flax or chia seeds. These can be a bit pricey, so use sparingly.
Be sure to share with us any flavor combination that you come up with, as we will love to hear it. If you have a combination that you love, then be sure to share it below in the comments section.
What to Serve with Oatmeal
One of the best things about oatmeal is that it doesn't really need anything extra to go with it. However, with that said, below are a couple of suggestions.
A scoop or two of ice cream matches nicely with the hot oatmeal. I only recommend serving it with ice cream if you're craving some delicious comfort food for breakfast.
Some sliced fresh fruit is delicious on the top of the oatmeal. You can go one step further and drizzle some honey or maple syrup over the top. It's a truly delicious sweet breakfast.
My last suggestion is to top the oatmeal with a little bit of yogurt. I prefer a sweetened vanilla yogurt, but if you want something a little healthier, then Greek yogurt will work fine.
If you're more of a visual person, then be sure to check out my video on how to make baked oatmeal in a mug. It's a quick and easy way to learn how to throw this great recipe together.
Baked Oatmeal in a Mug Recipe
Ingredients
½ overripe banana
1/3 cup milk
2 tsp honey
1 egg
½ cup quick oats
¼ tsp cinnamon, ground
1 Tbsp raspberries
Instructions
In a mug, mash the banana.
Add the milk, honey, and the egg. Stir until combined.
Now, add the quick oats, and cinnamon. Stir until mixed together.
Gently mix in the berries or your chosen fruit.
Cook in the microwave for 2-3 minutes or until cooked.
Serve & Enjoy.
Recipe Tips
Remember, not all microwaves are the same, so you may find it will take longer to cook the baked oatmeal in your microwave.
Try different combinations of fruit and nuts instead of the ones mentioned in this recipe. You might stumble across something much more amazing.
Maple syrup is an excellent alternative to honey. I recommend picking the one that you like the most.
Nutrition Information
Serving Size: 264g (9.3 oz)
Servings Per Recipe: 1
Calories Per Serving: 347
Amount Per Serving
Saturated Fat: 2.9g
Trans Fat: 0g
Total Carbohydrate: 54.9g
Dietary Fiber: 6g
Sugars: 19.6g
Cholesterol: 170mg
Sodium: 104mg
Protein: 14.3g
The information above is an estimate generated by an online nutrition calculator.
More Mug Recipes
There are quite a few other cooked breakfasts that you're able to do in a mug.
If you're looking to keep on the healthier side of things, then something like an easy omelette or even scrambled eggs might interest you.
Alternatively, French toast in a mug with some maple syrup is certainly a breakfast that is well worth trying out. It goes great with a scoop or two of vanilla bean ice-cream.
We will love to hear if you have tried a different combination of fruits or ingredients. If you want to share a combination, then please don't hesitate to leave a comment below. We will love to hear your feedback for this baked oatmeal in a mug.