This delicious apple cake in a mug is the perfect treat for one person. It takes just minutes to prepare and tastes amazing.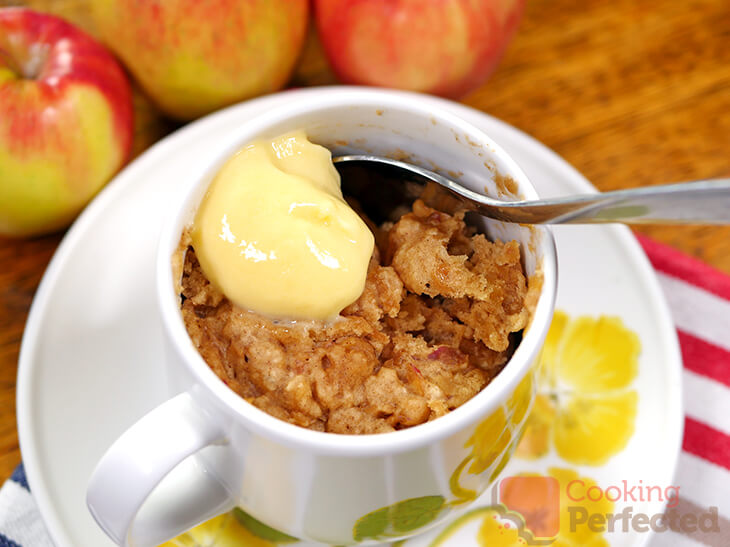 I love this cake as it cooks to be slightly fluffy and loaded with flavor. Speaking of flavor, you will get a slight hint of cinnamon, apple, brown sugar, and cinnamon. I highly recommend serving this cake with some custard or ice cream.
This mug cake will only make enough for one person. If you need to feed more, then try doubling or tripling the ingredients. You will also need to use multiple mugs or a large bowl.
For the best results, make sure your microwave is set to the highest setting. If it is set low, then it may take longer than suggested to fully cook.
What to Serve with the Apple Cake
There are plenty of accompaniments that will work nicely with this delicious cake.
My absolute favorite addition to this cake is a dollop or two of thick custard. It helps add more flavor and a lovely creamy texture. I recommend buying the custard from the supermarket to save on time.
Another delicious accompaniment is some vanilla bean ice cream. The ice cream will slowly melt on top of the delicious cake, cooling the cake down, and adding an incredible flavor. I highly suggest giving it a try.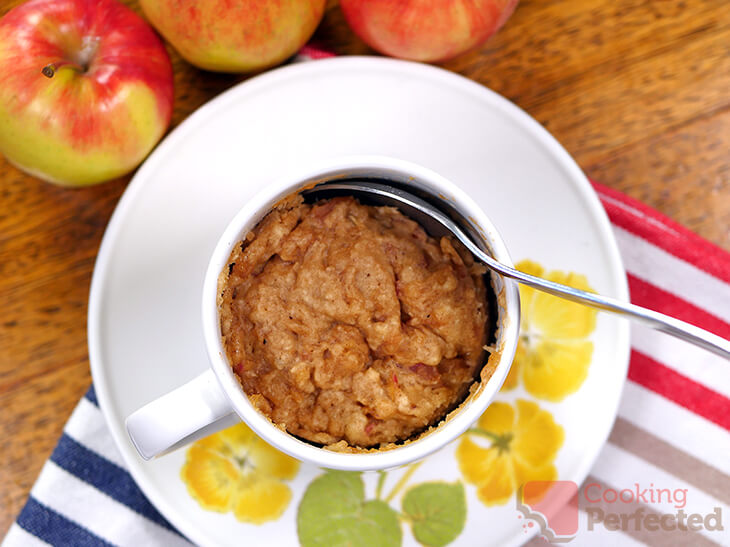 The easiest addition to this cake is a drizzle of heavy cream over the top. It helps cut through a bit of the sweetness while keeping the cake deliciously moist.
With that all said, I love the cake without any extras as it has plenty of flavors and a great texture. If you have any ideas on what to serve with the cake, then be sure to let us know.
Tweaking the Apple Cake Recipe
There are a few slight changes that you can make to this cake so that it is more to your liking.
Instead of the shredded apple, you can use some applesauce instead. It will help keep the cake moist and add more delicious apple flavors. You can use both the shredded apple and applesauce.
The brown sugar can be replaced with something like honey or regular white sugar. Each type of sugar will have a different impact on the flavor and texture of the cake. I highly recommend sticking to the brown sugar.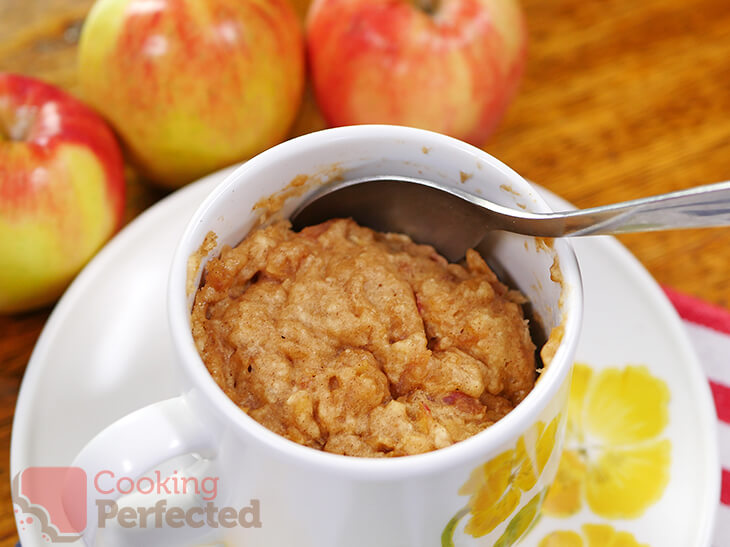 To make this cake dairy-free, I recommend replacing the milk with almond milk or something similar. You can also make this cake gluten-free by replacing the flour with a gluten-free self -rising flour.
The recipe below will take you through all the steps to making this apple cake in a mug.
Apple Cake in a Mug Recipe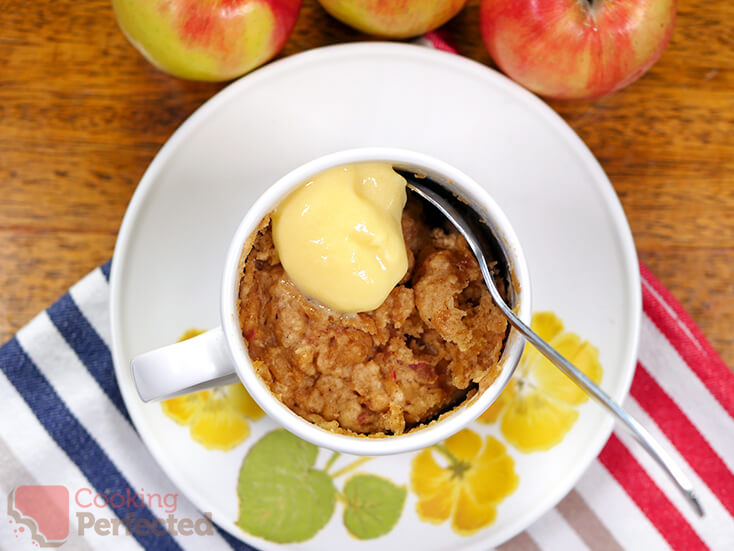 Ingredients
1 small apple, cored and grated
1 Tbsp butter, cubed
1 Tbsp brown sugar
1/2 tsp cinnamon, ground
3 Tbsp self-rising flour
1/2 tsp vanilla essence
3 Tbsp milk
Instructions
In a mug, stir together the apple, butter, brown sugar, and cinnamon.
Microwave on high for 30 seconds or until the butter is melted.
Add the flour, vanilla, milk, and gently stir to combine.
Microwave on high for 2 minutes or until the cake is fully cooked.
Serve & Enjoy.
Recipe Tips
You must make sure the mug is big enough to hold your cake mixture. If it is too small, then the cake might overflow and make a mess.
You will need to let this cake cool a little before you eat it as it will be super hot.
Cook the cake for longer if it is still gooey in the middle. A cake skewer is a good way to check if it is ready. The skewer should come out mostly clean.
You can dice the apple, but I find shredded apple will work best in this recipe.
Nutrition Information
Serving Size: 244g (8.6 oz)
Servings Per Recipe: 1
Calories Per Serving: 333
Saturated Fat: 8.2g
Trans Fat: 0.5g
Dietary Fiber: 5g
Sugars: 27g
Cholesterol: 35mg
Sodium: 304mg
Protein: 4g
The information above is an estimate generated by an online nutrition calculator.
More Mug Recipes
There are loads of delicious cakes that you can make in a mug. Below are a couple more recipes that I reckon you will love.
The banana mug cake is another fruity dessert that you will love. It uses banana instead of apple and is incredibly delicious. I highly recommend giving it a try.
For something a little more chocolatey, I recommend making the brownie mug cake. The result is a deliciously gooey chocolate mixture that is perfect without any extra accompaniments.
I hope that you love this apple cake in a mug as much as I do. If you have some feedback, tips, or anything else, please do not hesitate to comment below.