This espresso mug cake is perfect for anyone looking for an easy cake that combines both coffee and chocolate.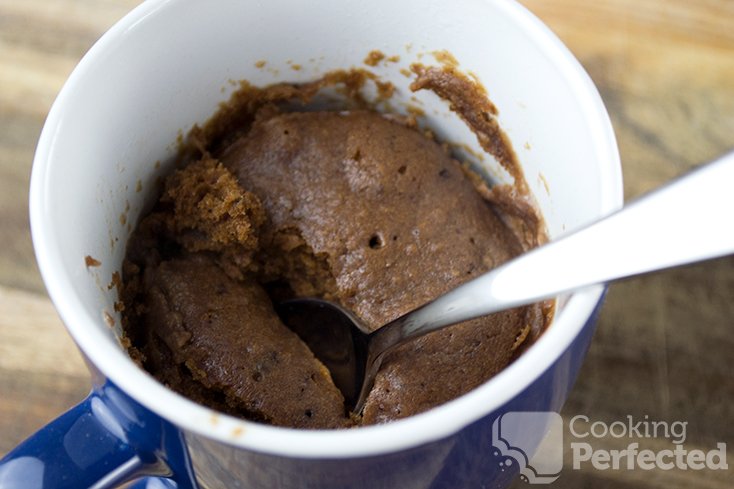 This delicious cake is perfect for those nights, afternoons, or mornings where you want a quick and easy cake. This recipe can be prepared and cooked in less than a few minutes, making it perfect for anyone feeling a bit lazy.
A single mug cake is typically only enough to feed one person, so if you need to feed more, then you might want to double the recipe and use more mugs.
Accompaniments to go with this Cake
Mug cakes are often great on their own and don't need anything extra to go with them. With that said, below are a couple of ideas on how you can spruce up this delicious cake.
One of my personal favorites is to serve this cake with a nice big scoop of vanilla bean ice cream. It's the perfect combination that I highly recommend that you give a try.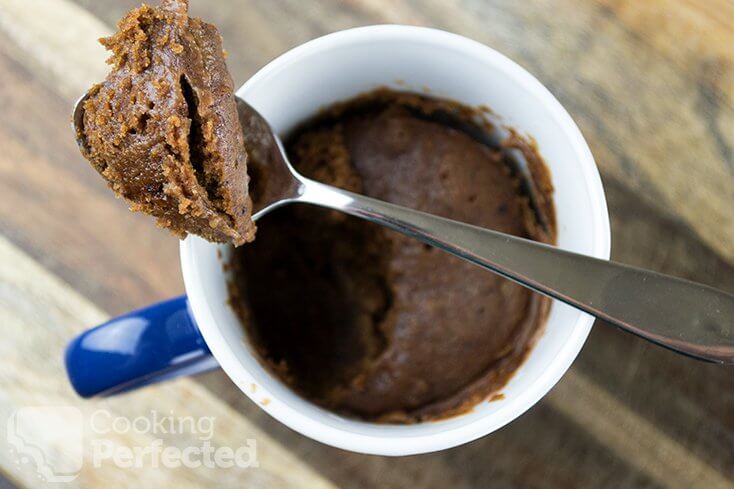 There are plenty of other extras that you can have, such as hot custard, whipping cream, or even a sweet syrup. I recommend going with the ingredients that you love the most.
If you have any suggestions on what to serve with this espresso mug cake, then be sure to leave a comment at the bottom of this page.
Perfecting the Mug Cake
A lot of microwaves vary in their cooking settings, so you may find your espresso mug cake may need a little longer or a little less cooking. This mug cake is best cooked in a microwave that is set to the highest setting, preferably 1000W.
If you need to double this recipe, I recommend weighing out the ingredients separately. For example, if you weigh them together and then divide them into mugs, you may end up with consistency problems.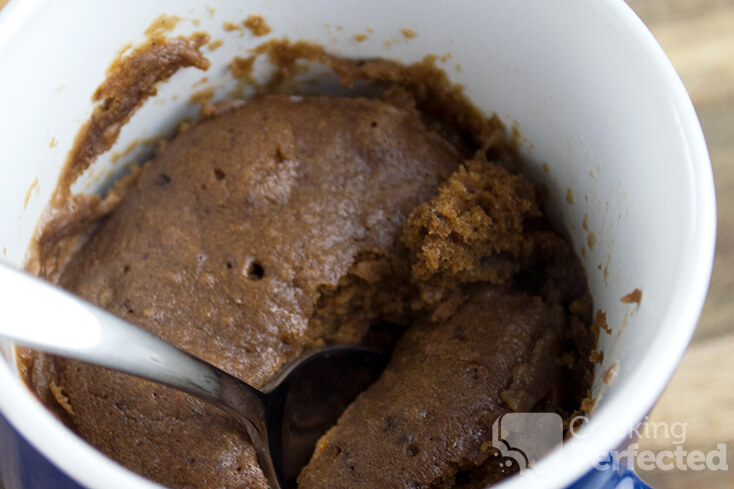 This recipe should come out to be an excellent chocolate espresso cake. Personally, I love enjoying a nice warm cup of coffee with this early in the morning. If you love this mug cake, then you might also enjoy something like the delicious coffee cake in a mug.
If you want to see how to make an espresso mug cake, then be sure to check out our video on the recipe below. It will take you through all the necessary steps to making this amazing cake in a mug.
Espresso Mug Cake Recipe
Ingredients
3 Tbsp plain flour
1 Tbsp caster sugar
1 Tbsp cocoa powder
¼ tsp baking powder
1 tsp instant coffee powder
3 Tbsp milk
1 Tbsp vegetable oil
Instructions
Add the dry ingredients to a clean microwavable mug and mix well.
Add the oil and milk to the mug.
Mix and try to ensure there is little to no lumps.
Place into the microwave and cook it for about a minute and a half.
Enjoy with cream, ice cream, or even just by itself.
Recipe Tips
You can replace the cocoa powder with a drinking chocolate mixture. Keep in mind this will make the cake even sweeter, so you may need to reduce the sugar a little bit.
Personally, I wouldn't stress too much about the quantities in this recipe. Mug recipes are usually pretty forgiving for slightly wrong measurements.
If you love the taste of coffee and one teaspoon of instant coffee powder just isn't doing it for you, then feel free to add a bit more. I haven't experimented with more than one teaspoon. Still, I am sure anything up to about one tablespoon would taste just fine.
As I mentioned in the recipe, both cream and ice-cream go well with this cake. If you feel like spoiling yourself a little, then be sure to try fresh or frozen raspberries.
Nutrition Information
Serving Size: 100g (3.5 oz)
Servings Per Recipe: 1
Calories Per Serving: 287
Amount Per Serving
Saturated Fat: 3.7g
Trans Fat: 0g
Total Carbohydrate: 35.7g
Dietary Fiber: 2.3g
Sugars: 14.2g
Cholesterol: 4mg
Sodium: 24mg
Protein: 4.9g
The information above is an estimate generated by an online nutrition calculator.
More Mug Cake Recipes
There are lots more cakes that you can make in a mug, and below are a couple of my favorites that I highly recommend that you try.
The chocolate brownie in a mug is probably the most popular mug cake that's around. It cooks to be rich in chocolate and is an absolute treat. I highly recommend giving this recipe a try.
For something a little different, you can give the "baked" oatmeal a try. The result is a delicious combination of fruit, cinnamon, oats, and egg. It's super delicious and is great as a quick and easy breakfast.
I hope you have been able to make a delicious espresso mug cake in no time at all and that it tastes delicious. If you have any feedback, or variations on this recipe that you would like to share, then be sure to drop us a comment below.