This mug brownie recipe is one of the easiest desserts to quickly whip up after dinner or even as a nice sweet snack if you're feeling a little peckish.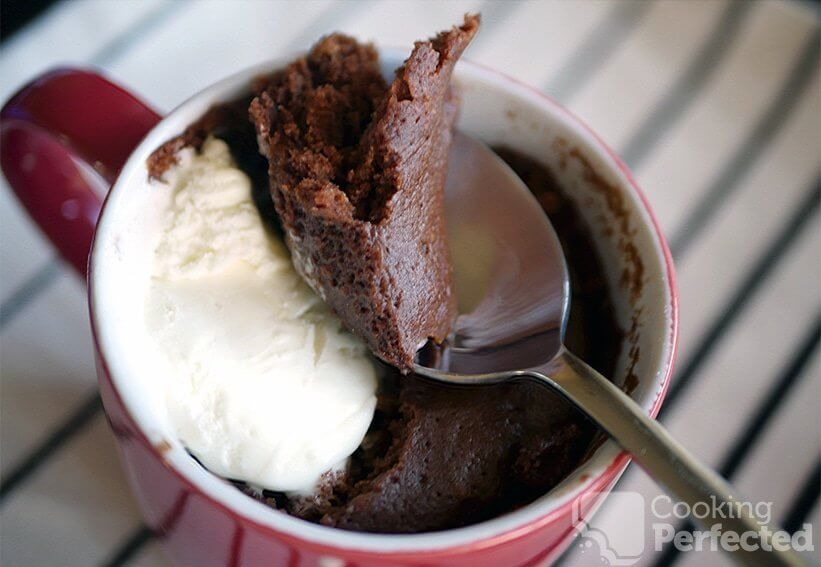 This mug cake cooks to be rich in chocolate and incredibly moist. It's the comfort food that I have always dreamed of, something I can easily whip together and will only take a couple of minutes to cook.
Like most of our mug cakes, I made this brownie using a typical household microwave and mug however you may find that you will need to adjust the time required to cook it.
Personalize this Microwave Brownie Mug Cake
There are so many variations that you can make to this tasty brownie mug cake. I have a few recommendations listed in the cooking tips further down the page, but I will also mention some here.
Chocolate chips are an excellent addition if you can't get enough chocolate. By the time the cake is ready to eat, the chocolate chips will be melted and gooey. It's so good.
You can top the brownie with some marshmallows and crushed graham crackers for a smores brownie mug cake. It's a combination that will please if you're a sweet tooth.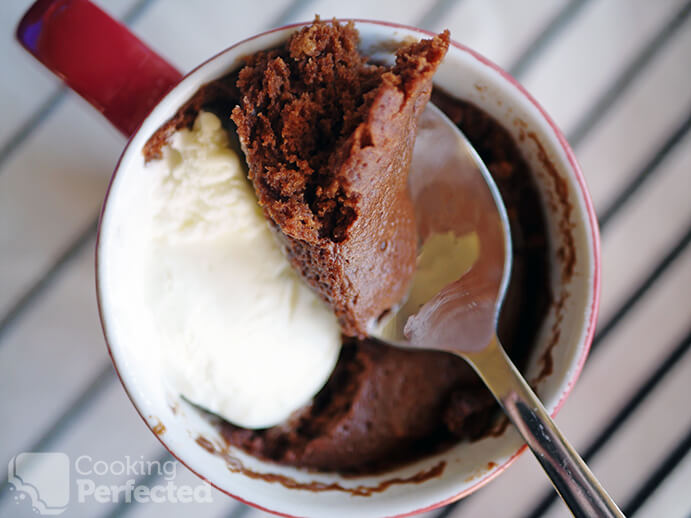 Peanut butter is another ingredient that you can add for a slightly different mug cake. It's perfect if you love chocolate and peanut. Either add one tablespoon of peanut butter into the cake mixture or dollop it on top after cooking.
You can even try adding some fruit into the cake mixture. For example, some raspberries will be incredibly delicious.
To make this cake gluten-free simply swap the plain flour for gluten-free plain flour.
There are so many more ways that you can change this delicious chocolate brownie. If you have anything that you would like to share, then please leave a comment at the bottom this page.
A Recipe for One
This recipe is for just one, but you can easily make it for multiple people. Just remember the more mugs that you have in the microwave, the slower it may be to cook.
I love making this mug cake whenever I am just having some chill time and want something sweet and easy. It's also easy to quickly prepare if I need to make it for more than just myself.
Try to make sure your mug is large enough for this recipe. If you have a mug too small, then the cake mixture might overflow and make a complete mess in your microwave.
Extras to have with a Brownie in a Cup
There are loads of extras that you can have on top of this delicious dessert.
My favorite is a scoop or two of vanilla ice cream, but I have seen whipped cream used or even hot custard.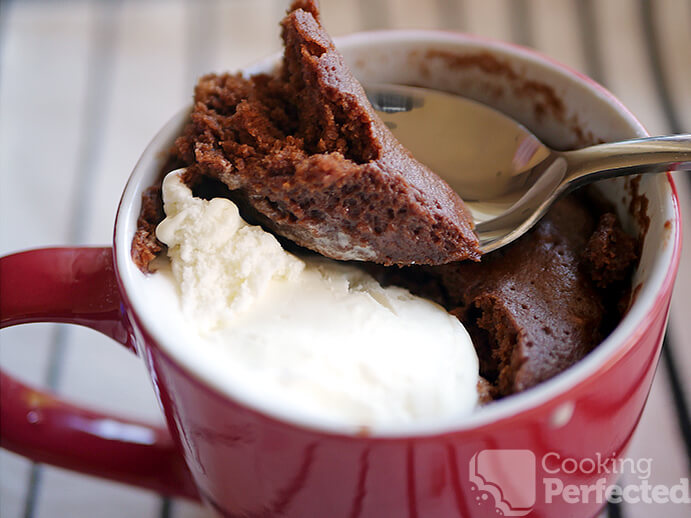 You can even try some chopped peanuts, banana, and some cream on top. It's like a brownie banana split but in a mug. I have never tried it, but it does sound delicious.
Suppose your chocolate mug brownie is coming out less than perfect, then check out our cooking tips below the recipe for information on improving the outcome of this mug cake.
If you want to see how this amazing brownie in a mug is done, then check out the video I have prepared below. Right underneath the video is the full written recipe.
Chocolate Mug Brownie Recipe
Ingredients
4 Tbsp plain flour
4 Tbsp sugar
2 Tbsp cocoa powder
2 Tbsp melted butter or oil
2 Tbsp water
Instructions
Add the sugar, cocoa, and flour to the mug and stir to combine.
Add the melted butter and water to the dry ingredients.
Mix while trying to ensure there are little to no clumps.
Place into the microwave and cook for a minute on high.
Enjoy with ice cream, cream or just by itself.
Recipe Tips
If you're finding the brownie too grainy, try reducing the sugar or use a finer sugar such as caster sugar.
A dash of vanilla extract will add a bit more flavor.
Like the brownie a little gooey? Try cooking it for about 30-40 seconds instead.
Don't stress on exact quantities too much as long as you don't go overboard you should be right.
If you're looking for a vegan mug brownie, then you won't need to look any further. Just use oil rather than butter. Also, don't add any of the optional extras such as cream and ice cream.
Unfortunately, you will need to change this recipe to make it paleo-friendly.
A favorite variation you can try with this recipe is adding chocolate chips to the mix. This change will make it a fair bit sweeter, but you end up with lovely gooey bits of chocolate throughout the brownie.
If you find that the brownie tastes a little weird, it may be the cocoa you're using. Try to avoid the cheaper varieties of cocoa or any mixes that have added sugar.
Nutrition Information
Serving Size: 131g (4.6 oz)
Servings Per Recipe: 1
Calories Per Serving: 558
Amount Per Serving
Saturated Fat: 4.4g
Trans Fat: 0.1g
Total Carbohydrate: 77.8g
Dietary Fiber: 4.1g
Sugars: 48.3g
Cholesterol: 0mg
Sodium: 4mg
Protein: 5.2g
The information above is an estimate generated by an online nutrition calculator.
Other Dessert Recipes
If you love chocolate and you love a similar recipe, then you should try checking out the self-saucing chocolate pudding. It is great if you want an easy yet delicious pudding for dessert. It involves a bit more work, unlike this recipe.
Easy chocolate fudge is yet another must-try if you're huge of all foods chocolate. It's super easy and only requires just a few ingredients.
If you have any tips, variations or improvements to this mug brownie recipe, then please feel free to leave a comment below.