A gluten-free apple and rhubarb crisp is a fruity dessert that you need to try.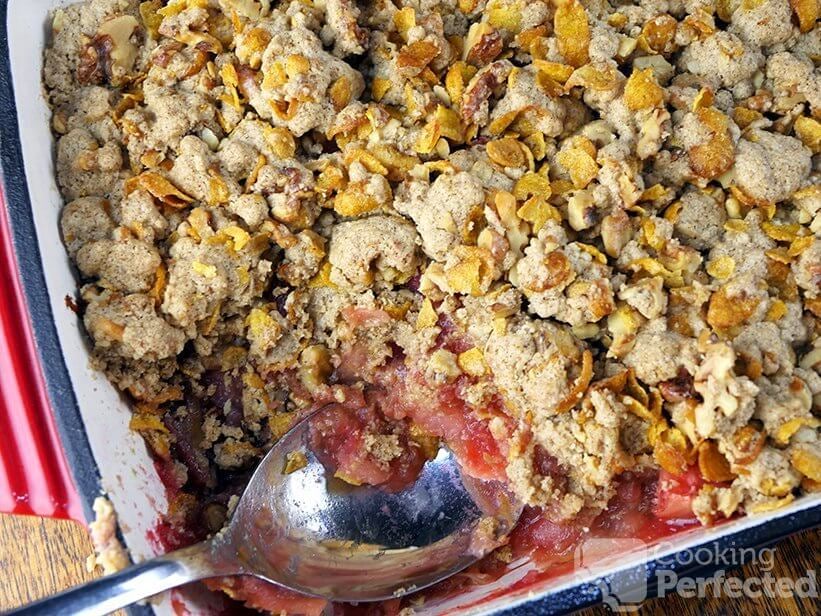 This dessert has a delicious apple and rhubarb filling and a satisfyingly crunchy gluten-free topping. It is always a huge hit whenever I make it, and I hope that it is the same for you.
In America, this dish is commonly referred to as crisp, but in other countries such as the United Kingdom and Australia, it is known as a crumble.
You should be able to get about six servings out of this delicious dessert. The recipe can easily be adjusted if you need to feed more. Simply double or triple the ingredients. However, you may need a bigger baking dish.
What is Rhubarb
Even though we use rhubarb as a fruit, it is actually a vegetable. It is a leafy plant that has thick red stalks. The leaves are poisonous, so you will need to discard them. The stalk must be cooked and is the part we will use in this dish.
Rhubarb can be challenging to find in certain parts of the year. Its prime season is usually from mid-spring right through to the end of summer. However, this can differ depending on weather conditions.
If rhubarb is not your thing, you can easily leave it out and have a delicious gluten-free apple crisp. I absolutely love rhubarb, so it is a must-have in my crisps.
What to Serve with Apple & Rhubarb Crisp
There are so many extras that you are able to have with this dish. Below are some of my favorite accompaniments.
I love to serve this dish with a scoop or two of vanilla ice-cream. The ice-cream will slowly melt over the hot apple and rhubarb. It really is a delicious combination.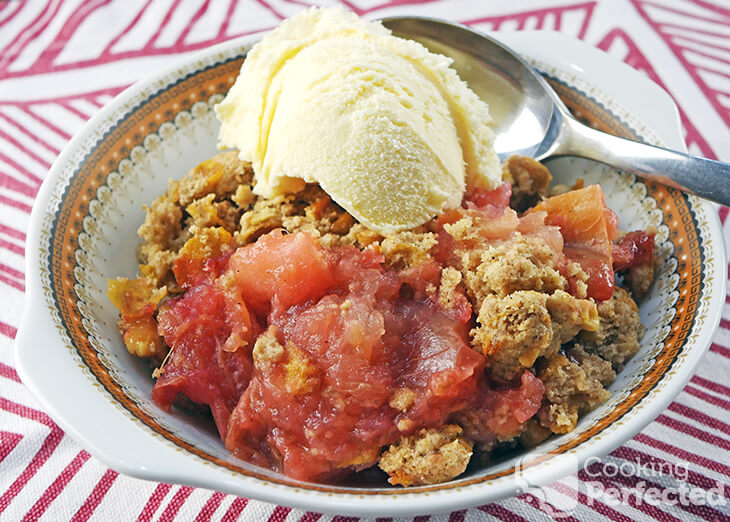 Some custard poured over the top of this dessert is incredibly delicious. If you have some spare time, you can make the custard at home. Otherwise, the store-bought custard will also work just as well.
A drizzle of cream is another great way to finish this delicious dish. I find that it helps cut through some of the sweetness of the crisp.
You will find the full written recipe for this gluten-free apple and rhubarb crisp right below.
Gluten-Free Apple Rhubarb Crisp Recipe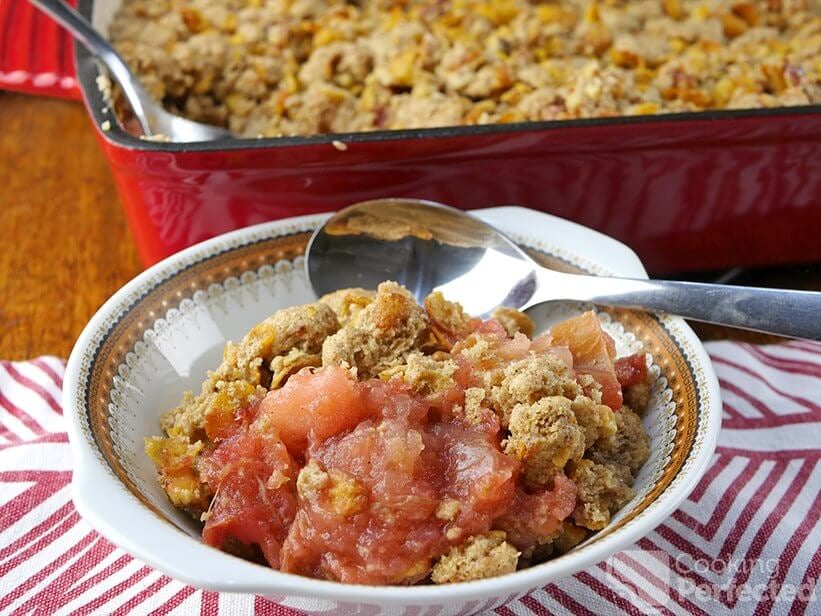 Ingredients
Filling
8 apples cut into chunks
5 stalks of rhubarb trimmed and cut into 5cm (2 in) chunks
½ tsp cinnamon, ground
½ tsp nutmeg, ground
1 Tbsp lemon juice
1 Tbsp brown sugar
2 Tbsp water
Topping
Instructions
Preheat an oven to 180°C (350°F). Also, lightly grease an 8×8 baking dish.
In a pot, add the apples, rhubarb, cinnamon, nutmeg, lemon juice, brown sugar, and water.
Cook on medium heat with the lid on for 5 minutes. Remove the lid and cook for a further 5 minutes or until the apples and rhubarb are tender.
In a bowl, add the butter, gluten-free plain flour, brown sugar, cinnamon, and nutmeg. Work the ingredients using your fingertips until it resembles large breadcrumbs.
Gently work in the gluten-free cornflakes and walnuts.
Transfer the apple and rhubarb to the baking dish and add the topping.
Bake for 30 minutes or until the topping is golden brown.
Serve & Enjoy.
Recipe Tips
Cornflakes are often gluten-free these days, but it is important to check before making use of them. If you are unable to get your hands on any, then simply double the number of walnuts.
The sugar in the filling is completely optional, but it does help offset the rhubarb's tartness. If you prefer, you can leave the sugar out, the natural sugars in the apple should take away most of the tartness.
You can use any type of apple in this dish, but baking apples will cook the best.
Nutrition Information
Serving Size: 358g (12.6 oz)
Servings Per Recipe: 6
Calories Per Serving: 435
Amount Per Serving
Saturated Fat: 10.4g
Trans Fat: 0g
Dietary Fiber: 8g
Sugars: 45g
Cholesterol: 30mg
Sodium: 77mg
Protein: 4g
The information above is an estimate generated by an online nutrition calculator.
More Gluten-Free Desserts
There are plenty of gluten-free dessert recipes that you need to try.
A tasty dessert such as a slow cooker rice pudding is absolutely delicious. It is also very easy to make as all you need to do is dump the ingredients into the slow cooker and set it to cook.
You should try something like a chocolate cheesecake. The cheesecake itself is creamy and packed with some delicious chocolate flavors. The base is made out of coconut and matches the cake nicely.
I hope that this gluten-free apple and rhubarb crisp recipe will help you make this dessert without any issues. If you have some feedback, tips, or a correction, then please do not hesitate to leave a comment below.