This gooey banana mug cake is the perfect treat to cook yourself when you're feeling a little hungry. It's also a great quick, and easy dessert that you can cook up after dinner.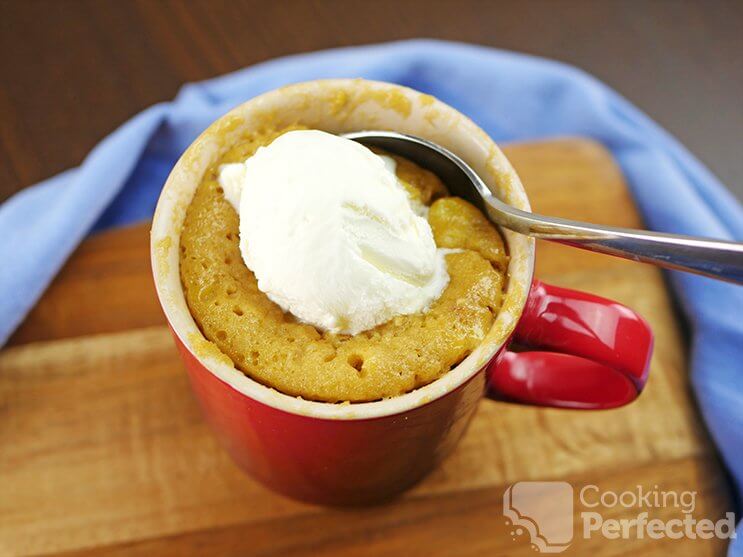 By the time you're ready to eat this cake, it should be moist, fluffy, and packed with that lovely banana flavor we all know and love.
This mug cake is so delicious it's hard to resist making it every night. It only takes just a few simple steps, a few ingredients and a minute to cook. The result is a sweet cake that is incredibly moist, and it's the perfect treat to give yourself after a long day of hard work.
Extras to have with this Mug Cake
Usually, you can enjoy these tasty cakes just on their own, but if you want to take it to the next level, then a scoop of vanilla ice cream goes perfectly on top.
It also goes great with some hot custard, but that involves more work unless you buy the premade custard. You could go one step further and have it with some banana custard. It would be the ultimate banana snack.
The easiest extra that you can have with this delicious cake is some cream drizzled over the top. Any cream will work, but I suggest using something without any sweetener.
if you have any suggestions for what else to have with this cake, then I would love to hear them.
Single Serving
One serving of this banana cake will only feed one person unless you're not feeling very hungry then you might be able to feed two.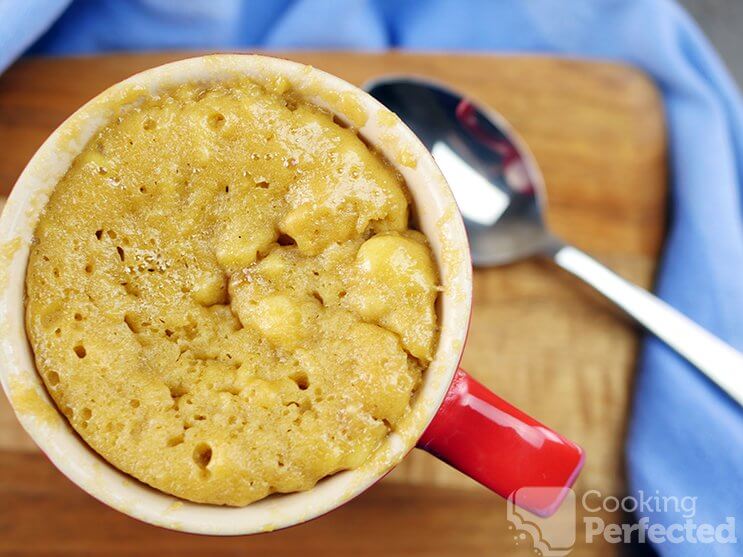 If you want to cook for two then just double the recipe and split it across two mugs. You may need to adjust the cooking time.
You can also make this in a bowl if you need to feed lots of people, but at that point, you might just want to make a full dessert such as sticky date pudding.
Personalize this Cake
There are so many slight changes that you can make this recipe so that it will better suit what you're after. I will quickly go through a few of my favorite variations.
Adding some chocolate chips to the cake mixture will give you a delicious cake that is similar to the cookie dough in a mug. The chocolate chips melt and will leave you with gooey bits of chocolate throughout the banana mug cake.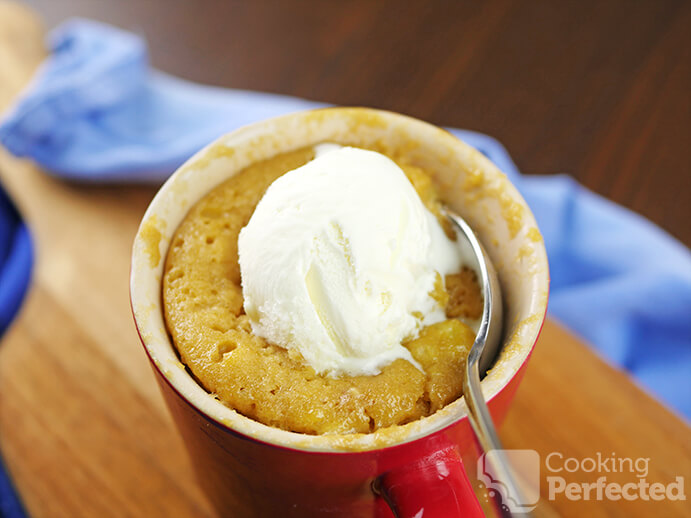 If you want no eggs in this recipe, then leave the egg out. The cake should still cook to be gooey and moist. If the batter ends up a little too dry then simply top up with some more milk.
Let us know of any variations that you enjoy with this recipe. I only touched on a few, and I know there is so many more.
Overripe Bananas Work Best
For this banana mug cake to work the best, you will need to use overripe bananas. If they're unripe, then they will not mash properly. Unmashed bananas leave you with a very unsatisfying cake as you won't get the smoothness and sweetness from the banana that you require.
There are plenty of sweet baked goods you can make with overripe bananas.
If you have a ton of bananas that you need to use and want to do more than just this mug cake, then be sure to take a look at the fantastic banana bread. It too is incredibly easy but will need to be cooked in a traditional oven rather than the microwave.
The video below will show you the few steps to whipping up this tasty dessert in a mug. If you prefer to read, then you can find the full written recipe right underneath the video.
Banana Mug Cake Recipe
Ingredients
1 Tbsp butter, melted
1 egg
1 Tbsp milk
1 ripe banana, mashed
3 Tbsp plain flour
2 Tbsp brown sugar
½ tsp baking powder
Instructions
Firstly, melt the butter in the microwave. (Roughly 10 seconds)
Beat in the egg and banana.
Add the dry ingredients, milk, and mix until combined.
Cook in the microwave for 1 minute and 30 seconds. Cook further, if not fully cooked.
Serve & Enjoy
Recipe Tips
If you like your mug cakes slightly gooey in the middle, then reduce the cooking time slightly.
For the best results use an overripe banana.
Add a drop of vanilla extract for a bit of extra flavor.
You can make this banana cake gluten-free by replacing the flour and baking powder with gluten-free variants.
Mug cakes can make a mess in your microwave so keep an eye on it. Placing a plate under the mug will make cleaning up easier if it does end up overflowing.
Use a skewer to ensure that the middle is fully cooked. The skewer should come out clean. This step is essential if you can't eat any undercooked egg.
Nutrition Information
Serving Size: 245g (8.6 oz)
Servings Per Recipe: 1
Calories Per Serving: 471
Amount Per Serving
Saturated Fat: 9.1g
Trans Fat: 0.5g
Dietary Fiber: 4g
Sugars: 42g
Cholesterol: 196mg
Sodium: 82mg
Protein: 10g
The information above is an estimate generated by an online nutrition calculator.
Other Tasty Sweet Recipes to Try
There are quite a few easy desserts that you're able to cook up in the mug. Personally, I think they're all pretty good but if you want one similar to this one then be sure to check out the gooey chocolate brownie.
I love cooking mug cakes as they're so easy to make and they're the perfect comfort food. Another one that I highly recommend that you try is the breakfast oatmeal, it too uses banana and is delicious.
I hope that you like this banana mug cake and that you didn't run into any issues making it. If you have some feedback, tips or anything else that you would like to say, then please don't hesitate to drop a comment right below.