These poached pears in red wine are the perfect way to finish the day. They go great with a scoop or two of vanilla ice cream.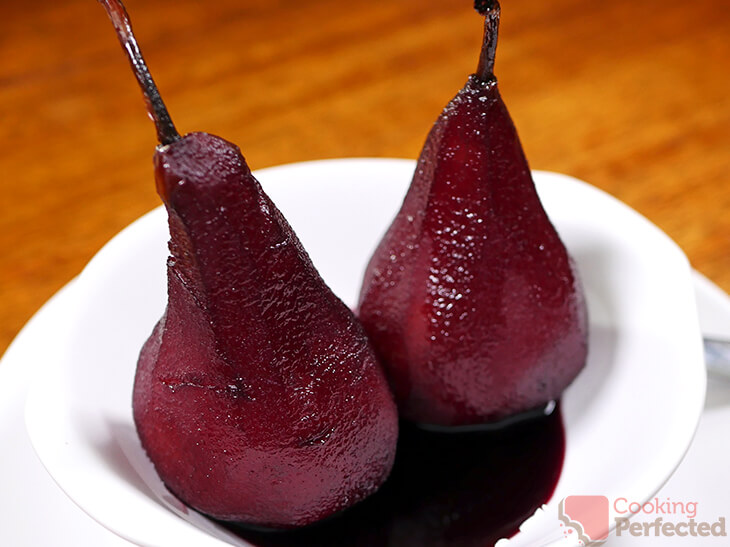 By the time the pears are cooked, they will be incredibly tender and loaded with flavor. They will have also taken on the lovely color of the red wine. You will get a strong red wine taste backed by the flavors of the pears and spices. It is a truly amazing combination.
A single batch of this recipe should feed roughly four to six people. However, it heavily depends on whether people are hungry and how big your pears are. I highly recommend serving the pears with some extra food.
If you do not need these pears super quick, you can cook them in a slow cooker instead. Using a slow cooker is an excellent way of infusing even more flavor into the pears.
You can eat these poached pears, either hot or cold. I prefer to have them hot with some ice cream. However, in the summer, they are probably best served cold. They also make for great leftovers as you can eat them as a quick snack.
What to Serve with Poached Pears
Many different accompaniments will work nicely with the pears. Below are a couple of suggestions.
I love to serve these pears with some creamy vanilla bean ice cream. The ice cream helps cut through some of the red wine syrup's sweetness while also adding a delicious creamy element to the dish.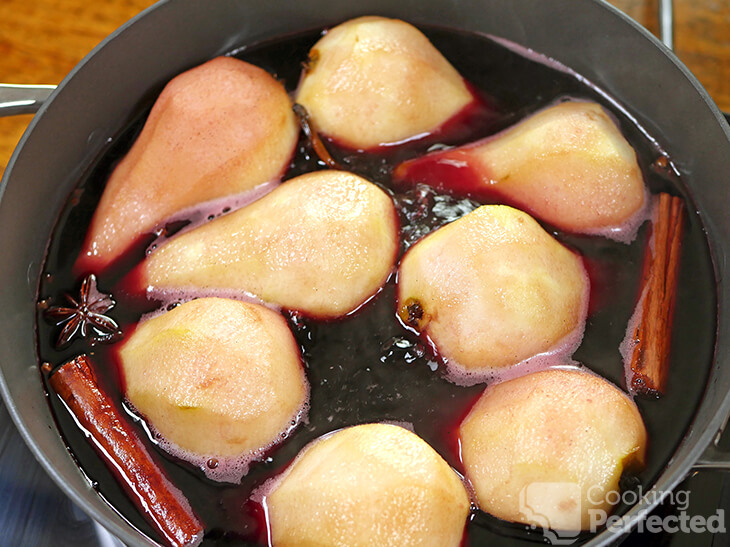 Some homemade custard will work perfectly drizzled over the pears. Much like the ice cream, it adds a delicious creamy element to the dessert. If you do not have the time to make it from scratch, then the premade custard will work very nicely.
For a crunchy element, you can serve the pears with some biscotti or some homemade granola. Either option will add a lovely crunch and even more flavor to this delicious dessert. I recommend giving it a try.
Perfecting the Recipe
There are a few things that you can do to guarantee that this dessert cooks to be as good as it possibly can be. Below are a couple of ideas on how to get the best poached pears.
Picking the right pear is crucial for getting the perfect poached pear. You want the pears to be just ripe. If they are overripe, they will cook too fast and fall to bits. Bosc, Anjou, or Bartlett pears will work out the best.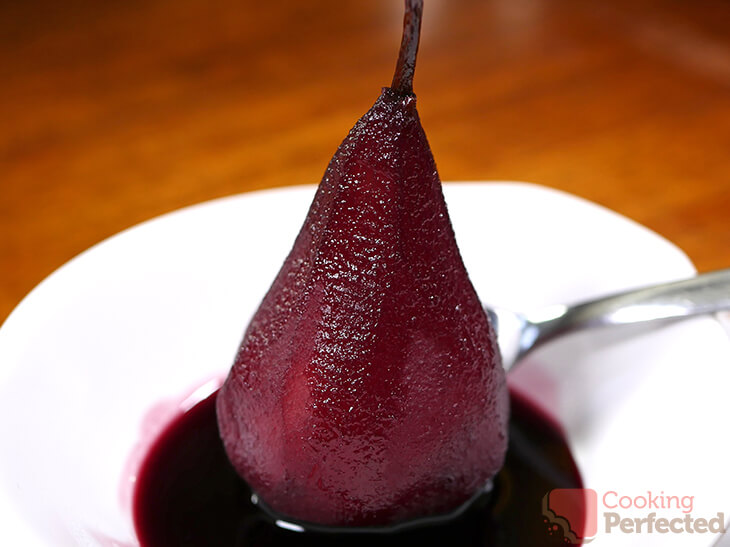 You might want to adjust the sugar if you prefer the syrup to be super sweet. I recommend doubling the sugar in the liquid if you have a bit of a sweet tooth. Another option is to taste it at step five and add more sugar if you think it needs it.
More spices will work nicely with the flavors of the red wine and pears. For example, you can try adding some cardamom pods or tweaking the quantities specified in the recipe. I think the current quantities are perfect without any adjustments.
The video below will take you through all the steps to making poached pears in red wine. Alternatively, there is a full written recipe that is just as handy.
Poached Pears in Red Wine Recipe
Ingredients
500 ml (16.9 fl oz) red wine
125 g (4.4 oz) sugar
1 tsp vanilla essence
2 cinnamon sticks
1 whole star anise
½ tsp whole cloves
4-6 pears, peeled
Instructions
In a medium-sized saucepan over medium heat. Add the red wine, sugar, vanilla essence, cinnamon sticks, star anise, cloves, and stir until the sugar is dissolved.
Add the pears and bring to a boil.
Reduce to a simmer and cook for one hour or until the pears are tender. Turn the pears every 15 minutes.
Remove the pears and put them to the side. Discard the spices.
Bring to a boil and cook for 10 minutes while continually stirring. The syrup should thicken slightly. Allow to cool slightly.
Serve the pears with the red wine syrup.
Recipe Tips
You can also cook these poached pears in the slow cooker. They will take a little longer, but the result is just as good.
I prefer the pears whole, but you can halve them instead. You will probably need to reduce the cooking time to thirty minutes.
Thickening the syrup is optional, but I highly recommend doing it for the best experience.
Placing a lid over the saucepan will help ensure the pears are cooked evenly. However, I still recommend turning the pears every fifteen minutes. You will need to remove the lid at step five, so the liquid can reduce to a syrup. It will take a bit longer than ten minutes.
Nutrition Information
Serving Size: 426g (15 oz)
Servings Per Recipe: 4
Calories Per Serving: 306
Amount Per Serving
Saturated Fat: 0.1g
Trans Fat: 0g
Dietary Fiber: 9g
Sugars: 37g
Cholesterol: 0mg
Sodium: 9mg
Protein: 1g
The information above is an estimate generated by an online nutrition calculator.
More Dessert Recipes
There are lots more delicious fruity desserts that you can make. Below are a couple of my favorite recipes that I highly recommend giving a try.
If you love this dessert, then I reckon you will love the paleo-friendly pear and blueberry crisp. It features a lovely coconut and almond topping and a delicious pear and blueberry filling. It is an utterly amazing combination.
The gluten-free upside-down pear cake is another delicious dessert that features pears. The fluffy gluten-free cake is topped with caramelized pears. It is one of my favorite cakes to make whenever I have a bit of free time.
I hope that you enjoy these red wine poached pears as much as I did. If you have some feedback, then please do not hesitate to leave a comment below.