These baked pears are a delicious dessert that takes just a few minutes to prepare.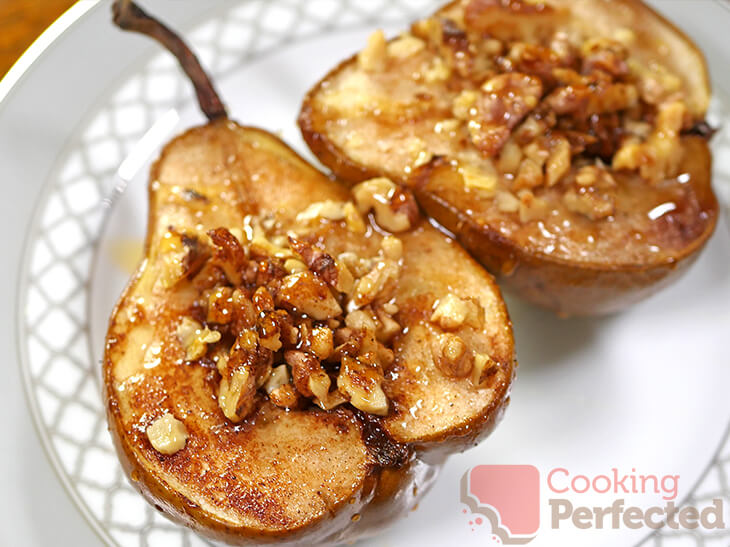 When you pull the pears out of the oven, they should be slightly golden and very tender. The pears will be loaded with flavor thanks to the brown sugar, spices, and walnuts. There will also be a slight hint of white wine.
You should be able to feed between three to six people without needing to adjust the recipe. If you want to feed more people, then simply double or triple the ingredients. The pears also go great with some extra food such as cream or custard.
These pears are great hot or cold, so they are great for breakfast the next day. If you somehow have leftovers, you can keep them in the fridge for three days or the freezer for three months.
If baked pears are not taking your fancy, then you should certainly take a look at poaching the pears in red wine. The result is a deliciously tender pear that has infused with all the flavors of the red wine.
Achieving the Best Baked Pear Possible
Below are some ideas on how you can tweak this recipe so that it is more to your liking.
You can use any type of pear, but some will work better than others. You will also want the pears to be ripe, but not overripe. I recommend using Anjou, Bartlett, or Bosc pears.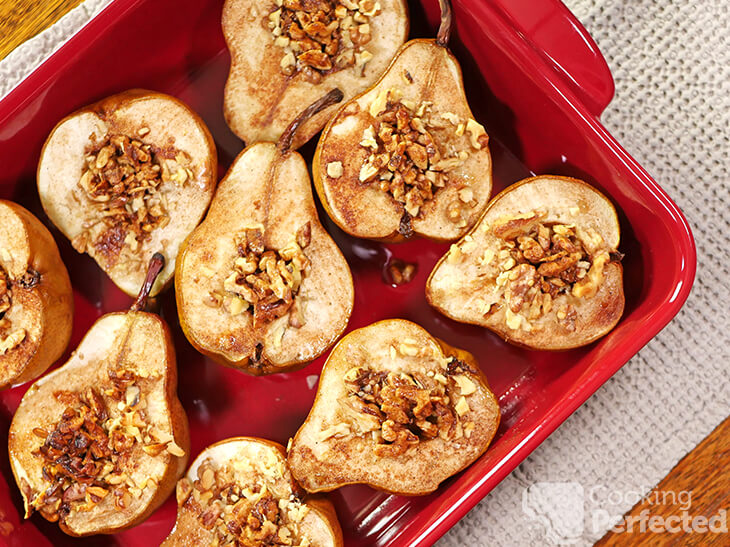 The cooking time will likely vary quite a bit depending on the size and ripeness of your pears. If they are large pears that are still quite hard, then you may need to double the cooking time.
Feel free to adjust the type of nuts that you use in this recipe. I prefer walnuts, but something like almond, macadamias, pecan, or even peanuts will work nicely with the pears' flavor. You could even do a mixture of nuts.
What to Serve with Baked Pears
Below are some ideas on what you can serve alongside these delicious baked pears.
As you can tell in the photos, I love to drizzle some honey over the pears once they are out of the oven. For a different flavor, you can use maple syrup instead of honey. Either option will work great with the flavors of the pears.
Like most of our desserts, I love to serve these pears with a scoop of vanilla ice cream. Other ice cream flavors will also work nicely, but I prefer vanilla as it tends not to overpower everything.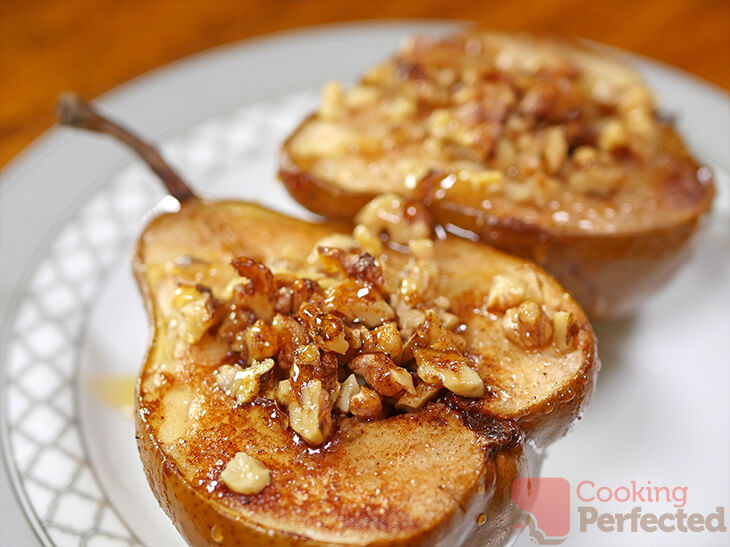 As with any fruity dessert, some homemade custard will work very nicely poured over the top of these pears. If you do not have the time to make custard at home, then store-bought custard will work just as well.
The video below will take you through all the steps to making these oven-baked pears. Alternatively, there is a full written recipe under the video.
Baked Pears Recipe
Ingredients
6 large pears
60 g (2.1 oz) unsalted butter, melted
1 tsp cinnamon, ground
1/2 tsp nutmeg, ground
1 Tbsp brown sugar
115 g (4.1 oz) walnuts, chopped
250 ml (8.5 fl oz) white wine
Instructions
Preheat an oven to 180°C (350°F).
Cut the pears in half. Make a hole by removing the seeds with a spoon.
Place into a large baking dish.
In a small bowl, combine the butter, cinnamon, nutmeg, and brown sugar.
Brush each of the pears with the butter mixture.
Fill each hole with the chopped walnuts and drizzle with the remainder of the butter mixture.
Pour the white wine into the baking dish.
Bake in the oven for 30 minutes or until slightly browned and tender.
Serve & Enjoy.
Recipe Tips
The wine is optional and is not necessary for the dish to turn out nicely. You can also use red wine instead of white wine. Either option will help infuse even more flavor into the pears.
To get more flavor into the pear, try piercing a few holes through the skin. The holes will allow the wine's flavors to penetrate the flesh of the pear.
Nutrition Information
Serving Size: 304g (10.7 oz)
Servings Per Recipe: 6
Calories Per Serving: 322
Amount Per Serving
Saturated Fat: 4.7g
Trans Fat: 0g
Dietary Fiber: 9g
Sugars: 26g
Cholesterol: 11mg
Sodium: 10mg
Protein: 4g
The information above is an estimate generated by an online nutrition calculator.
More Fruity Desserts
There are loads of desserts that you can make using fruit. If you have lots of pears and want more ideas, then be sure to check out some of the suggestions I have below.
I highly recommend giving the upside-down pear cake a try if you want a truly delicious dessert. It features a lovely fluffy cake with caramelized pears on the top. The cake is super easy to get right, and it is delicious.
The pear and blueberry crisp is another dessert that you might be interested in making. The filling is a delicious combination of blueberries, pears, and a slight bit of spice. The topping is paleo-friendly and is a mixture of almond flour, coconut flour, cinnamon, and coconut oil.
I hope that you enjoy these baked pears as much as I did. If you have some feedback, then please do not hesitate to leave a comment below.