You only need three very simple ingredients to make this delicious apple dump cake.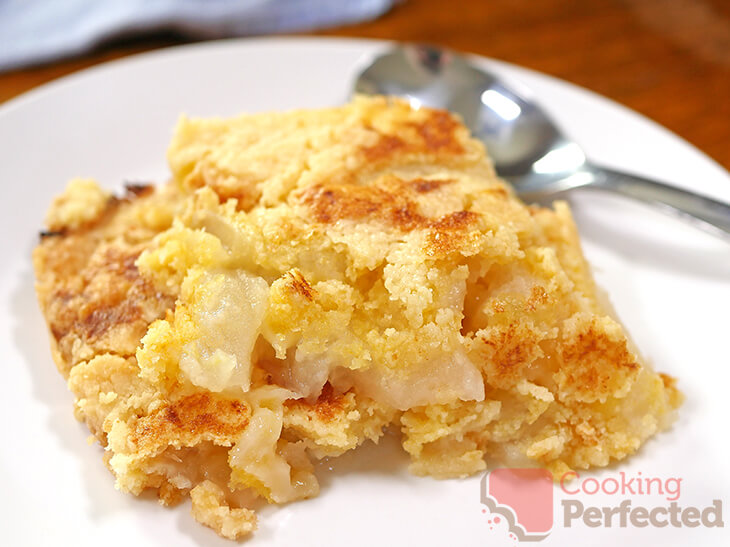 When you pull this cake out of the oven, you will have loads of juicy apple topped with a delicious sweet cake. I recommend serving it using a spoon rather than cutting it like a traditional apple cake.
You should be able to feed four people with this delicious dump cake. If you need to feed more people I highly recommend doubling or tripling the recipe. You can also try serving the cake with a few extra side dishes.
Leftover dessert is perfect as a quick and easy breakfast. The cake should last for roughly three days in the refrigerator or three months in the freezer. However, like most baked goods, the cake is best eaten fresh.
Apple Dump Cake Serving Ideas
There are loads of ways that you can serve this apple dump cake. Below are a couple of my favorite ideas that you might like.
My favorite accompaniment for this cake is a scoop or two of vanilla bean ice cream. Other flavors of ice cream will match the flavors of this cake nicely. However, be careful as you do not want the ice cream to overpower the cake.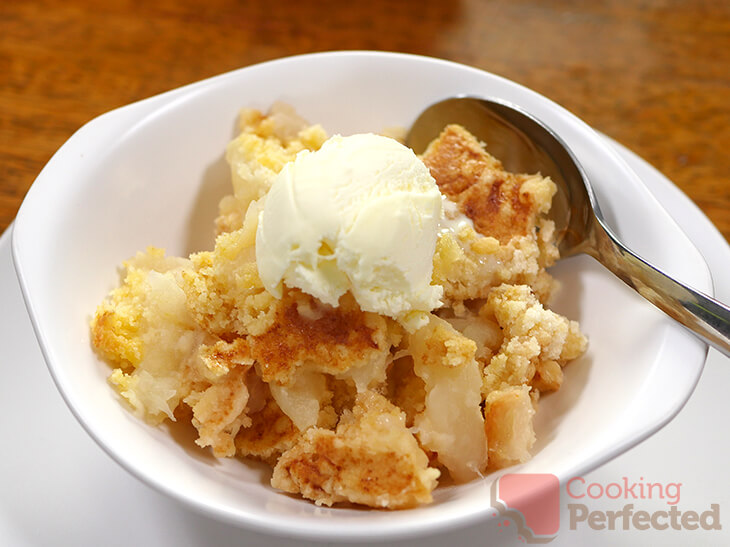 The cake will match nicely with some cream poured over the top. The cream will add a creamy element while also cutting through some of the dump cake's sweetness. It is the easiest, but still delicious accompaniment.
A drizzle of homemade custard over the cake is the perfect addition. The creaminess of the custard matches perfectly with the tender apples and sweet cake. I highly recommend giving it a try.
Personalizing the Recipe
Below are a couple of ideas on how you can tweak this recipe so that it is more to your liking. I prefer the recipe without any adjustments, but below are a few ideas.
The apple pie filling can be made at home, or you can buy a tinned version from the shops. Alternatively, you can use fresh apples instead. I recommend cutting the apples quite thin, so they cook to be deliciously tender.
Some spices can be added to the cake mixture for a bit of extra flavor. For example, cinnamon or nutmeg are excellent spices that will add a ton of flavor.
Additional ingredients such as chopped walnuts or almonds can be added to the yellow cake mixture. Nuts add a little bit of crunch and flavor to the overall dessert.
A different fruit can be added in with the apple for even more flavor. I believe something like blueberries or raspberries will be the perfect match.
Below is a video that will take you through all the steps to making this apple dump cake. If you prefer a written recipe, you can find one immediately below the video.
Apple Dump Cake Recipe
Ingredients
800 g (1.8 lb) apple pie filling
400 g (14.1 oz) yellow cake mix
125 g (4.4 oz) unsalted butter, cubed
Instructions
Preheat an oven to 180°C (350°F). Lightly grease a 13×9 baking dish.
Add the apple pie filling to the baking dish, then top with the yellow cake mixture. Lastly, evenly scatter the butter over the top of the cake mixture.
Bake in the oven for 50 minutes or until the cake is golden brown.
Serve & Enjoy.
Recipe Tips
Do not make the cake mixture as we will need it dry for the best results. You can ignore any instructions on the back of the cake packet.
Spread the cake mixture out evenly for the best results. Large clumps of cake mixture might not cook properly.
If you cannot get your hands on the yellow cake mix, then most other cake mixes will work fine. For example, a vanilla cake mixture is an excellent alternative.
Use a slow cooker for cooking this dump cake if you want it cooked low and slow.
Nutrition Information
Serving Size: 331g (11.7 oz)
Servings Per Recipe: 4
Calories Per Serving: 760
Amount Per Serving
Saturated Fat: 12.1g
Trans Fat: 0g
Dietary Fiber: 3g
Sugars: 28g
Cholesterol: 33mg
Sodium: 709mg
Protein: 6g
The information above is an estimate generated by an online nutrition calculator.
Other Deliciously Easy Desserts
Below are some more easy desserts that I am sure you will love.
The gluten-free blueberry cobbler is incredibly delicious and loaded with flavor. The dessert bakes to have gooey blueberries on the bottom and an amazing fluffy cake on the top. It is a delicious combination that will have you coming back for seconds.
One of my favorite desserts is the chocolate fudge cake, as it is rich in chocolate and incredibly gooey. I highly recommend giving it a try if you love the flavor of chocolate.
I hope that you enjoy this apple dump cake as much as I did. If you have some feedback, then please do not hesitate to leave a comment below.