If you're after an amazingly gooey baked brie in puff pastry that will have you coming back for seconds, then you don't need to look any further.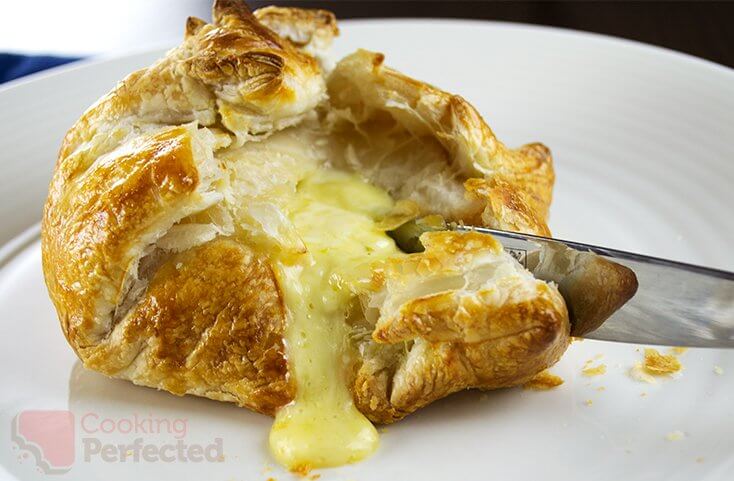 When you pull this dish out of the oven, the puff pastry will be golden brown and have a lovely crunch to it. The brie cheese on the inside will be deliciously gooey and will ooze out when you cut through the pastry. It's one of my favorite comfort foods.
This meal is super simple to make, but it will still impress your friends and family. It's perfect as part of a platter or as a delicious afternoon snack.
A single batch of this recipe should feed roughly four people. You can easily double or triple the recipe if you need to feed more. Alternatively, you can serve the brie with some extras.
What to Serve with Brie Baked in Puff Pastry
This cheese goes great alongside some delicious homemade dips. A highly recommend trying the caramelized onion dip, or the delicious French onion dip. They're both super delicious and very easy to make.
Some more cheeses, along with some crackers, are great accompaniments. I love to have a platter of camembert, Maasdam, blue cheese, and some savory crackers.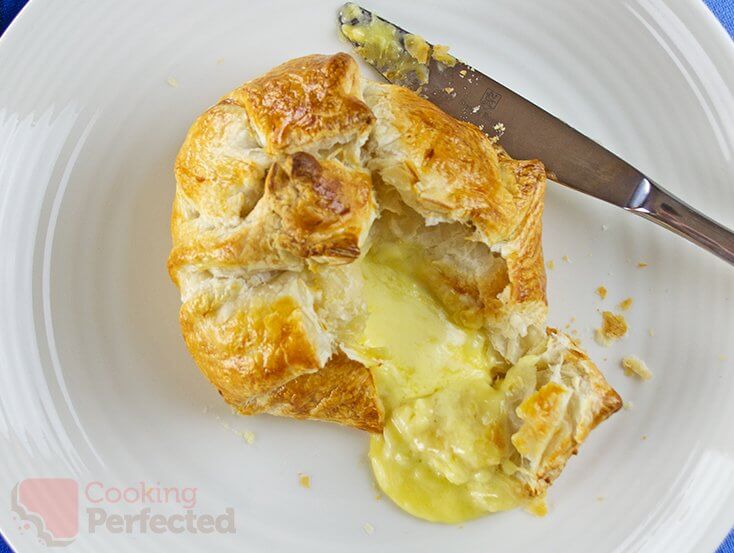 Fruit goes great with this cheese. For example, some sliced apple or pear is delicious dipped into the gooey brie cheese. I highly recommend giving it a try.
With all that said, I love to have this cheese dish by itself without anything extra. The puff pastry is easy enough to tear off and dip into the cheese.
Tinkering with the Recipe
There are a few ways that you can adjust this recipe so that it has more flavors. Below are a couple of my recommendations.
A popular tweak to this recipe is to add some extras in with the brie. You have to be careful as too much additional filling can make the pastry go soggy.
Jam is a simple but great way to add a ton of flavor to the cheese. Something like raspberry jam, apricot jam, or blueberry jam will match nicely with the cheese. I would add a couple of tablespoons to the top of the cheese.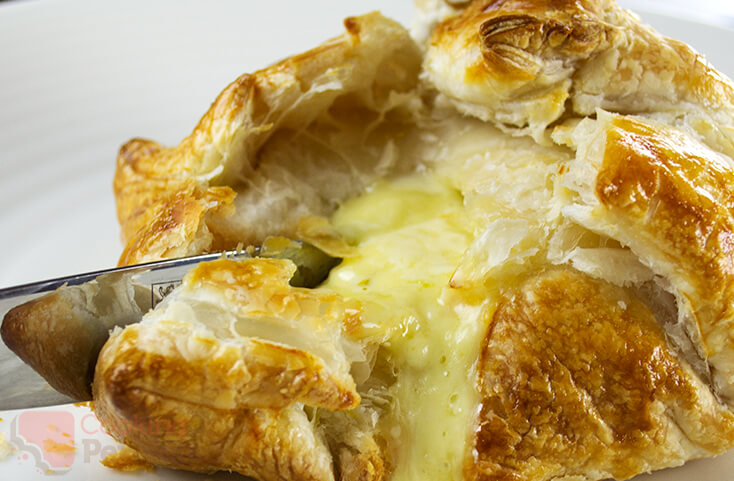 Something like caramelized onion or tomato chutney will also work very nicely with the brie cheese. Much like the jam, a couple of tablespoons should be more than enough.
My last suggestion is to fry some onions and mushrooms. Pour these over the top of the cheese, then bake in the oven. It's super delicious and really helps adds a bit more flavor.
Right below is a video that will take you through all the steps on how to make this baked brie in puff pastry. Alternatively, there is a text version of the recipe right underneath the video. I find both are super handy for when it comes to making this dish.
Baked Brie in Puff Pastry Recipe
Ingredients
125 g (4.4 oz)
1 sheet of puff pastry, thawed
1 egg
Instructions
Preheat an oven to 200°C  (390°F).
Beat 1 egg in a bowl and place to the side.
On a lined baking tray, place the puff pastry.
Place the wheel of brie in the middle.
Using a pastry brush, brush the outer edges of the pastry with the egg mix.
Now fold the pastry in and gently squeeze the pastry together in the middle.
Brush the egg mixture over the top.
Bake in the oven for about 20 minutes or until the pastry is golden brown.
Remove from the oven.
Serve & Enjoy.
Recipe Tips
You can try adding some different ingredients in with the cheese. I have seen recommendations of sliced almonds, apricots, raisins, and much more. All these will add a bit more of a variety of flavor to this yummy dish.
It is important to make sure your puff pastry has almost completely thawed before using it. If you try to use it too early while it is still frozen, then it may crack, and you will end up with holes in the pastry.
I find that the smaller wheels of brie work best for this recipe. Larger wheels may require multiple sheets of puff pastry and could become a bit of a pain getting it off the baking tray.
Be careful about having an area with too much puff pastry. This mistake is likely to occur when you're folding the pastry into the center. If an area is too thick with pastry, then it is likely to not cook properly in the oven, leaving you with icky undercooked pastry.
Fresh or frozen puff pastry will both equally work nicely for this recipe. If you have neither, then shortcrust pastry will also work, but you will miss out on that lovely golden flakey pastry.
Nutrition Information
Serving Size: 61g (2.2 oz)
Servings Per Recipe: 4
Calories Per Serving: 166
Amount Per Serving
Saturated Fat: 6.1g
Trans Fat: 0g
Dietary Fiber: 0.4g
Sugars: 0.3g
Cholesterol: 63mg
Sodium: 184mg
Protein: 6.5g
The information above is an estimate generated by an online nutrition calculator.
More Cheesy Recipes
If you're looking for other cheesy meals that will have you and your guests wanting more, then be sure to check out the deep-fried camembert. These crunchy pieces of camembert are fantastic on their own and go great in salads.
You can easily leave the puff pastry off of the cheese if you're just looking for baked brie. The result is still just as good, but you will miss out on that lovely flaky pastry around the cheese.
One last cheesy dish that I have got to recommend is the cauliflower cheese. It features steamed cauliflower topped with a deliciously cheesy sauce. It's as good as it sounds.
I hope you enjoy this baked brie in puff pastry as much as I did. If you have any feedback, then please don't hesitate to leave a comment below.