Back to Recipe
Print Recipe
Baked Brie in Puff Pastry Recipe
---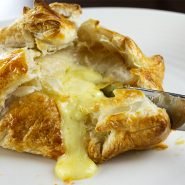 Prep time: 5 Minutes
Cook time: 20 Minutes
Total time: 25 Minutes
Serves: 4
Ingredients
125 g (4.4 oz)
1 sheet of puff pastry, thawed
1 egg
---
Instructions
Preheat an oven to 200°C  (390°F).
Beat 1 egg in a bowl and place to the side.
On a lined baking tray, place the puff pastry.
Place the wheel of brie in the middle.
Using a pastry brush, brush the outer edges of the pastry with the egg mix.
Now fold the pastry in and gently squeeze the pastry together in the middle.
Brush the egg mixture over the top.
Bake in the oven for about 20 minutes or until the pastry is golden brown.
Remove from the oven.
Serve & Enjoy.
---
Recipe Tips
You can try adding some different ingredients in with the cheese. I have seen recommendations of sliced almonds, apricots, raisins, and much more. All these will add a bit more of a variety of flavor to this yummy dish.
It is important to make sure your puff pastry has almost completely thawed before using it. If you try to use it too early while it is still frozen, then it may crack, and you will end up with holes in the pastry.
I find that the smaller wheels of brie work best for this recipe. Larger wheels may require multiple sheets of puff pastry and could become a bit of a pain getting it off the baking tray.
Be careful about having an area with too much puff pastry. This mistake is likely to occur when you're folding the pastry into the center. If an area is too thick with pastry, then it is likely to not cook properly in the oven, leaving you with icky undercooked pastry.
Fresh or frozen puff pastry will both equally work nicely for this recipe. If you have neither, then shortcrust pastry will also work, but you will miss out on that lovely golden flakey pastry.
Did you make this recipe?
We want to see! Tag
@cookingperfected
on Instagram or use the hashtag
#cookingperfected
so we can find you!
---