These super easy puff pastry cheese twists make for the perfect snack or treat. They are also fantastic for lunch boxes, as most kids will love them.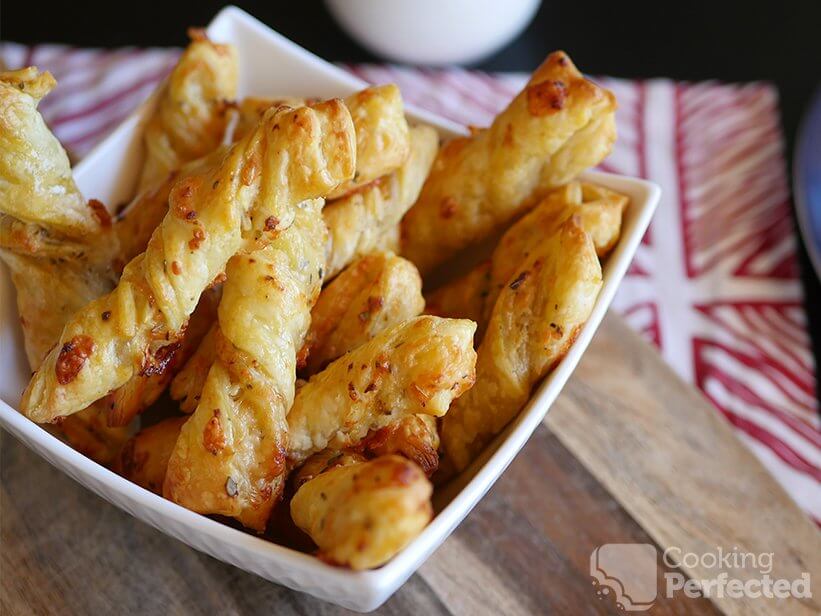 You might also know these cheese twists as puff pastry cheese straws, and they're an incredible side dish or platter food. I love to have them as an easy lunch that I take to work.
These twists come out to be jam-packed full of flavor and have a very satisfying crunch. They're a super easy dish and should only take you a maximum of 10 minutes to throw them together and get them in the oven. This will, of course, vary depending on how many you're making.
Perfect for Dipping
I love having these with some nice homemade dips. There are quite a few that you can make, so I will just list some of my favorites.
My personal favorites would be to have this with some spring onion or French onion dip. If you're really feeling a bit experimental, you can even, try it with a corn relish dip but for me, it didn't work as well.
If you like warm dips, then you can do some in the slow cooker. One I highly recommend trying is the chili con queso dip. It's perfect for dipping these puff pastry cheese twists into.
Tinkering with the Cheese Straws Recipe
There are a lot of variations you can do with these cheese twists.
One of my personal favorites is spreading the puff pastry with pesto before adding the cheese on. This extra step will get you a lovely rich pesto and cheese twist.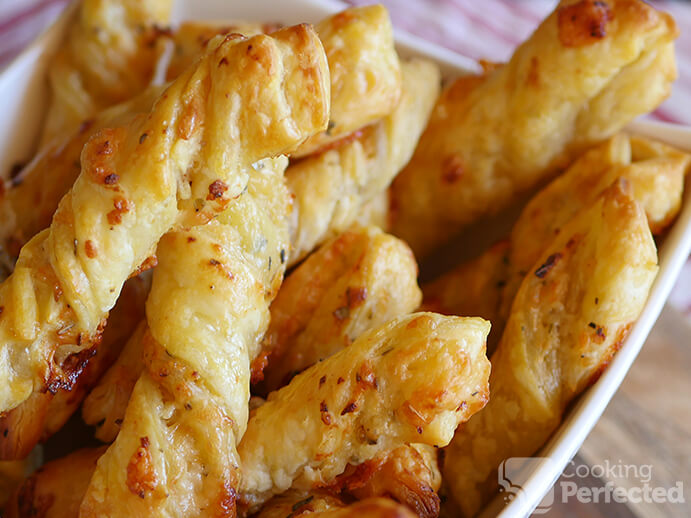 You can easily change the cheese to something that you prefer. For example, parmesan can be swapped for blue cheese, and the cheddar can be replaced with some mozzarella.
Changing the herbs is also another way that you can radically change this recipe. Using a chives instead of oregano will give you very different flavor.
Another variation is using Dijon mustard and adding a bit of parmesan. There are just countless variations you can do with this recipe, so feel free to experiment a little.
How long do the Cheese Twists Last
Once baked these will refrigerate nicely and should keep for up to about a week before you should look at discarding them.
I highly do not recommend freezing these as they will not be nearly as good as they're fresh. However, if you want to, then there is no huge reason not to.
You can find a video below that goes through all the steps to making these puff pastry cheese twists. It shows you exactly how to make this recipe and any actions that might require a bit of extra effort.
Easy Puff Pastry Cheese Twists Recipe
Ingredients
1 sheet of puff pastry
1/3 cup cheddar cheese, shredded
¼ cup parmesan, shaved
2 tsp garlic, crushed
1 tsp oregano
1 large egg, beaten
½ tsp salt
Instructions
Preheat an oven to 220°C (430°F)
In a bowl, mix the shredded cheese, grated parmesan, garlic, salt, and oregano.
Using a pastry brush, brush the beaten egg across the puff pastry.
Place the cheese mix over half of the puff pastry sheet.
Fold the pastry in half and brush with some beaten egg.
Place the rest of the cheese mix over the half.
Cut the pastry into 1 cm (1/2 inch) wide strips.
Twist the strips slightly and place onto an oven tray lined with baking paper.
Repeat until you have done all the strips.
Using a pastry brush, lightly brush the twists with the egg.
Place into the preheated oven and cook for about 15 minutes or until golden brown.
Once golden browned, remove and allow to cool.
Serve & Enjoy.
Recipe Tips
Make sure the oven is at the preheated temperature, otherwise you might end up with the twists not puffing up or the cheese just oozing out and going everywhere.
Ensure that you allow these to cool completely before storing them in an airtight container. Otherwise, the puff pastry will likely go soggy.
Ovens can vary in temperature, so make sure you keep an eye on them while they are baking.
Feel free to experiment with different types of cheese or herbs. You can radically change the flavors by tinkering with these ingredients.
Nutrition Information
Serving Size: 11g (0.4 oz)
Servings Per Recipe: 12
Calories Per Serving: 46
Amount Per Serving
Saturated Fat: 1.2g
Trans Fat: 0g
Dietary Fiber: 0g
Sugars: 0g
Cholesterol: 19mg
Sodium: 146mg
Protein: 2g
The information above is an estimate generated by an online nutrition calculator.
Other Puff Pastry Recipes to Try
Be sure to check out our easy puff pastry recipes section for great snacks & meals like this one.
I absolutely love making puff pastry pizzas as they're super easy and you get that incredible crunchy flaky crust. I highly recommend that you give it a try.
One of the cheesiest dishes that you can make is the brie in puff pastry. By the time it's ready to eat the cheese is gooey and the pastry is golden and crunchy. It's an absolute treat.
If you have any variation, feedback, or anything else that you would love to share on these delicious puff pastry cheese twists then be sure to drop me a comment below.