The air fryer is the perfect way to cook some frozen pigs in a blanket quickly. They are effortless to cook and taste absolutely delicious.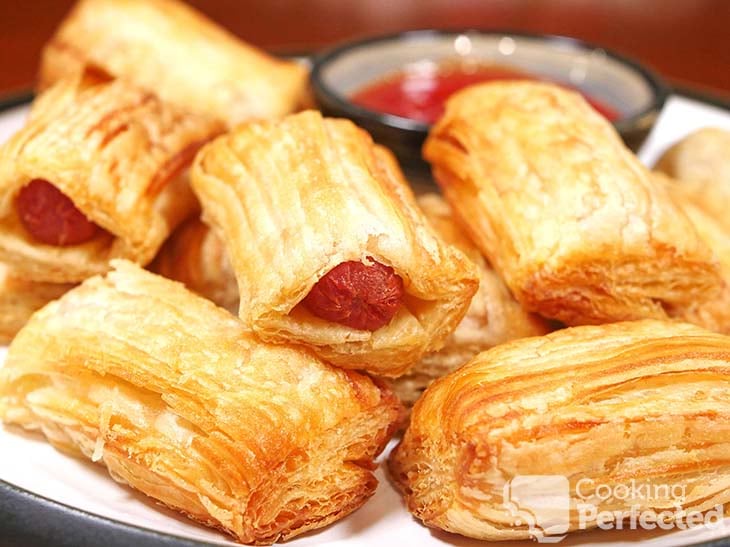 Pigs in a blanket are a straightforward dish consisting of a small sausage wrapped in either pastry or bacon. For this recipe, we use the variety that is wrapped in pastry. We are also using pre-prepared frozen pigs in a blanket, but you can easily make them at home.
The outcome of this recipe heavily relies on the quality of the product from the supermarket. So, I highly recommend that you get your favorite brand for the best result.
When you are finished cooking, you should have a delicious sausage wrapped in a flaky pastry. These sausages are best served as a side dish, appetizer, snack, or as part of a party platter.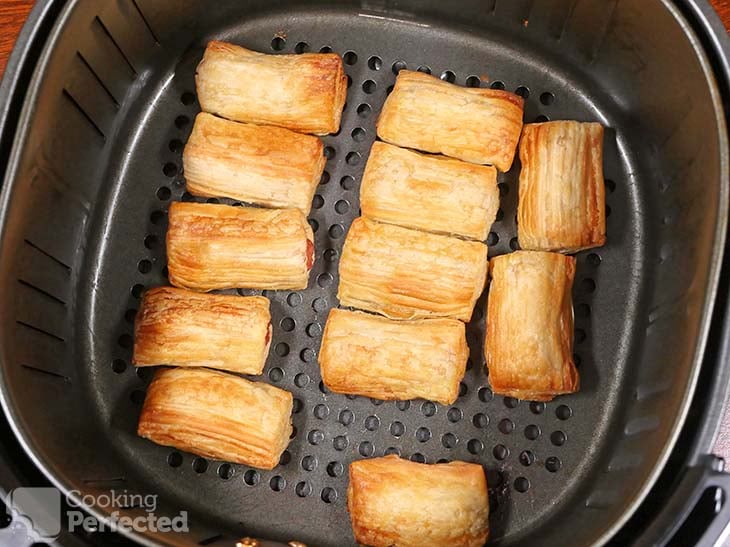 A single batch of these sausages will feed roughly four people. However, I assume you are making some extra side dishes to go alongside this recipe. You can easily double or triple the recipe if you need to make more, but you may need to cook in batches as I recommend not overloading the air fryer.
You can cook the hot dogs in the air fryer without any pastry. It is a great way to cook a few hot dogs at once. They turn out absolutely delicious, so I highly recommend giving it a try.
Serving Ideas for Pigs in a Blanket
There is a wide range of sauces that will match perfectly with a pig in a blanket. For example, my personal favorites include tomato sauce, BBQ sauce, mayonnaise, tomato relish, cheese sauce, or even honey mustard. There are lots to pick from, and they all work well as a dipping sauce.
As I mentioned earlier, many side dishes will go perfectly with these air-fried pigs in a blanket. If you have multiple air fryers, you can try cooking potato fries, Tater Tots, spring rolls, mozzarella sticks, or even garlic bread.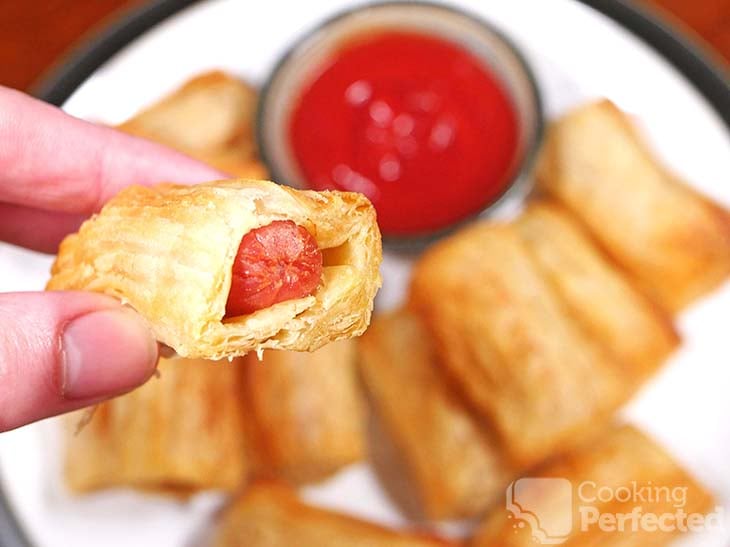 Pigs in a blanket are excellent finger food, so if you are catering for a party, they are perfect. They certainly go great alongside pizza scrolls, garlic bread, or puff pastry cheese twists. Some of these can be cooked in either an air fryer or traditional oven.
The recipe below will take you through all the steps to cooking frozen pigs in a blanket in the air fryer. If you have some feedback, please do not hesitate to leave a comment at the bottom of this page.
Air Fryer Frozen Pigs in a Blanket Recipe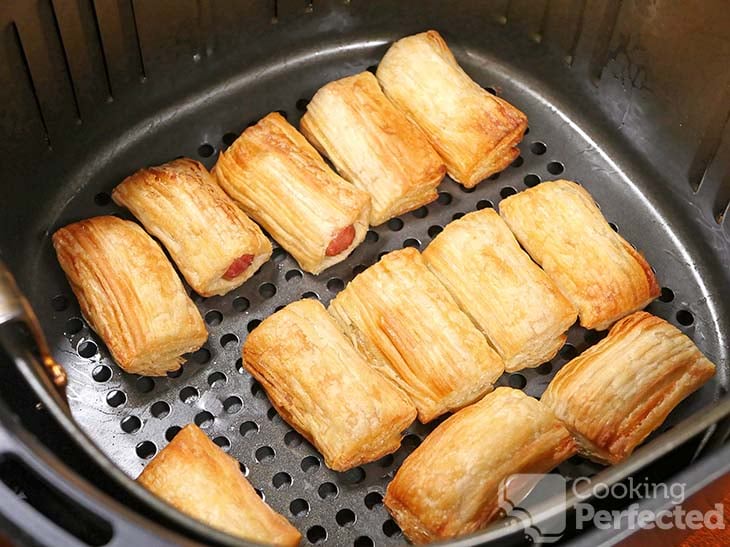 Ingredients
12 frozen pigs in a blanket
2 tsp cooking oil
Instructions
Preheat the air fryer to 200°C (390°F). It will take roughly five minutes to heat.
Add the frozen pigs in a blanket into the air fryer basket as a single layer and leave a gap between them to allow the pastry to expand.
Lightly spray with the cooking oil.
Cook for 10 minutes or until golden brown.
Serve & Enjoy.
Recipe Tips
I recommend cooking from frozen. However, if you thaw the pigs in a blanket beforehand, you will need to adjust the cooking time. I recommend removing 3-5 minutes from the cooking time if you are using a thawed product.
The cooking oil is optional but recommended. The oil will help ensure the outside of the pastry gets deliciously crispy.
Keeping the pigs in a blanket as a single layer in the air fryer basket will ensure the best quality cook.
Pigs in a blanket might also be known as Puffy Dogs.
Nutrition Information
Serving Size: 96g (3.4 oz)
Servings Per Recipe: 4
Calories Per Serving: 285
Saturated Fat: 6.9g
Trans Fat: 0g
Total Carbohydrate: 25.2g
Dietary Fiber: 0g
Sugars: 2.1g
Cholesterol: 0mg
Sodium: 555mg
Protein: 9g
The information above is an estimate generated by an online nutrition calculator.
More Air Fryer Frozen Food Recipes
There are so many different types of frozen foods that you can cook in the air fryer. Below is a couple of recipes that I love and recommend giving a try.
The air fryer is perfect for cooking some frozen hamburgers. Once cooked, I love to serve the hamburgers in a bread roll alongside shredded lettuce, tomato, mayonnaise, and a bit of ketchup. Certainly, worth a try if you love easy cooking.
My other recommendation is to give frozen chicken nuggets a try in the air fryer. For me, they turn out to be deliciously crispy on the outside and hot on the inside. The nuggets go great with a few dipping sauces.
I hope that your frozen pigs in a blanket cooked perfectly in the air fryer. If you have some feedback, please do not hesitate to leave a comment below.