This incredible three-ingredient chocolate coconut fudge will please if you are a huge fan of coconut rough.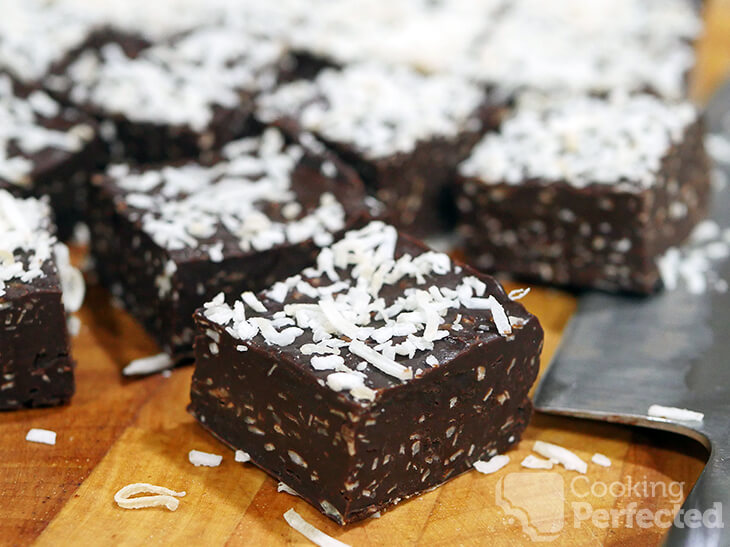 When you take a bite of this fudge, you are greeted with the rich flavors of chocolate and coconut. The fudge is soft and melts in your mouth. I can never resist having seconds or thirds of this delicious snack.
For something simpler, you can always make our plain chocolate fudge. It is very similar to this recipe but does not use coconut and instead uses milk chocolate instead of dark chocolate.
A single batch of this fudge will make enough to feed roughly six people. However, it heavily depends on whether you are making it as platter food or as part of a dessert. I get roughly twenty snack-sized slices without needing to adjust the recipe.
The leftover fudge is best kept in the fridge and will last for three to four weeks. Keeping the fudge in the fridge will cause it to harden slightly. You can always remove the fudge early to allow it to soften.
Tweaking the Chocolate Fudge
For some nuttier flavors, you can toast the coconut. I recommend toasting it over the stove as I find it super easy. Simply pan fry the coconut without any oil until it starts to go brown. You can also toast the coconut using a microwave or the oven.
I recommend dark chocolate for this fudge, but milk chocolate will work great as well. For the best of both worlds, you can do a mixture of half milk chocolate and half dark chocolate. Feel free to play around a little with quantities.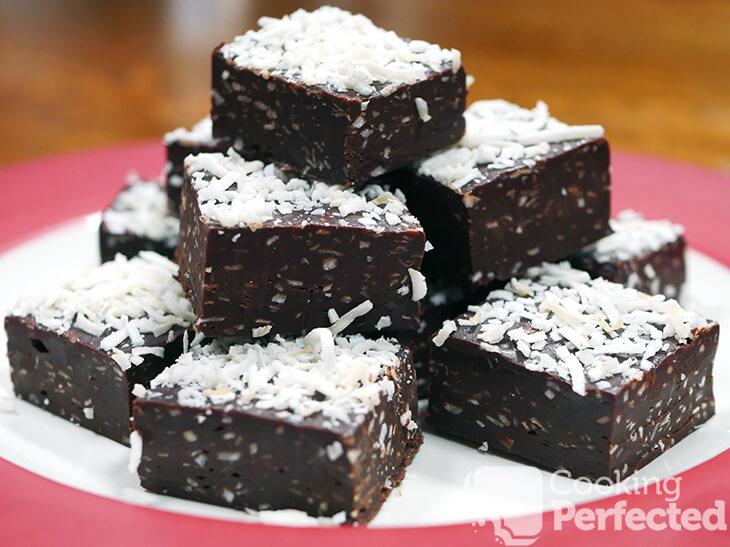 For a bit of extra flavor, you can try adding some essences into the chocolate mixture. For example, a little bit of vanilla essence will add a bit more vanilla flavor to the chocolate. A good combination is chocolate, coconut, and mint.
Below is the recipe that will take you through the steps on how to make this incredible coconut rough fudge. Remember to look at the recipe tips on how to perfect this recipe.
Chocolate Coconut Fudge Recipe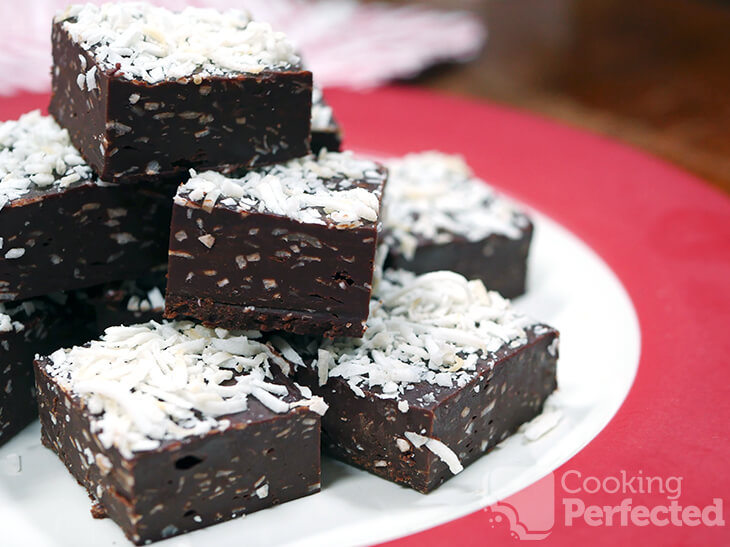 Ingredients
400 g (14.1 oz) dark chocolate
395 g (13.9 oz) sweetened condensed milk
1 cup shredded coconut
1/4 cup shredded coconut for the topping
Instructions
Grease and line a 20cm (8 in) square cake tin
Add sweetened condensed milk and chocolate into a saucepan over low heat.
Stir until the chocolate has melted. Roughly 5-10 minutes.
Remove from the heat and add the shredded coconut. Stir until well combined.
Pour the chocolate mixture into the prepared cake tin and sprinkle the remaining coconut over the top.
Place in the fridge for at least 6 hours or until set.
Cut the fudge into squares.
Serve & Enjoy.
Recipe Tips
You can swap the dark chocolate for milk chocolate.
Make sure you use sweetened condensed milk and not evaporated milk. Evaporated milk will not work, and your fudge will likely not set correctly.
You can cook this fudge in the microwave rather than on the stove. Simply cook it in 1-minute intervals to prevent it from burning. Another option is to use a slow cooker for cooking the fudge.
Nutrition Information
Serving Size: 46g (1.6 oz)
Servings Per Recipe: 20
Calories Per Serving: 202
Saturated Fat: 6.6g
Trans Fat: 0g
Dietary Fiber: 2g
Sugars: 23g
Cholesterol: 8mg
Sodium: 45mg
Protein: 3g
The information above is an estimate generated by an online nutrition calculator.
More Chocolate Recipes
We have loads more chocolate recipes that you should give a try. Below are a couple of my personal favorites that are absolutely delicious.
I have got to recommend giving the chocolate fudge cake a try. It is a deliciously moist chocolate cake that will have you going back for seconds. I think it is one of my all-time favorite gluten-free cakes.
Another chocolate dessert that I have got to recommend is the gluten-free brownies. They are delicious and super easy to make. If you are a fan of chocolate, then I highly recommend giving them a try.
I hope that you love this chocolate coconut fudge as much as I do. If you have some feedback, then please do not hesitate to leave a comment below.