These easy apple turnovers are incredibly delicious and are perfect as a snack or dessert.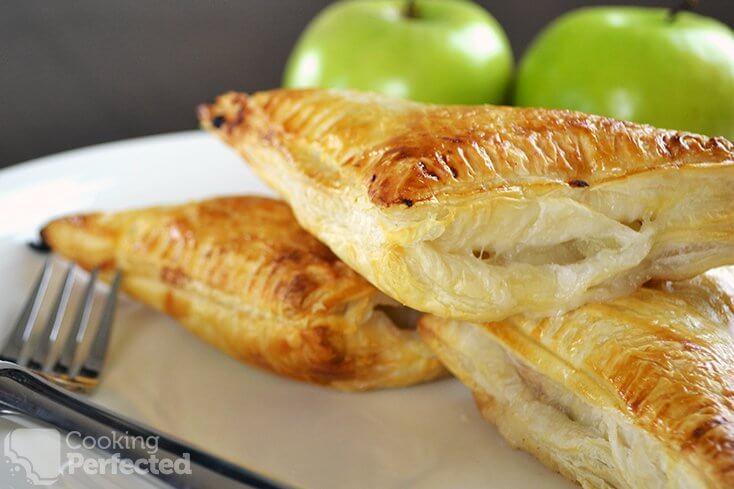 These turnovers bake to be crunchy and golden brown on the outside. On the inside is a gooey apple and cinnamon filling. They are a must-try for anyone who loves apple-flavored baked goods.
Apple turnovers are fantastic as a dessert, so if you are looking for a recipe to impress, you should certainly give this one a go. This recipe only uses four ingredients, so you will not find yourself spending ages looking for the required ingredients.
These are great on their own, but they're even better with a scoop of ice-cream or a drizzle of homemade custard. You could even add a little bit of custard in with the apple filling.
You will make roughly twelve turnovers out of a single batch of this recipe, which will feed approximately four people. So, if you need to feed more, then I highly recommend that you double or triple the recipe. Alternatively, you could make something to go with the apple turnovers.
Adjusting the Flavors
It is so easy to adjust the flavors of the apple filling, and I highly recommend experimenting a little.
Feel free to tweak the spices that I add in with the apple. For example, a sprinkle of nutmeg will work very nicely in combination with the cinnamon and apple. Be careful not to go overboard as these spices can quickly overwhelm the flavors of the apples.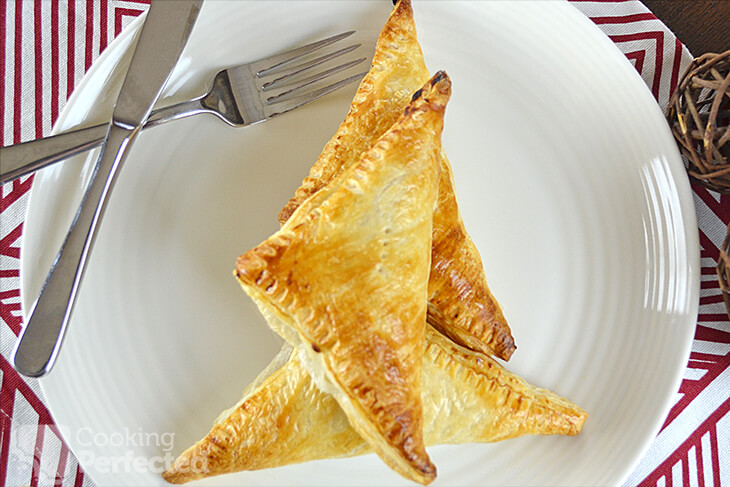 You can make the apple mixture from scratch rather than using it from a tin. You will need to cook roughly two chopped apples until they are nice and tender. Drain as much fluid as possible before adding to the turnovers.
If you have a bit of a sweet tooth, you can add a sprinkle of sugar in with the apple. On the flip side, if you like things less sweet, then a drizzle of lemon juice is an excellent addition.
Delicious Hot & Cold
These apple turnovers are great either hot or cold. If you decide to eat them hot, make sure you let it cool a bit; otherwise, you might end up with a burnt mouth.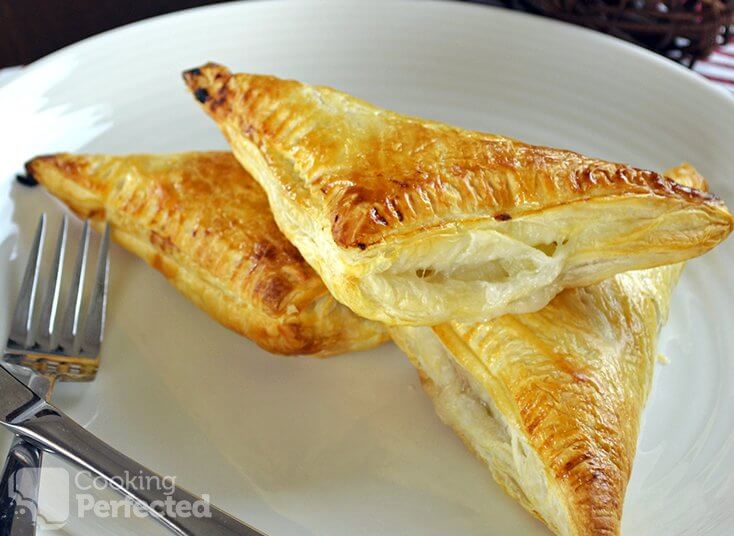 Turnovers are also great cold so you can prepare them the night before. It is a great way to help reduce any prep that needs doing the next day. Especially if you're catering for a large crowd.
The video below will take you through all the steps on how to quickly make these apple turnovers. If you prefer written recipes, then right underneath the video is the full written recipe.
Easy Apple Turnovers Recipe
Ingredients
400 g (14.1 oz) can of apple filling
2 tsp cinnamon, ground
1 egg, beaten
4 sheets puff pastry, defrosted
Instructions
First, preheat an oven to 210°C (410°F).
Cut a sheet of puff pastry into 4 squares.
On each square place about 1-2 Tbsp of apple.
Sprinkle the apple with cinnamon.
Using a pastry brush, wet the edges of the pastry with the beaten egg.
Fold the pastry, so it now forms a triangle.
Now crimp the open edges with a fork.
Prick the top of the turnover so steam can escape. This will stop the turnovers from exploding.
Place onto an oven tray and repeat steps 2-9 until you run out of the apple or puff pastry.
Glaze the apple turnovers with the remaining egg mix.
Bake in the oven for 15-20 minutes or until golden brown.
Serve & Enjoy.
Recipe Tips
Supposing that you want to use some fresh apples rather than canned, simply cook some diced apples in a pot until nice and tender. This extra will add about ten to twenty minutes more onto the recipe. Still, it will be worth it if you have delicious fresh apples.
If you find that the apple is leaking out of the sides, then make sure you crimp the edges more. As well as this, make sure you poke a hole for the steam to escape; otherwise, you will end up with exploding apple turnovers.
One thing you're able to do if you're a sweet tooth is to sprinkle some sugar over the top of the apple. You can also sprinkle some sugar on top of the pastry before it goes into the oven.
Nutrition Information
Serving Size: 55g (1.9 oz)
Servings Per Recipe: 12
Calories Per Serving: 87
Amount Per Serving
Saturated Fat: 1.2g
Trans Fat: 0g
Total Carbohydrate: 14.3g
Dietary Fiber: 0.5g
Sugars: 6.5g
Cholesterol: 14mg
Sodium: 73mg
Protein: 1.2g
The information above is an estimate generated by an online nutrition calculator.
More Delicious Apple Desserts
If you have any leftover apple mix, then be sure to check out the easy apple crumble recipe. The crumble is delicious and uses the same sort of apples we use in this recipe.
Another apple dessert that you might like is the baked apples. They are oven-baked cored apples filled with a delicious combination of fruit and nuts. It is a delicious dessert that I highly recommend making.
We hope that you enjoy this easy apple turnover recipe. If you want to leave us some feedback, improvements, or anything regarding this recipe, then please leave us a comment below.