Back to Recipe
Print Recipe
Easy Apple Turnovers Recipe
---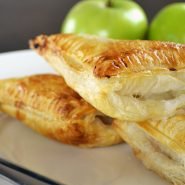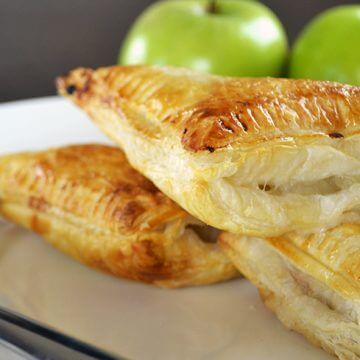 Prep time: 10 Minutes
Cook time: 15 Minutes
Total time: 25 Minutes
Makes: 12
Ingredients
400 g (14.1 oz) can of apple filling
2 tsp cinnamon, ground
1 egg, beaten
4 sheets puff pastry, defrosted
---
Instructions
First, preheat an oven to 210°C (410°F).
Cut a sheet of puff pastry into 4 squares.
On each square place about 1-2 Tbsp of apple.
Sprinkle the apple with cinnamon.
Using a pastry brush, wet the edges of the pastry with the beaten egg.
Fold the pastry, so it now forms a triangle.
Now crimp the open edges with a fork.
Prick the top of the turnover so steam can escape. This will stop the turnovers from exploding.
Place onto an oven tray and repeat steps 2-9 until you run out of the apple or puff pastry.
Glaze the apple turnovers with the remaining egg mix.
Bake in the oven for 15-20 minutes or until golden brown.
Serve & Enjoy.
---
Recipe Tips
Supposing that you want to use some fresh apples rather than canned, simply cook some diced apples in a pot until nice and tender. This extra will add about ten to twenty minutes more onto the recipe. Still, it will be worth it if you have delicious fresh apples.
If you find that the apple is leaking out of the sides, then make sure you crimp the edges more. As well as this, make sure you poke a hole for the steam to escape; otherwise, you will end up with exploding apple turnovers.
One thing you're able to do if you're a sweet tooth is to sprinkle some sugar over the top of the apple. You can also sprinkle some sugar on top of the pastry before it goes into the oven.
Did you make this recipe?
We want to see! Tag
@cookingperfected
on Instagram or use the hashtag
#cookingperfected
so we can find you!
---