The air fryer is my favorite way of cooking hash browns as they turn out deliciously crisp every time.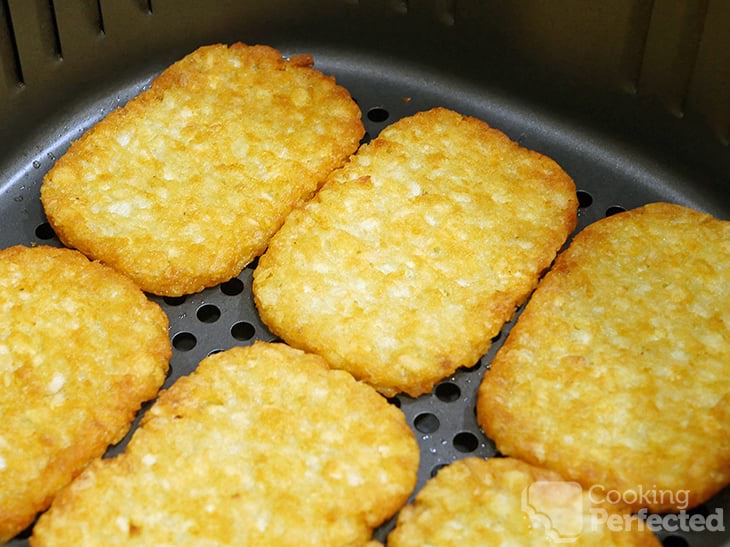 After roughly twenty minutes in the air fryer, you will have some of the most perfectly cooked hash browns. They cook to be slightly crunchy and loaded with flavor. I much prefer the air fryer over traditional cooking methods such as deep frying or oven baking.
This recipe will make enough hash browns for roughly two to six people. It heavily depends on whether you are feeding big eaters. I recommend making some additional side dishes to go with the hash browns.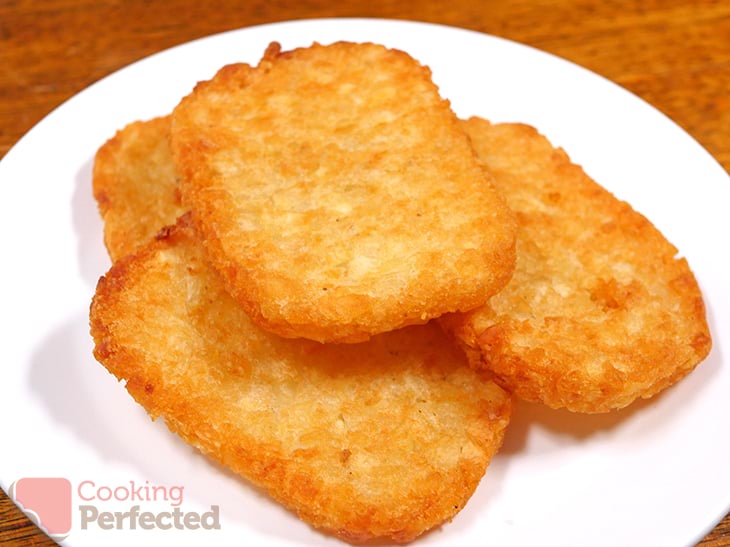 Hash browns can vary quite a bit depending on where you live. For this recipe, we are focusing on frozen hash browns that are found in supermarkets in Australia. These hash browns might be like the ones available in your area.
You can make hash browns from scratch but it will require a bit of extra time in the kitchen. I find it much easier to simply buy them frozen straight from the supermarket.
Hash Browns Serving Ideas
Hash browns always go great as part of a delicious breakfast. My full breakfast usually includes bacon, poached eggs, hash browns, bread, mushrooms, and sometimes tomatoes. If you have an extra air fryer, you can cook the bacon in the air fryer as well.
You can serve the hash browns like loaded fries and top them with cheese, bacon, and much more. To do this, simply top the hash browns with the cheese, bacon, and other toppings and cook in the air fryer for another couple of minutes.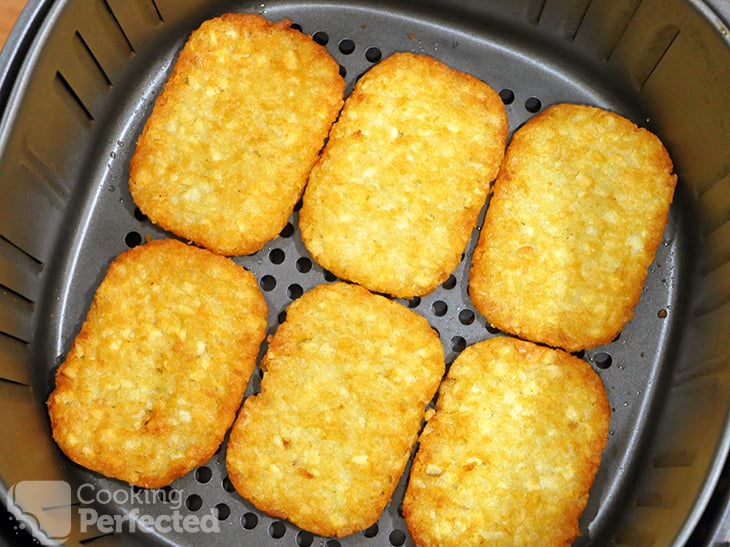 I love to add hash browns to a breakfast sandwich as it adds a delicious crunch to the sandwich. If you love all-in-one breakfasts, then I highly recommend that you give it a go. It is delicious.
All the steps for cooking hash browns in the air fryer are right below. If you have any feedback, please do not hesitate to leave a comment at the bottom of this page.
Air Fryer Frozen Hash Browns Recipe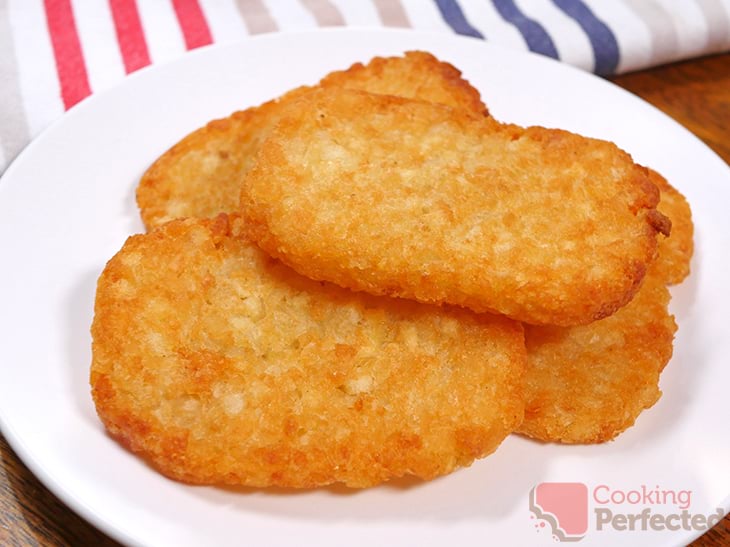 Ingredients
6 frozen hash browns
1 tsp cooking oil
Instructions
Preheat the air fryer to 200°C (390°F). It will take roughly 5 minutes to heat.
Place the hash browns into the air fryer. Do not stack or overlap.
Lightly spray the hash browns with the cooking oil.
Cook for 10 minutes on each side or until golden brown.
Serve & Enjoy.
Recipe Tips
Make sure you do not overlap the hash browns, as this will reduce the chance of them crisping.
Fitting lots of hash browns into the air fryer might be difficult. You might want to consider using a rack so you can add more layers.
The cooking oil is optional and is only there to help crisp the hash browns.
The nutritional information below is an estimate from an online nutrition calculator. For more accurate information, refer to the hash browns packet.
Nutrition Information
Serving Size: 116g (4.1 oz)
Servings Per Recipe: 2
Calories Per Serving: 254
Saturated Fat: 1.1g
Trans Fat: 0g
Dietary Fiber: 4g
Sugars: 0g
Cholesterol: 0mg
Sodium: 17mg
Protein: 3g
The information above is an estimate generated by an online nutrition calculator.
More Air Fryer Recipes
We have plenty more air fryer recipes that I reckon you will love. Below are just a couple of my all-time favorites.
For something super easy, I highly recommend cooking frozen chicken nuggets in the air fryer. When they are ready, they will be deliciously crisp on the outside and tender on the inside. It is the perfect way to cook yourself some delicious comfort food.
Another potato dish that works great in the air fryer is some Tater Tots. These delicious gems of potato will cook to be deliciously crisp and match perfectly with whatever you are cooking. I highly recommend giving them a try.
I hope that the frozen hash browns cook perfectly in the air fryer for you. Please leave us a comment below if you have any feedback that you would like to share.