This easy chicken skillet is an incredible dish packed full of vegetables and has a deliciously rich, creamy coconut sauce.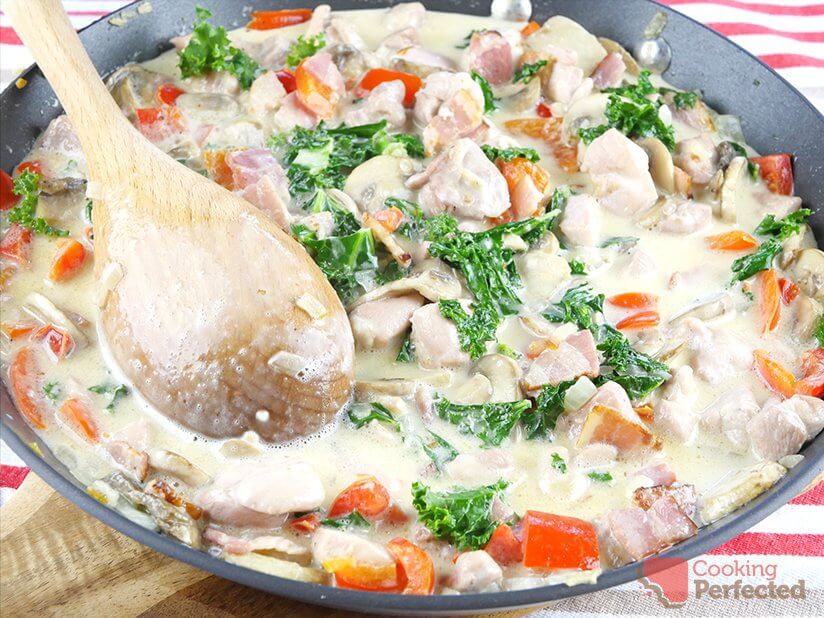 Despite the name, you don't need to have a skillet pan to cook this delicious dish. Any deep pan will work just fine. You could even use a pot, but it may be a bit awkward to cook the chicken. The best thing about this recipe is that you only need one pot.
One of the things I love about this recipe is that it is both Paleo friendly and Gluten-free. It's the perfect meal to cook if you have some friends or family that have strict dietary requirements.
What to Serve with Chicken Skillet
If you're looking for something extra to go with this dish, then there are quite a few side dishes that will match perfectly with it.
Something like some fried cauliflower rice is an excellent accompaniment. It's light, tasty, and matches perfectly with the creaminess of this recipe. Regular rice is also an excellent option.
For something a little more hearty, you should take a look at making some mashed potato or mashed sweet potato. Both are excellent side dishes that will work very nicely with this dish.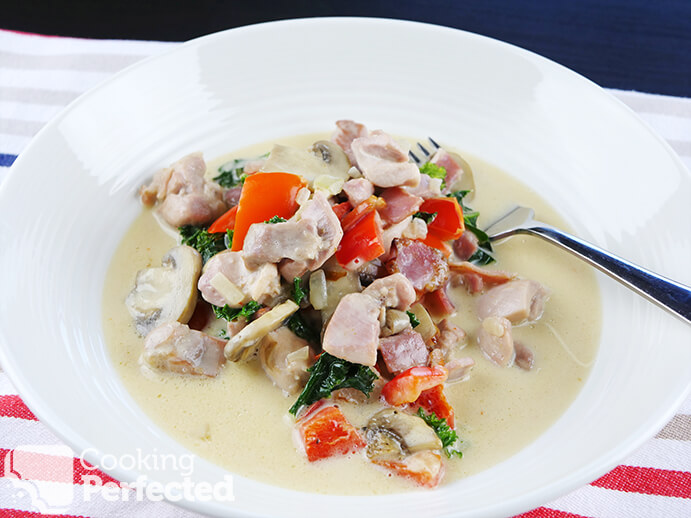 If you're not trying to stick to a paleo diet, then some pasta will work very nicely with this dish. I recommend some fettuccine, but most types of pasta will work very well.
I prefer the dish just by itself, but it can be a bit too light, and you may end up a bit hungry later on. So, don't hesitate to make a delicious accompaniment.
Tweaking the Recipe
There are lots of little tweaks that you can make to the recipe so that it is better suited to your tastes.
Leftover cooked chicken can be used instead of raw chicken for this dish. Just shred the chicken and add it at the same time you add the coconut cream. Keep in mind any seasoning on the leftover chicken may heavily alter the flavors of this dish.
Adding a couple of teaspoons of mustard will add a ton of flavor to the creamy sauce. I prefer Dijon mustard, but something like wholegrain will work nicely as well.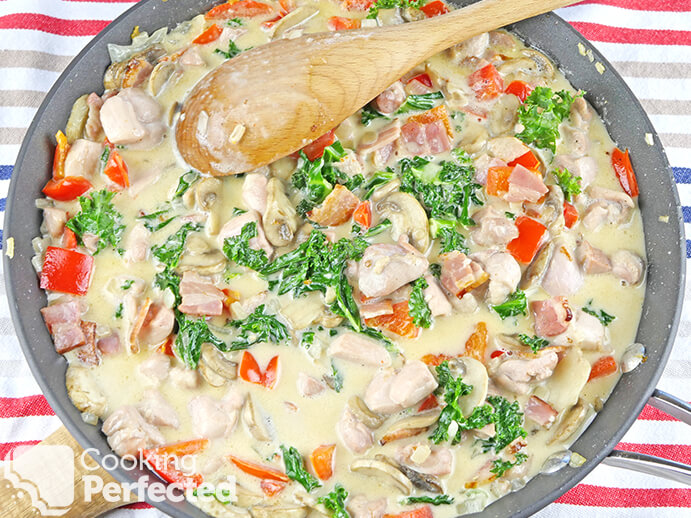 A combination of fresh herbs is another change that will add some more flavors. I recommend a teaspoon of thyme, rosemary, and two teaspoons of sage. You might want to play around a little with the type of herbs and quantities.
Of course, there are lots more ways you can change this recipe, so if you have a variation that you want to share, be sure to leave us a comment at the bottom of this page.
Leftovers & Dessert
Despite being creamy, this dish will reheat well, so make sure you keep any leftovers. Simply store them in the fridge until you need to reheat them. They should last for up to three days in the refrigerator.
The perfect dessert to have after this dish is the walnut and date baked apples. They're easy to make and taste absolutely amazing. I highly recommend giving them a try if you have the time.
If you want to see how to make this chicken skillet recipe, then be sure to check out the video below. It will take you through all the steps to perfecting this delicious chicken dish.
Easy Chicken Skillet Recipe
Ingredients
4 chicken thighs, chopped
4 rashers of bacon, chopped
1 onion, diced
1 tsp garlic, crushed
1 red bell pepper, chopped
250 g (8.8 oz) button mushrooms, sliced
400 ml (13.5 fl oz) coconut cream
2 cups fresh kale, shredded with stems removed
Instructions
In a skillet pan over high heat, fry the bacon until it's almost crispy.
Add the chicken and cook until browned. Once browned, place the chicken, and bacon to the side.
Add the onion, garlic, mushrooms, and the red bell pepper. Cook until the onion is translucent.
Add the coconut cream, return the chicken, and bacon. Cook for 15 minutes.
Add the kale and cook for a further 5 minutes.
Season with salt & pepper.
Serve & Enjoy.
Recipe Tips
If you don't have any kale, then this can be replaced with baby spinach or just left out altogether.
You can swap the chicken thigh for chicken breast, or as I mentioned above, leftover chicken.
The bacon can be swapped out for something like prosciutto or even ham.
I made use of some simple button mushrooms, but basically, any type of mushroom would work well. Portobello, shiitake, or a mixture of both would all work well in this dish.
Nutrition Information
Serving Size: 270g (9.5 oz)
Servings Per Recipe: 6
Calories Per Serving: 459
Amount Per Serving
Saturated Fat: 18.6g
Trans Fat: 0g
Total Carbohydrate: 11.1g
Dietary Fiber: 2.9g
Sugars: 4.7g
Cholesterol: 97mg
Sodium: 576mg
Protein: 35.8g
The information above is an estimate generated by an online nutrition calculator.
More Delicious Recipes
There are lots more recipes that you might be interested in making. Below are just a couple of recipes that I thought you might like.
This dish is incredibly tasty, but you might be after something a little spicier. If so, the chicken korma curry is indeed one you should try out. It cooks to be packed full of flavor from the spices, and like this dish it goes terrific with some cauliflower rice.
Another chicken recipe that you should try is the oven-baked honey mustard chicken. It's super easy to make and only requires just six very simple ingredients. I love making it whenever I am low on time but need something delicious.
I hope that you love this easy one-pot chicken skillet dish and that it earns a place in your recipe collection. If you have any thoughts, tips or variations on this recipe, then be sure to leave a comment below.