This fajita seasoning mix isn't a meal, but it's incredibly important when it comes to making certain dishes. If you have found yourself with no seasoning in the cupboard, then this is the recipe you need.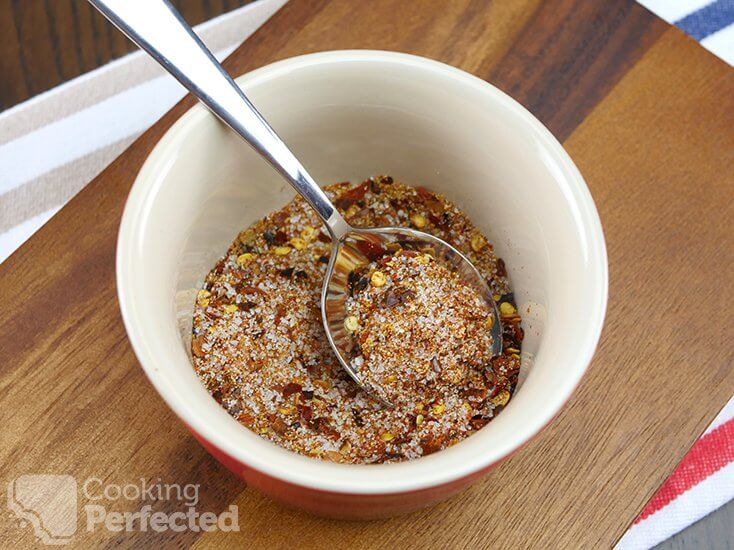 Fajita seasoning is not as punchy as taco seasoning but is still an incredible seasoning that you should keep in your cupboard. Its ideal use is for fajitas, but there are plenty of other dishes where this seasoning comes in handy.
This seasoning mix has a delicious range of spices and herbs such as the chili powder, paprika, onion powder, garlic powder, cayenne pepper, and some ground cumin.
Typically a fajita is grilled meat that is served as a taco with either a flour or corn tortilla. The meat is often cooked in a mixture of spices and herbs like this recipe. It is part of Tex-Mex cuisine and is a popular dish throughout Mexico and the United States.
Make this Seasoning in Bulk
You can make this recipe in bulk if you find yourself using this seasoning quite a bit.
Make sure you store the seasoning in an airtight container in the cupboard. Keeping it in an airtight container will help ensure that the seasoning will not go stale.
If you're storing it for a long time, then you may find that the seasoning will clump together. It is still fine to use, just use a spoon or something similar to break it up.
Uses for Fajita Seasoning
Many different dishes use fajita seasoning, but the traditional and most likely you will need this for is, of course, Fajitas. For anyone who doesn't know, fajitas refer to grilled meat that's served with vegetables in a corn or flour tortilla.
If you're making some fajita meat mix, then this meat mixture also works fantastic in some delicious quesadillas. It also works great in a ton of other dishes such as topping on pizza, with nachos, in a bread roll, and much more.
You can make a delicious fajita meat mixture in the slow cooker if you're feeling a little experimental. It cooks to be a delightful dish that I highly recommend that you try.
Without any changes, this seasoning is gluten-free, vegan, and vegetarian. So it's a great seasoning when it comes to cooking for people with special dietary needs.
If you rather just buy the seasoning, then you can find it at pretty much any good supermarket. If you're struggling to find it, then you can also get it online at pretty much any good online store such as Amazon.
This homemade fajita seasoning mix currently doesn't have a video, but it is super straightforward to make. Simply mix all the ingredients, and you're good to go.
Easy Fajita Seasoning Mix Recipe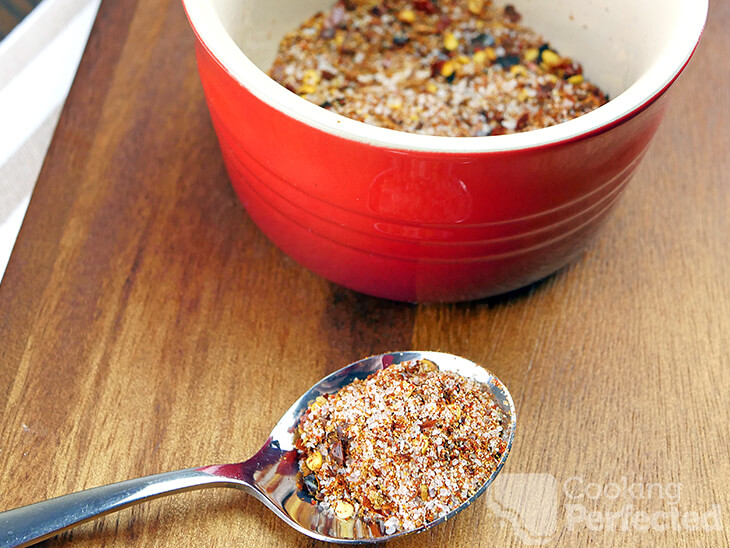 Ingredients
2 tsp chili powder
1 tsp salt
1 tsp paprika
1 tsp white sugar
½ tsp onion powder
½ tsp garlic powder
¼ tsp Cayenne powder
½ tsp cumin, ground
Instructions
In a bowl, mix all the ingredients until well combined.
Serve & Enjoy.
Recipe Tips
If you think something is slightly off, then you can easily adjust this seasoning. Just make sure you write down any changes, so you remember when you make this again.
A tablespoon of cornstarch can be added into the seasoning mixture. It will help the seasoning stick to the meat and will help thicken up any liquid.
If you're looking to change this seasoning a little, then using smokey paprika instead of regular paprika is a good way of achieving this.
This seasoning will last in the cupboard for ages if stored correctly. Make sure it's in a sealed container, and you don't get the mix wet. You will find it will last months if stored correctly.
If you want to add even more flavor to this seasoning, then one teaspoon of a crushed chicken bouillon cube help. However, it's fine without this, so don't feel like you need to add this.
Nutrition Information
Serving Size: 29g (1 oz)
Servings Per Recipe: 1
Calories Per Serving: 77
Amount Per Serving
Saturated Fat: 0.2g
Trans Fat: 0g
Dietary Fiber: 3g
Sugars: 3g
Cholesterol: 0mg
Sodium: 2486mg
Protein: 2g
The information above is an estimate generated by an online nutrition calculator.
More Seasoning Recipes
There are so many different types of seasonings that you can make at home. Below are just a couple that I highly recommend that you make at home and save some money.
I have covered a few different types of seasoning before, with the spicy taco seasoning being one of my favorites.
Another seasoning that I highly recommend that you try is the Cajun seasoning. It's very handy if you find yourself cooking a lot of Cajun-style meals.
I hope you enjoy this fajita seasoning mix recipe and that it works out to be just how you like it. If it needs some adjustments, then be sure to leave a comment below. Any other feedback is also much appreciated.