This delicious gluten-free chocolate self-saucing pudding is the perfect dessert for any chocolate lover.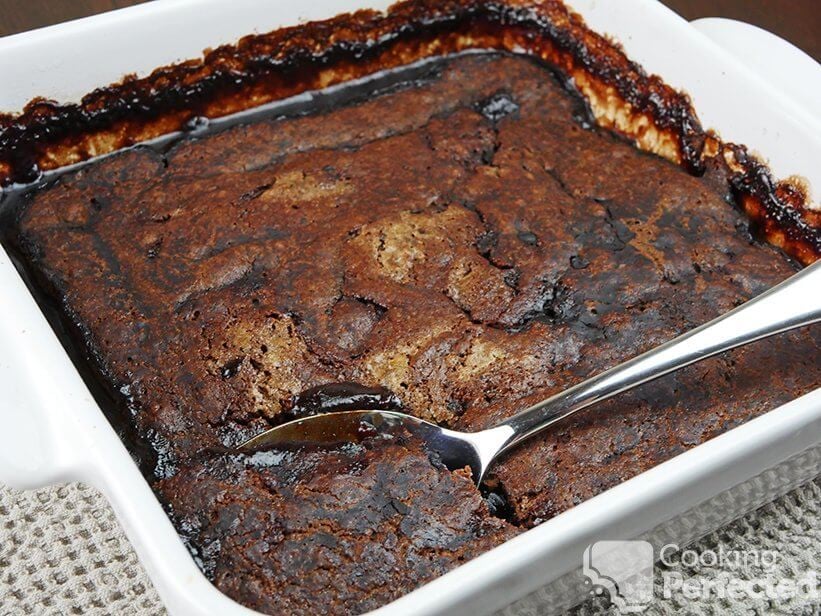 The pudding cooks to be fluffy, moist, and loaded with flavor. The sauce is rich in chocolate flavor and really helps take this pudding to the next level. The sauce doesn't need to be thickened as it should thicken throughout cooking.
Make sure you keep the leftovers as they will refrigerate for a few days. Simply reheat any leftovers in either the oven or microwave, they're are also pretty delicious cold.
Since the leftovers are so good, I recommend doubling this recipe if you love having some chocolate pudding for breakfast, it's as good as it sounds.
What to Serve with this Chocolate Pudding
Since this pudding makes its own sauce, you don't really need to have anything extra with it. However, if you're feeling super hungry, then some ice cream goes perfectly with the pudding.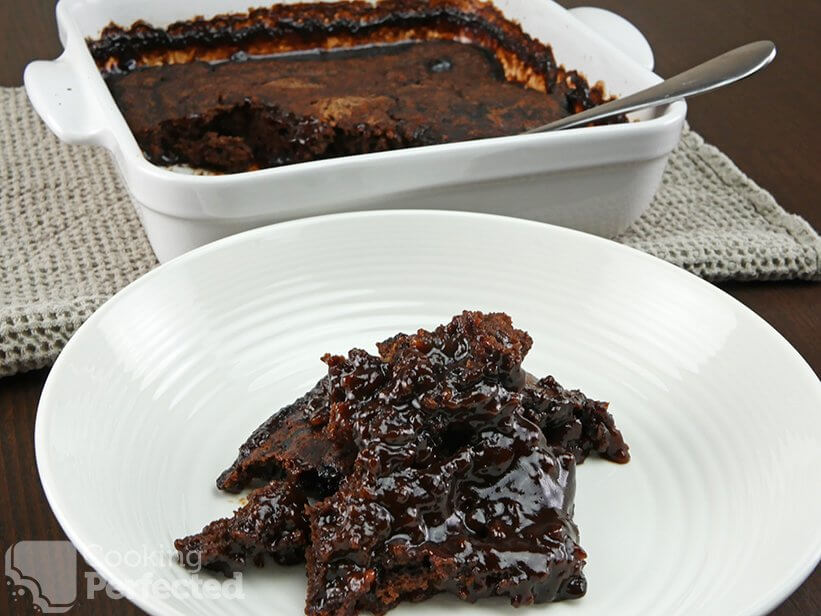 Hot custard is also excellent drizzled over the top of the pudding. You can make some at home or you can make life easy and buy it from the supermarket. Both types of custard will work perfectly with this rich chocolate dessert.
The simplest accompaniment is a drizzle of cream over the top of the pudding. I prefer to use a thicker cream such as thickened cream, whipping cream, double cream, or heavy cream.
You can find the full written recipe right below. If you like the recipe and would love to save it, then you can either share it on your favorite social media site or simply print it.
Gluten-Free Chocolate Self Saucing Pudding Recipe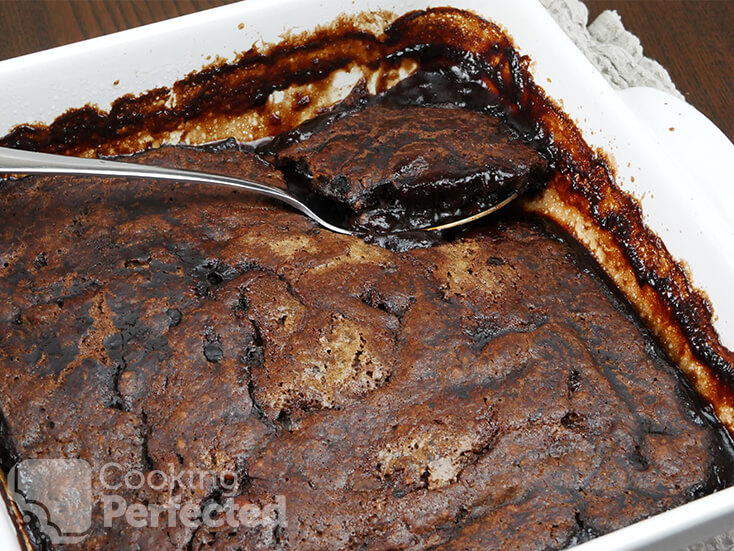 Ingredients
Pudding Mixture
¼ cup unsalted butter
1 tsp vanilla essence
½ cup caster sugar
1 egg
1 cup gluten-free self-rising flour
1 Tbsp cocoa powder, unsweetened
½ cup milk
Sauce
½ cup brown sugar
1 Tbsp cocoa powder, unsweetened (heaped)
1 & ½ cups boiling water
Instructions
Set an oven to 180°C (360°F), also grease a deep ovenproof dish.
Cream together the butter, vanilla essence, and caster sugar until pale.
Beat in the egg until well combined.
Mix in the dry ingredients and the milk until well combined.
In the deep oven dish, pour in the pudding mixture.
Combine the brown sugar, cocoa and sprinkle over the pudding mix in the dish.
Now, gently pour the boiling water over the top.
Bake for 45 minutes or until the pudding is cooked all the way through.
Serve & Enjoy.
Recipe Tips
This recipe can easily be doubled or tripled if you need to feed quite a few people. However, I recommend that you split it across a couple of ovenproof dishes so that the puddings bake consistently.
You can add some chocolate chips into the pudding mix, so you get even more gooey chocolate. I recommend using milk chocolate, but you can also use dark chocolate or white chocolate instead.
Caster sugar is also known as superfine sugar or baker's sugar. It can be substituted with regular sugar if required.
Having the butter and eggs at room temperature will make this dish easier to prepare. If they're cold, then you might find they will not mix together very well. If your mix is a bit lumpy from the eggs and butter being too cold, then it should still be fine as you won't notice this at the end of baking.
Nutrition Information
Serving Size: 225g (7.9 oz)
Servings Per Recipe: 4
Calories Per Serving: 417
Amount Per Serving
Saturated Fat: 8.9g
Trans Fat: 0.5g
Dietary Fiber: 3g
Sugars: 41g
Cholesterol: 188mg
Sodium: 521mg
Protein: 6g
The information above is an estimate generated by an online nutrition calculator.
More Gluten-Free Desserts
Assuming you do love this pudding and you're in the mood for more, then be sure to check out the sticky date pudding. It is also gluten-free and is incredibly addictive as it tastes so good.
If you love rich chocolate desserts, then you have got to try the chocolate fudge cake. The cake is exactly as the name says, it's rich, gooey, and is loaded with that chocolate flavor we all know and love. I highly recommend giving it a try.
I hope that you enjoy this gluten-free self-saucing chocolate pudding and that you don't run into any issues while making it. If you have a variation or simply have some feedback that you would like to share, then please don't hesitate to leave a comment below.